Survey Says Physicians Aren't 5010-ready
By admin aapc
In Billing
April 29, 2011
Comments Off

on Survey Says Physicians Aren't 5010-ready
The transition to the Health Insurance Portability and Accountability Act (HIPAA) Version 5010 standards is just over six months away. Physician practices who fail to make the impending deadline are at greater risk of not getting electronic payments from private insurers and Medicare. And yet, more than half of physician practices haven't even scheduled testing, reports Medical Group Management Association (MGMA).
According to the Centers for Medicare & Medicaid Services (CMS) 5010
implementation schedule
, HIPAA-covered entities should have been ready to test with their trading partners the functionality of the entities' practice management and/or other related software featuring Version 5010 standards beginning January 2011.
Use of Version 5010 standards for HIPAA electronic health care transactions—including claims, remittance advice, eligibility inquiries, referral authorization, and other administrative transactions—will be mandatory Jan. 1, 2012. The Version 5010 standards also provide the framework necessary for use of the revised medical data code sets (ICD-10-CM and ICD-10-PCS) that will be implemented Oct. 1, 2013.
According to an MGMA March
survey
, however, 56 percent of the 349 physician practices polled had yet to schedule internal 5010 testing, and 61 percent hadn't scheduled any testing with their major health plans.
MGMA also asked practices if they had contacted their practice management system vendor, to which 25.4 percent answered "No."
To help health care providers, health plans, clearinghouses, and vendors work toward the compliance dates for Version 5010 and ICD-10 — and avoid delays in claims processing and payment — AAPC has been conducting ongoing industry outreach and education. Learn more on AAPC's 
ICD-10 website
about how to prepare for ICD-10; and while you're there, be sure to read 
Angela Boynton's, BS, RHIT, CPC, CPC-H, CPC-P, CPC-I, CCS, CCS-P,
article, "
5010 Update: Benefits of Implementation
."
Final regulations
adopting Version 5010 and ICD-10 were published Jan. 16, 2009, and may be viewed under "Health and Human Services Department" in the table of contents for that date's Federal Register.
Latest posts by admin aapc
(see all)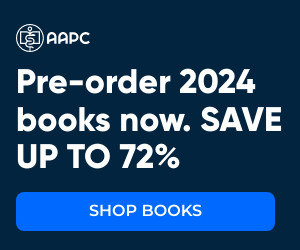 No Responses to "Survey Says Physicians Aren't 5010-ready"