CMS Posts Final Full Update for 2012 ICD-9 Codes
By admin aapc
In CMS
July 1, 2011
Comments Off

on CMS Posts Final Full Update for 2012 ICD-9 Codes
The Centers for Medicare & Medicaid Services (CMS) posted the final version of new, revised, and invalid ICD-9-CM diagnosis codes for 2012 on its website June 17. The updated code set will be effective for dates of service on or after Oct. 1.
Review the summary tables on the CMS website, or go to the National Center for Health Statistics' (NCHS') website to download the final addendum, posted June 30, providing complete information on tabular and index changes to ICD-9-CM procedure and diagnosis codes for 2012.
CMS Transmittal 2246, issued June 24, includes both summary tables and final addendum.
Latest posts by admin aapc
(see all)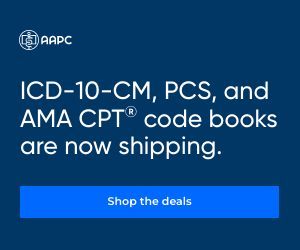 No Responses to "CMS Posts Final Full Update for 2012 ICD-9 Codes"