Medicare Launches Supplier Competitive Bidding Effort
By admin aapc
In CMS
August 17, 2009
Comments Off

on Medicare Launches Supplier Competitive Bidding Effort
The 60-day supplier bidding period will begin in late October for the Medicare Competitive Bidding Program's Round One Rebid for durable medical equipment, prosthetics, orthotics, and supplies (DMEPOS). To help suppliers prepare for bidding in the nine competitive bidding areas, the Centers for Medicare & Medicaid Services (CMS) is leading a supplier outreach and education effort.
The competitive bidding program and Medicare's quality standard requirements will help beneficiaries who need medical equipment and supplies to maintain high quality items and services.
"Competitive bidding is an essential tool to help Medicare pay appropriately for health care—important not only to maintain Medicare beneficiaries' access to high quality medical items and services, but also to lower the cost of medical care for all," said Jonathan Blum, director of CMS' Center for Medicare Management. "We are committed to ensuring that suppliers have up-to-date information and guidance so they may submit bids to furnish high quality, affordable medical items and services under the competitive bidding program."
The Round One Rebid is in the areas:
Cincinnati – Middletown (Ohio, Kentucky, and Indiana)
Cleveland – Elyria – Mentor (Ohio)
Charlotte – Gastonia – Concord (North Carolina and South Carolina)
Dallas – Fort Worth – Arlington (Texas)
Kansas City (Missouri and Kansas)
Miami – Fort Lauderdale – Miami Beach (Florida)
Orlando (Florida)
Pittsburgh (Pennsylvania)
Riverside – San Bernardino – Ontario (California)
The Round One Rebid will include the following items:
Oxygen and oxygen equipment
Standard power wheelchairs, scooters, and related accessories
Complex rehabilitative power wheelchairs and related accessories (Group 2 only)
Mail-order replacement diabetic supplies
Enteral nutrients, equipment and supplies
Continuous positive airway pressure (CPAP) machines, respiratory assist devices (RADs), and related supplies and accessories
Hospital beds and related accessories
Walkers and related accessories
Support surfaces (Group 2 mattresses and overlays in Miami only)
This doesn't affect Medicare DMEPOS benefit until the program begins again in 2011. Until then, Medicare beneficiaries can get their Medicare-covered equipment and supplies from any Medicare-approved supplier.
CMS launched an extensive education and outreach effort on Aug. 3 to guide suppliers through the competitive bidding process. See MLN Matters article MM6571 for program instructions designating the competitive bidding areas and product categories included in the DMEPOS Competitive Bidding Program Round One Rebid in 2009.
For additional information, go to the Medicare DMEPOS Competitive Bidding Program Web page. There is also a proprietary Web site for bidder assistance, or you call the toll-free help line (1-877-577-5331).
Latest posts by admin aapc
(see all)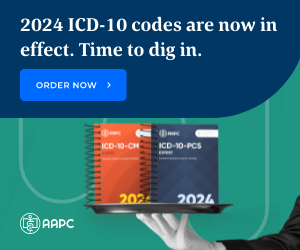 No Responses to "Medicare Launches Supplier Competitive Bidding Effort"