2007 Medical Coding Salary Survey
By admin aapc
September 25, 2007
Comments Off

on 2007 Medical Coding Salary Survey
Coders Cash In With Credentials
You cracked the books to study for the certification exam, you've pored over Coding Edge quizzes to earn CEUs, you've made it to every local chapter meeting — and it was worth it. The results of our 2007 Salary Survey reveal that certified coders earn an average of 17 percent more than their non-certified counterparts.
The 5,155 coding professionals who responded to our survey offered insight that might surprise some coders, and gave concrete proof that certified coders are in high demand.

In fact, 42 percent of survey respondents said that certification was required for employment at their current positions. Further proving the importance of
certification
, a recent search of
monster.com
revealed 310 available medical coding positions, 128 of which required
certification
. That means that 41 percent of coding positions were closed to non-certified coders.
Coders who hold specialty credentials (such as CPC-E/M) brought in even more money. Eight percent of coders with specialty credentials earned over $85,000, whereas only two percent of coders with core
certifications
earned that much. Just one percent of non-certified coders took home over $85,000.
Education, Title Translate Into Bucks
Administrators and consultants brought in the most money this year, both averaging over $85,000 annually. Insurance managers and consultants saw the biggest income growth over the past year. According to our 2006 survey, insurance managers earned about $40,000, but this year they brought in $60,000-$65,000. Last year, coding consultants averaged $58,000, but in 2007 they earned over $85,000.
And if you're considering a return to school, the evidence shows that you'll be making a smart money move. Our survey reveals that salaries are strongly driven by education. While coders with some college earned $30,000- $35,000, those who graduated from college brought in $40,000-$45,000. In addition, coding professionals who earned master's degrees collected over $85,000. This is a big leap from last year, when our survey revealed that those with master's degrees brought in $55,000.
Experience, Location Pay
Most coding professionals don't need an incentive to stay in the coding field — the job has infinite rewards on its own. But to put the icing on the cake, our Salary Survey proves that experience pays. Coders who have been on the job for just one year earned $25,000-$30,000, but those who have worked in the field for 18 years or more averaged $45,000-$50,000 annually.
And your location might also drive your salary. Coding professionals in Washington, DC, New Jersey, Rhode Island and Nevada brought in the most income last year, and those in urban settings earned more than those in suburban or rural locations.
Fifteen percent of those surveyed have used the AAPC's
Career Edge
, which is a free service that allows AAPC members to post their resumes for positions in billing, coding, transcription or medical records. In addition,
Career Edge
provides a searchable job bank so AAPC members can seek jobs that suit their backgrounds.
Noncertified coders earn (on average) $25K–$30K Certified coders earn $30K–$35K Specialty certified coders earn $35K–$40K
Our survey also revealed that coders have a growing amount of autonomy at work. A full 52 percent of coding professionals told us that they are offered flex-time on the job, whereas only 24 percent of U.S. employers overall offer their employees formal flex-time programs.*
Resources:
*
Spherion's 2005 Emerging Workforce Study.
View the entire 2007 Medical Coding Salary Survey
Latest posts by admin aapc
(see all)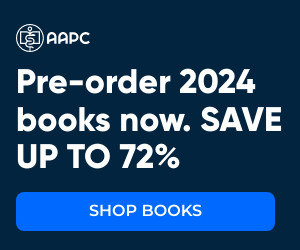 No Responses to "2007 Medical Coding Salary Survey"