CMS Proposes Depression, Behavioral Counseling, Screening Coverage
By admin aapc
In CMS
July 29, 2011
Comments Off

on CMS Proposes Depression, Behavioral Counseling, Screening Coverage
Screening for depression and behavioral counseling and screening for alcohol abuse in adults may soon be covered Medicare benefits.

The Centers for Medicare & Medicaid Services (CMS) announced a proposal July 19 "to cover annual screening for depression for Medicare beneficiaries in primary care settings that have staff-assisted depression care supports in place to assure accurate diagnosis, effective treatment, and follow-up." CMS has concluded that detecting and treating depression early will both improve beneficiaries' quality of life and lower long-term medical expenses:
"Both major and minor depression, however, are associated with decreased quality of life, increased morbidity, increased functional disability, increased health care utilization, and increased medical costs. Depression additionally impairs an elderly person's ability to adhere to disease management regimens such as regularly taking medications, diet, exercise and quitting smoking. Since depression and disability mutually reinforce each other, depression can thus worsen the course of chronic illness and may cause progressive clinical deterioration in older chronically ill patients."
CMS is not dictating a particular protocol for depression screening, and instead supports the U.S. Preventive Services Task Force (USPSTF) recommendation. "Clinicians may choose the method most consistent with their personal preference, the patient population being served, and the practice setting," CMS said. Screening tests for depression do not diagnose depression, but rather indicate the severity of depression symptoms within a given time. Patients who score above a test's predetermined cut-off for significance would be interviewed further to assess whether he or she has a depressive disorder.
That same day, CMS also proposed to cover annual alcohol screening and, for beneficiaries who test positive, up to four brief, face-to-face, behavioral counseling interventions per year. CMS does not require a particular screening tool, but advises, "clinicians can choose screening strategies that are appropriate for their clinical population and setting."
CMS does dictate, "effective interventions to reduce alcohol misuse include an initial counseling session of about 15 minutes, feedback, advice and goal-setting" consistent with the "5As" approach:
Assess: Ask about/assess behavioral health risk(s) and factors affecting choice of behavior change goals/methods.
Advise: Give clear, specific, and personalized behavior change advice, including information about personal health harms and benefits.
Agree: Collaboratively select appropriate treatment goals and methods based on the patient's interest in and willingness to change the behavior.
Assist: Using behavior change techniques (self-help and/or counseling), aid the patient in achieving agreed-upon goals by acquiring the skills, confidence, and social/environmental supports for behavior change, supplemented with adjunctive medical treatments when appropriate.
Arrange: Schedule follow-up contacts (in person or by telephone) to provide ongoing assistance/support and to adjust the treatment plan as needed, including referral to more intensive or specialized treatment.
CMS is seeking public comment on both of the depression screening and alcohol/counseling proposed national coverage determinations until Aug. 19.
Latest posts by admin aapc
(see all)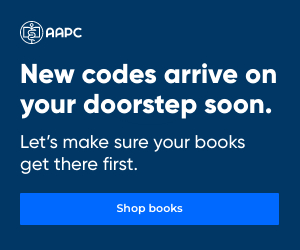 No Responses to "CMS Proposes Depression, Behavioral Counseling, Screening Coverage"