New HITECH Grants Assist EHR Implementation
By admin aapc
August 28, 2009
Comments Off

on New HITECH Grants Assist EHR Implementation
Health care providers hemming and hawing over electronic health record (EHR) implementation and the viability of earning financial incentives for "meaningful EHR use" need not worry. The federal government is putting up $1.2 billion to ensure your success.
Vice President Joe Biden announced Aug. 20 the availability of nearly $1.2 billion in Health Information Technology for Economic and Clinical Health (HITECH) Act grants, provided under the stimulus package, the American Recovery and Reinvestment Act of 2009 (ARRA).
The stimulus package provides that hospitals and physicians who implement and use an EHR system in a meaningful way will qualify for incentive payments starting in 2010. The Centers for Medicare & Medicaid Services (CMS) is expected to issue a final rule defining "meaningful use" before the year is over.
Grants made available under the Health Information Technology Extension Program (Extension Program) include $598 million for the establishment of some 70 Health Information Technology Regional Extension Centers (Regional Centers) that offer technical assistance, guidance and information on best practices to support and accelerate providers' efforts to become meaningful EHR users.
Regional Centers, according to a Health IT Facts Sheet, will support health care providers with direct, individualized and on-site technical assistance in:
Selecting a certified EHR product that offers best value for the providers' needs;
Achieving effective implementation of a certified EHR product;
Enhancing clinical and administrative workflows to optimally leverage an EHR system's potential to improve quality and value of care, including patient experience as well as outcome of care; and,
Observing and complying with applicable legal, regulatory, professional and ethical requirements to protect the integrity, privacy and security of patients' health information.
Learn more about the Health Information Technology Extension Program.
Over the next several months, cooperative agreements will also be awarded through the State Health Information Exchange Cooperative Agreement Program to states and qualified State Designated Entities (SDEs) to develop and advance mechanisms for information sharing across the health care system.
Under these state cooperative agreements, according to a Health IT Facts Sheet, $564 million will be awarded at a state level to support efforts to achieve widespread and sustainable health information exchange (HIE) through the meaningful use of certified EHRs.
Learn more about the State Health Information Exchange Cooperative Agreement Program.
The Regional Centers grants will be awarded on a rolling basis, with the first awards being issued in 2010. Grants to states are also expected to be made in 2010. Those interested in applying for these grants should visit the Health IT Web site for more information.
"It's no coincidence that these two grant programs are leading the way," National Coordinator for Health Information Technology David Blumenthal, MD, MPP, said in a statement. "Key to the successful adoption and meaningful use of EHRs is the assurance that providers have the help and guidance they need to select, implement and maintain a certified EHR system. In addition, we need the various and often disparate local, statewide and regional systems to work together, regardless of location and differing state and federal standards or policies, to enhance patient care."
Health care providers can also turn to the Department of Health and Human Services (HHS) for assistance provided through the Health Information Technology Research Center (HITRC). The purpose of the HITRC is to gather relevant information on effective practices from a wide variety of sources across the country and help regional centers collaborate with one another and with relevant stakeholders to identify and share best practices in EHR adoption, effective use, and provider support.
A word from the wise: Kaiser Permanente has gathered much insight during its EHR implementation. Find out what its learned lessons are, courtesy of Health Data Management.

Latest posts by admin aapc
(see all)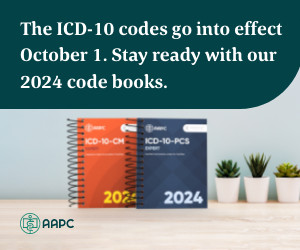 No Responses to "New HITECH Grants Assist EHR Implementation"