At What Cost Is Repealing the SGR?
By admin aapc
In Billing
September 29, 2011
Comments Off

on At What Cost Is Repealing the SGR?
In the Medicare Payment Advisory Commission's (MedPAC) Sept. 15 report "Moving Forward from the Sustainable Growth Rate System," the agency addresses the problems with the Sustainable Growth Rate (SGR) system—namely, the current call for a 30 percent pay cut to 2012 physician fee schedule (PFS) services. But repealing the SGR and putting a recommended 10-year freeze across all services would cost in the neighborhood of $300 billion.
Paying for an SGR repeal would indeed require significant offsets. But which health care sector would be most affected, and how? MedPAC answered those questions in a draft options list it posted Sept. 20 on its website.
Draft options for offsetting the budgetary cost of SGR repeal under consideration by MedPAC are divided into two tiers:
Tier I – Would produce an estimated $50 billion from MedPAC past recommendations.
Tier II – Would produce an estimated $180 billion from other sources (Congressional Budget Office, U.S. Department of Health & Human Services (HHS) and its operating divisions, etc.) and MedPAC analysis.
Tier 1: MedPAC Work
The proposed offsets in this first tier include 13 actions that MedPAC has recommended in past Reports to Congress. They are:
Copayment for home health episode
Hospital update of 1 percent for 2012 and documentation and coding improvements (DCI) recovery
Dialysis update of 1 percent for 2012
Hospice update of 1 percent for 2012
Apply the competitive bidding offset to all competition-eligible durable medical equipment (DME) categories starting in 2012
Apply the competitive bidding offset to the DME categories never subject to competitive bidding
Repeal Medicare Advantage (MA) quality bonus demonstration
Rebase home health (HH) in 2013 and no update in 2012
No inpatient rehabilitative facility (IRF) update in 2012
No long-term care hospital (LTCH) update for 2012
Raise the compliance threshold for IRFs to 75 percent
Ambulatory surgery center (ASC) update of 0.5 percent for 2012 and report on cost and quality
Program integrity: prior authorization for imaging by outlier physicians
Tier II: Other Medicare
A second tier would provide Congress further assistance in offsetting the budgetary cost of SGR repeal. Note, however, that the following 16 offsets have not been voted on or previously recommended by MedPAC.
Part D LIS cost sharing policy to encourage substitution
Apply an excise tax to medigap plans
Program integrity: pre-payment review of power wheelchairs
Require manufacturers to provide Medicaid-level rebates for dual eligibles
Bundled payment for hospital and physician during the admission
Pay evaluation and managment (E/M) visits in hospital outpatient departments at physician fee schedue (PFS) rates
Reduce payments by 10 percent for clinical lab services
Risk-adjustment validation audits in the MA program
Bring employer group plan bids closer to other MA plan bids
Hold the trust funds harmless for MA advance capitation payments
Give the Secretary the authority to apply a least costly alternative policy
Additional reductions through competitive bidding or fee schedule reductions to payments for home oxygen
Rebase skilled nursing facilities (SNF)
Apply readmissions policy to SNFs, HH, LTCHs, and IRFs
Reduce hospice rates in nursing homes by 6 percent
Program integrity: Validate physician orders for high cost services
A principle for repealing the SGR, MedPAC says, is to share the cost across physicians, other health professionals, providers in other sectors, and beneficiaries. Some sectors are feeling more put-upon than others by these draft options.
According to American Hospital Association (AHA) Executive Vice President Rick Pollack, "While the physician payment formula needs to be fixed and must be fixed, cutting Medicare funding for hospital care to pay for it is flat out wrong. Making such drastic cuts when hospitals are already paid less than the cost of providing care could endanger patients' access to needed services."
But, according to American Medical News, nonprimary care services would be hit the hardest. "Payment rates for primary care would remain flat over 10 years, while payments for nonprimary care services would decline 5.9% a year for three years and then remain flat."
MedPAC may continue to revise its draft recommendations before voting on them sometime this month.
Latest posts by admin aapc
(see all)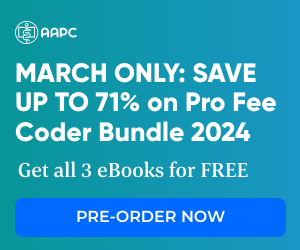 No Responses to "At What Cost Is Repealing the SGR?"