2009 Medicare Premiums and MPFS Rates Status Quo
By admin aapc
In Billing
September 29, 2008
Comments Off

on 2009 Medicare Premiums and MPFS Rates Status Quo
The good news is that the standard Medicare Part B monthly premium in 2009 will remain at 2008 rates—$96.40 (for single filers who earned $85,000 or less in 2007). Want the bad news?
Well, there isn't any bad news … yet.
For the first time in years, premiums will not increase because, in addition to an expected growth in the cost and use of outpatient health care providers and suppliers, the reserve in the Part B account of the Supplementary Medical Insurance (SMI) trust fund has "runneth" over.
In the past, premiums were set higher to make up for prior unexpected legislation costs that increased Part B spending. Due to those increases and a $9.3 billion bounty returned June 30 to Part B account assets that was "inadvertently" drawn for certain Part A hospice benefits, the SMI is now above adequate levels. With asset levels more than adequate, the prior year's included margin is also being eliminated in 2009.
Here's where it could get ugly. If actual Part B expenditures turn out to be higher than estimated, assets will be drawn down at a much faster rate. CMS says legislation like the 2008 Medicare Improvements for Patients and Providers Act (MIPAA) would not only necessitate additional increases in the 2010 Medicare premium, it would mean a 20 percent pay cut for physicians.
This report is based on a Sept. 19 Fact Sheet released by CMS and is available online.
Latest posts by admin aapc
(see all)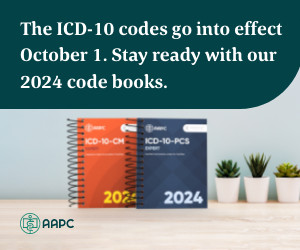 No Responses to "2009 Medicare Premiums and MPFS Rates Status Quo"