Talking Points: ICD-10-CM
By admin aapc
In Billing
September 22, 2008
Comments Off

on Talking Points: ICD-10-CM
HHS Publishes Proposed Changes to HIPAA Transaction and Code Set Standards
On August 22, 2008, the Department of Health and Human Services (HHS) published proposed changes to the HIPAA Transaction and Code Set Rules signaling the intent to eliminate use of ICD-9-CM as the codes for reporting diagnoses and implementation of ICD-10-CM with a proposed compliance date of October 1, 2011. See 73 Fed. Reg. 49796 (Aug. 22, 2008). There are no staggered implementation dates (for example, small vs. large entities) except for Medicaid Pharmacy Subrogation in the proposed ruling.
As best we can interpret, below is a summary of the ruling:
ICD-10-CM increases the number of codes from approximately 13,000 ICD-9-CM diagnosis codes to 68,000 ICD-10-CM codes.
An approximate 87,000 ICD-10-PCS codes will be required for inpatient procedure coding, up from the 4,000 codes currently used in ICD-9-CM.
The ICD-10-CM codes are up to seven characters in an alpha-numeric system and provide significantly increased granularity over ICD-9-CM codes.
HHS believes the long-term benefits of ICD-10-CM include:
– Able to handle new procedures (estimated 1% of all procedures each year are new)
– Potentially fewer improper and rejected claims
– Improved disease management
– Harmonization of disease monitoring worldwide since most of the rest of the world is already using ICD-10-CM codes

Comments on this ruling must be made before 5 p.m. ET, October 21, 2008.
1. Comment Online
2. Comment by regular mail. Address one original and two copies of your comment to:
Centers for Medicare & Medicaid Services
Dept of Health and Human Services
Attention: CMS-0013-P
P.O. Box 8016
Baltimore, MD 21244-8016
All comments must be received by 5 p.m. EDT, October 21, 2008.
We encourage all chapters and members to consider submitting a comment to HHS regarding this critical proposal. The information below has been created for you to assist you in writing your own comment. It focuses on provider issues.You may copy parts or all of it as you see fit, however please know that the comment should be "yours," not the AAPC's. We encourage you to add your own viewpoints based on your personal experience as to the problems that will be encountered in this complicated conversion of both the 5010 operating system and the ICD-10-CM codes. Our data has purposely left out significant information that payers will provide regarding the time and cost for payers to implement ICD-10-CM. In fact, we believe payers will incur the largest impact — their time and cost to overhaul legacy systems, train personnel, change business processes and re-do contracts will be much more than HHS has imagined. We know payers will present their own comments. Please also know the AAPC national officewill make its own comment, separate from its membership and the 32 member coalition that AAPC has joined, The coalition will also recommend a delay in the proposed implementation date, and AAPC will co-sign that recommendation.

WHAT IS THE AAPC'S OFFICIAL POSITION?
The AAPC agrees that ICD-9-CM is inadequate for the future and ICD-10-CM offers desirable benefits. It is important to recognize that to achieve these benefits, the correct code MUST be selected every time. The AAPC believes numerous incorrect assumptions have been made by HHS in its ruling and each represents an underestimate of either costs or time or both (see examples of incorrect assumptions below).
The AAPC believes there are significant risks of pushing the implementation date too QUICKLY;
risk of chaos if providers and payers cannot meet the required implementation date;
risk of increased unpaid or improperly paid claims, with additional audit work required to resolve problems;
risk of reduced healthcare services as providers squander valuable clinical time scrambling to implement ICD-10-CM
A more systematic rollout will in fact be less costly and better ensure the desired benefits are achieved. The task is huge: 5010 testing and compliance, mapping from ICD-9-CM to ICD-10-CM, IT system upgrades or overhauls by both payers and providers, business processes adjusted, training of more than 1 million health care professionals, renegotiating payer/provider contracts, and much more. If providers and payers are not able to meet the implementation date, many billions more would be spent, additional work and audits would be required to correct the problems, patient care would be affected negatively and the benefits would be unachieved; only because it was pushed too quickly.
Both WEDI and NCVHS have made recommendations that 5010 standards testing be given 24 months and then enabling providers and payers 36 months to implement ICD-10-CM. Only a 12 month window between the implementations of 5010 and ICD-10 is provided in the proposed rule.The AAPC supports WEDI's and NCVHS's to move the final implementation date to October 1, 2014.
INCORRECT OR POTENTIALLY INCORRECT ASSUMPTIONS MADE BY HHS:
While not meant to be exhaustive, the AAPC believes the following 15 assumptions made by HHS are, or are potentially, INCORRECT. Each significantly affects the rationale supporting implementation on October 1, 2011 and justifies a delay in implementation to October 1, 2014.
The number of certified and full-time coders identified in the ruling is wrong by a factor between two and three. There are more than 150,000 full-time coders in the US today, with 100,000 certified.
Whereas HHS believes coders need only 32 hours of training; the AAPC believes it will be closer to between 40 and 60.
The estimate that training will cost <$1,000 per coder or $31 per hour is too low – coder's time alone is worth at least $25 per hour.
The statement that because of the prevalence of "super bills," only one in 10 physicians will require training is misguided. Only about half of physicians use "super bills." And because of the scope of changes in ICD-10-CM, it is possible that super bills will become obsolete due to the increased number of codes. Every physician will need training on documentation, and the cost will be up to 10 times more than the $600 per physician that HHS has assumed.
HHS states that changing "super bills" for ICD-10-CM will cost $55. In fact, such significant changes from ICD-9 to ICD-10 would create additional pages of "super bills" and would cost $2,000 to $5,000; not $55.
In its disregard of the need for physicians to be abreast of the changes, HHS seems to suggest that the Fraudulent Claims Act does not apply to Physicians. It does and that is why all physicians will require ICD-10 training and education.
The proposed rule suggests that payers will not have major difficulty updating their legacy systems – overhaul is more likely and the cost will be HUGE – again, many times more than HHS has assumed.
Because there is not a consistent relationship between ICD-9 codes and ICD-10 codes, current cross-walks developed are inaccurate. Payers must have reliable crosswalks to enable their edit systems and combat fraud and abuse.
HHS states the average time to code an outpatient claim is 1/100 time of the inpatient code – this is just wrong and we don't know how HHS could state this.
The proposal suggests that concurrent systems (both ICD-9-CM and ICD-10-CM) will not be needed. In all likelihood, most providers and payers will need to keep ICD-9-CM and ICD-10-CM systems running for the first 2-3 years to handle unpaid or contested claims, audits, and other historical issues.
5010 standards and ICD-10-CM can be comfortably implemented in three years. The implementation date for HIPAA transaction and code set standard was Oct 1, 2002, yet state Medicaid agencies not still not compliant today. Further CMS could not comply with the HIPAA privacy standard with planned partial implementation date and most providers had to apply for extensions. Mapping from ICD-9-CM is not complete and many other issues remain unanswered.
The AAPC highly doubts 5010 standards testing can be accomplished within 18 months, as stated in the proposal.
HHS expects physician upgrades individual software systems to be at little or no cost. We believe costs could exceed $5,000 per physician. In many cases, hardware upgrades may also be required.
HHS often notes that the rest of the world is using ICD-10-CM and the United States needs to get in step with them. HHS conveniently overlooks that most of the world is on a single payer system and the United States' multi-payer system would require significantly more work and time to change.
Finally, the AAPC does not understand why HHS ignored both WEDI and NCVHS recommendations for 24 months for 5010 standards testing and then – subsequent, not concurrent – 36 months for ICD-10-CM implementation. This is very reasonable and well thought out.
Again, we encourage all to consider commenting on the timing of the proposed implementation date
Download a printable (PDF) version of this document
Related Articles:
Latest posts by admin aapc
(see all)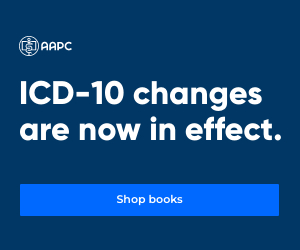 No Responses to "Talking Points: ICD-10-CM"