Medicare Covers Additional Preventive Services
By admin aapc
In Billing
October 28, 2011
Comments Off

on Medicare Covers Additional Preventive Services
The Centers for Medicare & Medicaid Services (CMS) announced, Oct. 14, in two national coverage determinations (NCDs) that it will add to the list of preventive services by covering alcohol misuse screening and behavioral counseling, as well as screening for depression.

Annual alcohol misuse screening by primary care providers (PCPs), such as a family physician, internal medicine specialist, or nurse practitioner in health care settings is covered under CMS' new policies. If the Medicare beneficiary screens positive for alcohol misuse, the benefit includes four behavioral counseling sessions per year furnished by the PCP.
The same is true for depression, which affects one in six Americans age 65 and older, CMS said. Annual screening for depression for Medicare beneficiaries is covered in primary care settings with staff resources to follow up with treatment and referrals. CMS said the purpose of the screening is to assure accurate diagnosis, effective treatment, and successful follow-up.
Effective for claims with dates of service Oct. 14, 2011 and later, CMS covers annual alcohol screening, and for those that screen positive, up to four, brief, face-to-face behavioral counseling interventions per year for Medicare beneficiaries, including pregnant women:
who misuse alcohol, but whose levels or patterns of alcohol consumption do not meet criteria for alcohol dependence (defined as at least three of the following: tolerance, withdrawal symptoms, impaired control, preoccupation with acquisition and/or use, persistent desire or unsuccessful efforts to quit, sustains social, occupational, or recreational disability, use continues despite adverse consequences); and,
who are competent and alert at the time that counseling is provided; and,
whose counseling is furnished by qualified primary care physicians or other primary care practitioners in a primary care setting.
Two new G codes, G0442 Annual Alcohol Misuse Screening, 15 minutes and G0443 Brief face-to-face behavioral counseling for Alcohol Misuse, 15 minutes are effective Oct. 14, 2011, and will appear in the January quarterly update of the Medicare Physician Fee Schedule Database (MPFSDB) and Integrated Outpatient Code Editor (IOCE).
Latest posts by admin aapc
(see all)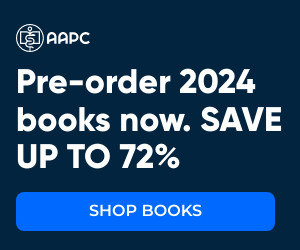 No Responses to "Medicare Covers Additional Preventive Services"