Bevacizumab Reimbursed by Medicare
HCPCS Level II code Q2024 Bevacizumab injection will be reimbursed by Medicare effective October 1. Distributed under the trade name Avastin, the drug inhibits angiogenesis — the uncontrolled spread of blood vessels feeding cancer tumors and diabetic retinal proliferation in the eye.
To help you code this drug, which is often administered in concert with a chemotherapeutic drug, the code's status indicator is "E," which means Bevacizumab is excluded from the Medicare Physician Fee Schedule Data Base (MPFSDB) by regulation and has no relative value listed, but is paid under reasonable charge procedures. Type of service (TOS) codes are "1" (Medical Care) and "P" (lump sum purchase of Durable Medical Equipment, Prosthetics, Orthotics, and Supplies or DMEPOS).
Read the Centers for Medicare & Medicaid Services (CMS) Transmittal 1805 to learn more.
Latest posts by admin aapc
(see all)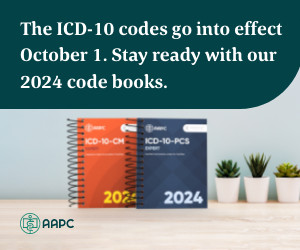 15 Responses to "Bevacizumab Reimbursed by Medicare"