New Member "Welcome" Letter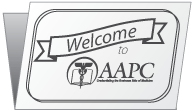 With this new tool you can send new members a "Welcome" letter and encourage them to attend your next meeting. The tool is found on our website under the Chapter Members tab on the Officers/Members page of the My Chapter area. Click the "Help" button for step-by-step directions on how to select the members, install Microsoft Silverlight, and print both sides of the cards. We encourage you to mail these cards to all new members.
Latest posts by admin aapc (see all)
Read the complete Article
Login as a member or sign up for free to get uninterrupted access to AAPC blog posts and stay updated on industry news through our monthly newsletter.