AMA Vigorously Opposes 2013 ICD-10 Implementation
By admin aapc
In CMS
December 2, 2011
Comments Off

on AMA Vigorously Opposes 2013 ICD-10 Implementation
During its 65th Interim Meeting in New Orleans, the American Medical Association's (AMA's) House of Delegates formally resolved to "vigorously work to stop the implementation of ICD-10 and to reduce its unnecessary and significant burdens on the practice of medicine." The AMA cited cost as the most significant of those burdens.

The Centers for Medicare & Medicaid Services (CMS) has mandated an Oct. 1, 2013 implementation date of the ICD-10 code set for all health care providers. ICD-10 more than quadruples the number of codes in the current ICD-9. The increased specificity of ICD-10 is expected to improve the quality of health care data and subsequently improve clinical, financial, and administrative outcomes.
ICD-10 also introduces new complexity into health care, will require providers to document patient encounters to greater detail, and will be costly to implement. A 2008 study found that a small three-physician practice would need to spend $83,290 to implement ICD-10, while a 10-physician practice would spend $285,195 to make the coding change.
"At a time when we are working to get the best value possible for our health care dollar, this massive and expensive undertaking will add administrative expense and create unnecessary workflow disruptions," said AMA President Peter W. Carmel, M.D., in a press release.
"The timing could not be worse as many physicians are working to implement electronic health records into their practices," Carmel continued. The AMA represents many physicians in smaller groups, who are less able to bear the costs of ICD-10 implementation, "meaningful use" requirements, and other mandates. Further, Carmel stated that ICD-10 would have "no direct benefit to individual patients' care."
The AMA would support a new code set, however, and also resolved to "work with other national and state medical and informatics associations to assess an appropriate replacement for ICD-9."
Once before, CMS heeded a call from the AMA to delay ICD-10 implementation, from Oct. 1, 2011 to the current date. Since then, CMS has repeatedly announced that there will be no further delay.
Latest posts by admin aapc
(see all)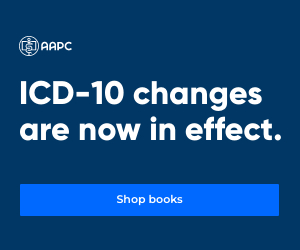 No Responses to "AMA Vigorously Opposes 2013 ICD-10 Implementation"