Medicare Covers Screening for Depression
By admin aapc
In Billing
December 30, 2011
Comments Off

on Medicare Covers Screening for Depression
Medicare recently added annual depression screening as a covered preventive service, in accordance with the Affordable Care Act. Effective Oct. 14, 2011, adult Medicare patients may receive depression screening once every 12 months in the primary care setting without a copay or deductible.
Requirement: The provider must have in place staff-assisted depression care supports who can advise the physician of screening results and who can facilitate and coordinate referrals to mental health treatment.
Report: The type of service is 1 and the HCPCS Level II code is G0444 Annual depression screening, 15 minutes.
Another thing to consider is whether your organization qualifies as a "primary care setting." According to MLN Matters article MM7637, effective for claims with dates of service on or after the implementation date (April 2, 2012), contractors will pay for annual depression screening only when provided at the following places of service:
11 – Office
22 – Outpatient hospital
49 – Independent clinic
50 – Federally qualified health center
71 – State or local public health clinic
72 – Rural health clinic
Limitations: Places of service that are not considered a primary care setting include: emergency departments (EDs), inpatient hospitals, ambulatory surgical centers (ASCs), independent diagnostic testing facilities, skilled nursing facilities (SNFs), inpatient rehabilitative facilities, and hospice. Also, treatment options—such as self-help materials, phone calls, etc.—are not included under this Medicare Part B benefit.
For further depression screening coding and billing guidance, read the complete MLN Matters article on the Centers for Medicare & Medicaid Services (CMS) website.
Latest posts by admin aapc
(see all)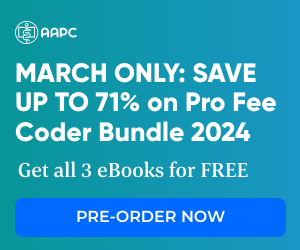 No Responses to "Medicare Covers Screening for Depression"