Why So Much N22226? More 5010 Guidance
By admin aapc
In Audit
January 27, 2012
Comments Off

on Why So Much N22226? More 5010 Guidance
The Centers for Medicare & Medicaid Services (CMS) has reissued communication to clarify Medicare's capability to cross over version 4010A1 and National Council for Prescription Drug Programs (NCPDP) version 5.1 batch claims to the supplemental payers that have cut over to exclusive receipt of version 5010 837 claim formats or NCPDP D.0 batch claim formats. Also in the revised communication, CMS downplays the impact on providers permitted to submit claims using the CMS 1500 or UB04 hardcopy (paper) formats.

An MLN Matters® Special Edition article, revised Jan. 17, entitled "Additional Health Insurance Portability and Accountability Act (HIPAA) 837 5010 Transitional Changes and Further Modifications to the Coordination of Benefits Agreement (COBA) National Crossover Process," addresses a perceived concern that exists among the provider community.
According to CMS, providers are confused whether billing of hardcopy CMS 1500 or UB04 claims or HIPAA version 4010A1 or NCPDP version 5.1 batch claims will result in Medicare being unable to cross over those claims to COBA supplemental payers that have made a 100 percent conversion to the new electronic transaction formats. CMS says this is not the case.
Billing vendors and physician/practitioner, provider, or supplier offices that bill Medicare will not continue to receive error code N22226 4010A1 production claim received, but the COBA trading partner is not accepting 4010A1 production claims for every claim billed to Medicare using a hardcopy claim format (CMS-1500 or UB-04) or version 4010A1 or NCPDP 5.1 batch format.
During the version 5010 90-day non-enforcement period (Jan. 1 through March 31), Medicare has the systematic capability to perform up- or down-version conversion of incoming claim formats (i.e., convert incoming hardcopy formats to HIPAA-equivalent claim formats or convert incoming version 4010A1 claim formats to 5010 formats and vice versa).
Physicians/practitioners, providers, and suppliers with authorization under the Administrative Simplification Compliance Act (ASCA) to submit claims using a hardcopy format should know that Medicare has the systematic capability to convert keyed claims into outbound-compliant HIPAA 837 claim formats for crossover claim transmission purposes. This is true at all times, CMS says, not just during the 90-day non-enforcement period.
With the exception of hardcopy claims, however, this practice will discontinue at the conclusion of the 90-day non-enforcement period.
Latest posts by admin aapc
(see all)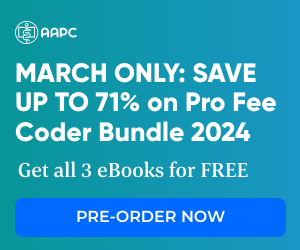 No Responses to "Why So Much N22226? More 5010 Guidance"