ICD-10 Guidelines for 2012 Offer Insight to Future
By admin aapc
In CMS
January 27, 2012
Comments Off

on ICD-10 Guidelines for 2012 Offer Insight to Future
Despite the urgings of the American Medical Association (AMA) for Congress to stop the implementation of ICD-10, ICD-9 updates have ceased (other than those necessary to accommodate new technology), and the Centers for Disease Control and Prevention (CDC) National Center for Health Statistics (NCHS) is focusing its energy on ICD-10. Most recently, the agency, under authorization by the World Health Organization (WHO), updated its ICD-10-CM Official Guidelines for Coding and Reporting for 2012.
Although these codes are not currently valid for any purpose or use in the United States, with an ICD-10 implementation date of Oct. 1, 2013, now is a good time to become familiar with these new guidelines for diagnosis coding and reporting.

As you review the manual, take note of the recent revisions for 2012: Bold text indicates a narrative change from 2011 guidelines; italicized text indicates a heading change; and text that is underlined has been moved in the guidelines since the 2011 version.
You'll find notable changes in the following locations:
Section I, B, 16: Documentation of Complications of Care
This revised paragraph reminds the coder that code assignment should be based on the provider's documentation of the relationship between the condition and the care or procedure. "There must be a cause-and-effect relationship between the care provided and the condition … query the provider if the complication is not clearly documented."
Section I, C, Chapter 1: Certain Infections and Parasitic Diseases (A00-B49)
Under Sepsis, Severe Sepsis, and Septic Shock, the guidelines clarify that, "Septic shock generally refers to circulatory failure associated with severe sepsis, and therefore, it represents a type of acute organ dysfunction."
Code T81.12 Postprocedural septic shock is added as a code that can be sequenced after the code for the systemic infection, and a reminder has been added that "the code for septic shock cannot be assigned as a principal diagnosis."
Additional changes can be found in this chapter, including those for methicillin resistant staphylococcus aureus (MRSA) conditions.
Chapter 2: Neoplasms (C00-D49)
Look to this chapter to find a number of changes regarding general guidelines for neoplasm coding.
Chapter 5: Mental, Behavioral, and Neurodevelopmental Disorders (F01-F99)
Here, NCHS clarifies that "a code from category G89 [Pain, not elsewhere classified] should not be assigned with code F45.41," which is used to indicate "pain that is exclusively related to psychological disorders." Instead report code F45.2 Pain disorders with related psychological factors, provided "there is documentation of a psychological component for a patient with acute or chronic pain."
Chapter 7: Diseases of the Eye and Adnexa (H00-H59)
The section on glaucoma in this chapter has been completely revised to clarify the assignment of codes for glaucoma in general and in various stages.
Chapter 18: Symptoms, Signs, and Abnormal Clinical and Laboratory Findings, Not Elsewhere Classified (R00-R99)
In this chapter, under Coma Scale, you'll find new guidance stating, "Assign code R40.24, Glasgow coma scale, total score, when only the total score is documented in the medical record and not the individual score(s)."
Chapter 19: Injury, Poisoning, and Certain Other Consequences of External Causes (S00-T88)
Under Adverse Effects, Poisoning, Underdosing and Toxic Effects, item 5 clarifies, "When coding an adverse effect of a drug that has been correctly prescribed and properly administered, assign the appropriate code the nature of the adverse effect followed by the appropriate code for the adverse effect of the drug (T36-T50). The code for the drug should have a 5th or 6th character "5" (for example T36.0X5-).
Guideline changes for coding adult and child abuse, neglect, and other maltreatment can also be found in this chapter.
Chapter 21: Factors Influencing Health Status and Contact with Health Services (Z00-Z99)
Lastly, check out this chapter for new guidance regarding encounters for obstetrical and reproductive services, and the use of code Z3A Weeks of gestation.
Latest posts by admin aapc
(see all)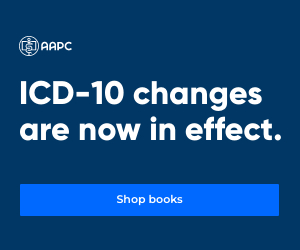 No Responses to "ICD-10 Guidelines for 2012 Offer Insight to Future"