Coding STI Screening and HIBC Services
By admin aapc
In Billing
March 2, 2012
Comments Off

on Coding STI Screening and HIBC Services
Based on United States Preventive Services Task Force (USPSTF) recommendations, and after determining that the criteria for "preventive services" were met, the Centers for Medicare & Medicaid Services (CMS) has finalized a National Coverage Determination (NCD) for Sexually Transmitted Infections (STIs) Screening and High Intensity Behavioral Counseling (HIBC) to Prevent STIs.
Effective Nov. 8, 2011, Medicare will cover screening for chlamydia, gonorrhea, syphilis, and hepatitis B when performed using the appropriate U.S. Food and Drug Administration (FDA) approved laboratory tests and ordered by the patient's primary care provider who is also an eligible Medicare provider for these services. The tests must be used consistent with FDA approved labeling and in compliance with the Clinical Laboratory Improvement Act (CLIA) regulations.
HIBC to prevent STIs must also be provided by the patient's primary care provider in a primary care setting, such as by the patient's family practice physician, internal medicine physician, or nurse practitioner in the doctor's office.
"Emergency departments, inpatient hospital settings, ambulatory surgical centers (ASCs), independent diagnostic testing facilities, skilled nursing facilities (SNFs), inpatient rehabilitation facilities, clinics providing a limited focus of health care services, and hospice are examples of settings not considered primary care settings under this definition," CMS warns.
Medicare will cover up to two, individual, 20- to 30-minute, face-to-face counseling sessions annually (every 12 months) for all sexually active adolescents and for adults at increased risk for STIs (as per USPSTF guidelines).
Report HIBC to prevent STIs with:
G0445 High-intensity behavioral counseling to prevent sexually transmitted infections, face-to-face, individual, includes: education, skills training, and guidance on how to change sexual behavior, performed semi-annually, 30 minutes; and
V69.8 Other problems related to lifestyle
CMS guidelines further state:
This code [G0445] may be paid on the same date of service as an annual wellness visit (AWV), evaluation and management (E/M) code, or during the global billing period for obstetrical care, but only one G0445 may be paid on any one date of service. If billed on the same date of service with an E/M code, the E/M code should have a distinct diagnosis code other than the diagnosis code used to indicate high/increased risk for STIs for the G0445 service. An E/M code should not be billed when the sole reason for the visit is HIBC to prevent STIs.
CMS provides additional tips for coding screening and counseling services:
Report diagnosis code V74.5 Screening examination for venereal disease or V73.89 Special screening examination for other specified viral diseases to identify the screening test(s) as preventive.
Report V22.0 Supervision of normal first pregnancy, V22.1 Supervision of other normal pregnancy, or V23.9 Unspecified high-risk pregnancy, when appropriate.
The patient's medical record must clearly support the diagnosis of high/increased risk for STIs and clearly reflect the components of HIBC (education, skills training, and guidance on how to change sexual behavior).
See MLN Matters® MM7610 for further details and billing reminders.
Latest posts by admin aapc
(see all)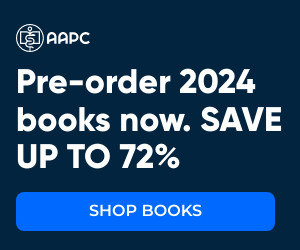 No Responses to "Coding STI Screening and HIBC Services"