CMS Clarifies Intensive Behavioral Therapy Coverage
By admin aapc
In Billing
March 2, 2012
Comments Off

on CMS Clarifies Intensive Behavioral Therapy Coverage
A revision made to a previously released MLN Matters® article widens the scope for who can furnish intensive behavioral therapy (IBT) to obese Medicare patients.
A national coverage determination (NCD 210.12) recently rendered obesity counseling services covered under Medicare Part B effective Nov. 29, 2011.
Medicare patients who have a body mass index (BMI) of 30.0 kg/m² or greater are considered obese and may qualify for coverage without Medicare coinsurance or Part B deductible. To qualify for coverage:
the patient must be competent and alert at the time of counseling;
the counseling must be furnished by a primary care physician or other primary care practitioner; and
the counseling must be provided in a primary care setting.
Qualifying provider types include:
01 – general practice
08 – family practice
11 – internal medicine
16 – obstetrics/gynecology
37 – pediatric medicine
38 – geriatric medicine
50 – nurse practitioner
89 – certified clinical nurse specialist
97 – physician assistant
"In addition," CMS notes in the revised article, "Medicare may cover behavioral counseling for obesity services when billed by the one of the provider specialty types listed above and furnished by auxiliary personnel under the conditions specified under our regulation at 42 CFR Section 410.26(b) (conditions for services and supplies incident to a physician's professional service) or 42 CFR Section 410.27 (conditions for outpatient hospital services and supplies incident to a physician service)."
Qualifying places of service are:
11 – physician's office
22 – outpatient hospital
49 – independent clinic
71 – state or local public health clinic
A maximum of 22 visits are permitted in a 12-month period, allocated as such:
one face-to-face visit every week for the first month;
one face-to-face visit every other week for months 2-6; and
one face-to-face visit every month for months 7-12, if the patient meets the 3 kg (6.6 lbs) weight loss requirement during the first 6 months.
"This determination must be documented in the physician office records for applicable beneficiaries consistent with usual practice," CMS reminds providers.
In the event a Medicare patient qualifies for and receives IBT for obesity in your primary care setting, report HCPCS Level II code G0477 Face-to-face behavioral counseling for obesity, 15 minutes and the appropriate ICD-9-CM code for BMI 30.0 or over (V85.30-V85.39, V85.41-V85.45).
ICD-10 Crosswalk: Z68.30 – Z68.39, Z68.41 – Z68.45
Refer to MLN Matters® article MM7641 for complete details.
Latest posts by admin aapc
(see all)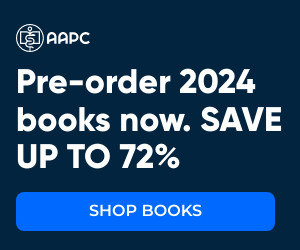 No Responses to "CMS Clarifies Intensive Behavioral Therapy Coverage"