CMS Proposes 2013 Pay Rates and Policies for Hospitals
By admin aapc
April 27, 2012
Comments Off

on CMS Proposes 2013 Pay Rates and Policies for Hospitals
The Centers for Medicare & Medicaid Services (CMS) issued a proposed rule April 24 that would update 2013 Medicare payment policies and rates for inpatient stays to general acute care hospitals paid under the Inpatient Prospective Payment System (IPPS) and long-term care hospitals (LTCHs) paid under the LTCH PPS.
In the proposed rule, which will appear in the May 11 Federal Register, CMS estimates a 2.3 percent increase to IPPS operating payment rates. This reflects a projected update of 3.0 percent for the hospital market basket, adjusted by a multi-factor productivity adjustment of -0.8 percentage point and an additional -0.1 percentage point in accordance with the Affordable Care Act, increased by a 0.2 percent adjustment for documentation and coding.
CMS projects that LTCH PPS payments would increase by 1.9 percent in 2013. This estimated increase is attributable to several factors, including the proposed update of 2.1 percent, a proposed "one-time" adjustment of -0.98374 to the 2013 standard federal rate (which is not applicable to payments for discharges occurring on or before Dec. 28, 2012), and projected increases in estimated high-cost outliers and decreases in short-stay outlier (SSO) payments due to a change in the SSO payment methodology effective for discharges occurring on or after Dec. 29, 2012.
CMS is also proposing several notable changes to various reporting programs, such as the Hospital Inpatient Quality Reporting (IQR) Program and the Hospital Value-based Purchasing (VBP) Program. The proposed rule also establishes the framework for two new quality reporting programs that will apply to hospitals paid under the Inpatient Psychiatric Facility (IPF) PPS and PPS-exempt cancer hospitals, and proposes requirements for the ambulatory surgical center (ASC) quality data reporting program effective for the 2014 payment determination.
General acute hospitals that do not successfully participate in the programs in which they are participating will receive a 2.0 percentage point reduction, or a payment rate update of 0.3 percent. LTCHs that do not comply with the new LTCH quality reporting program will see their yearly federal update payments reduced by 2.0 percentage points beginning in 2014.
CMS is also proposing a methodology to calculate the readmissions adjustment factor for 2013 that will result in a 0.3 percent decrease in payments to hospitals.
In response to this, the American Hospital Association (AHA) said in a statement, "… we are concerned about CMS' proposed 3.75% cut for LTCHs. Even with a 3-year phase in, this new reduction will have a negative impact on LTCHs' ability to care for patients."
For hospital acquired conditions (HACs), CMS is proposing two new conditions:
Surgical Site Infection Following Cardiac Implantable Electronic Device Procedure
Pneumothorax with Venous Catheterization
CMS is also proposing to add to the existing Vascular Catheter-associated Infection HAC category, ICD-9 diagnosis codes:
999.32 Bloodstream infection due to central venous catheter
999.33 Local infection due to central venous catheter
Also in the 2013 IPPS/LTCH proposed rule, CMS would implement a one-year extension of the existing moratorium on the "25 percent threshold" policy, pending results of an ongoing research initiative to redefine the role of LTCHs in the Medicare program. The legislative moratorium on new LTCHs and satellite facilities expires at the end of 2012.
AHA also responded to this proposal, saying, "While we commend CMS for delaying the full implementation of the 25% rule for long-term care hospitals (LTCHs), we are troubled that the delay does not fully apply to all LTCHs this year. Leaving the proposal as is could arbitrarily prohibit some patients from receiving needed long-term care."
A CMS fact sheet discusses major quality-related provisions of the proposed rule. A separate CMS fact sheet discusses proposed payment changes in more detail.
You have until June 25, 2012 to comment on this proposed rule. CMS will publish the final rule by Aug. 1, 2012.
Latest posts by admin aapc
(see all)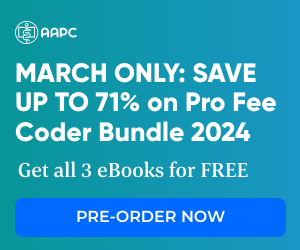 No Responses to "CMS Proposes 2013 Pay Rates and Policies for Hospitals"