Three-day Rule for Related Non-diagnostic Services Is in Effect
By admin aapc
In Billing
June 29, 2012
Comments Off

on Three-day Rule for Related Non-diagnostic Services Is in Effect
Effective July 1, physician offices and other Part B entities wholly owned or operated by a hospital must append modifier PD Diagnostic or related nondiagnostic item or service provided in a wholly owned or operated entity to a patient who is later admitted as an inpatient within 3 days to codes for diagnostic or related non-diagnostic items or services furnished to a Medicare patient who is later admitted as an inpatient within a three-day payment window.

The three-day payment window applies to services provided on the date of admission and 72 hours immediately preceding admission.
Note: A wholly owned or operated Part B entity of a psychiatric hospital, inpatient rehabilitation hospital, long-term care hospital, children's hospital, or cancer hospital is subject to a one-day payment window.
Modifier PD signals Medicare to pay wholly owned or operated Part B entities for services related to the admission at the lower facility rate. Modifier 26 Professional component should also be appended to diagnostic service codes to indicate that the physician supplied the professional component only.
This policy was finalized in the 2102 Medicare Physician Fee Schedule (MPFS) in November 2011 and was supposed to go into effect Jan. 3, 2012, but the Centers for Medicare & Medicaid Services (CMS) extended the compliance date to July 1 "because hospitals and practices said they needed more time to create communication channels necessary to meet the requirements," according to amednews.com. The admitting hospital is responsible for notifying the Part B entity of an inpatient admission.
The hospital and the associated Part B entity are both responsible for determining whether the Part B entity is wholly owned or operated. In general, though, an entity is "wholly owned" by a hospital if the hospital is the sole owner of the entity; and an entity is "wholly operated" by a hospital if the hospital has exclusive responsibility for conducting and overseeing the entity's routine operations, regardless of whether the hospital also has policy-making authority over the entity.
The three-day payment window does not apply:
If the hospital and Part B entity are both owned by a third party, such as a health system
If the hospital is not the sole or 100 percent owner of the Part B entity. For example, if the hospital has a financial or administrative partner, or if physicians or other practitioners have an ownership interest in the hospital, physician practice, or other Part B entity.
Prior to the enactment of this provision, related non-diagnostic services were those services where there was an exact match of the ICD-9 diagnosis code between pre-hospitalization services and the inpatient admission. This provision expands the definition of "related to" services to "all services that are not diagnostic services unless the hospital demonstrates … that such services are not related … to such admission."
Source: FAQs CR 7502, CMS transmittal 2373
Latest posts by admin aapc
(see all)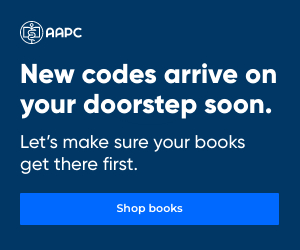 No Responses to "Three-day Rule for Related Non-diagnostic Services Is in Effect"