Physicians: Gear Up for More Pertussis
By admin aapc
In Billing
July 26, 2012
Comments Off

on Physicians: Gear Up for More Pertussis
The Centers for Disease Control and Prevention (CDC) held a Morbidity and Mortality Weekly Report (MMWR) telebriefing July 19 on pertussis, or whooping cough, and the epidemic that's occurring in Washington state. According to Dr. Anne Schuchat, director for the National Center for Immunization and Respiratory Diseases at CDC, Washington state is not alone in its plight. "What is happening in Washington state is a reflection of the larger national picture. … We're seeing a substantial increase in pertussis cases in the United States and in individual states like Washington," Schuchat said.
Washington state has had 2,520 cases of pertussis this year as of June 16, but the number of cases reported nationwide is even more concerning. "As of today, nationwide, nearly 18,000 cases have been reported to CDC," Schuchat said. "That's more than twice as many as we had at the same time last year. In fact, it's more than we had in each of the past five years. We may be on track for record high pertussis rates this year. We may need to go back to 1959 to find a year with as many cases reported by this time so far. So, there is a lot of pertussis out there and I think there may be more coming to a place near you."
Pertussis is most dangerous for babies and very young children. Early symptoms can include runny nose, low-grade fever, and mild, occasional cough—similar to that of a cold. Infants may experience apnea (a pause in breathing). As the disease progresses, the coughing becomes more persistent and might create a "whooping" sound. Relentless coughing fits that can come and go for weeks on end cause exhaustion, which compromises immunity.
Young children aren't the only ones at risk, however. Schuchat said, "We're also seeing high rates … among children 10 years of age. By age 10, immunity can wane from the early-childhood vaccines that kids get." The CDC is also seeing an increase nationally in the 13-to-14 year age group. "The increased number of cases among 13-to-14 year olds is a concern we are looking at in detail," Schuchat said.
Pertussis vaccine remains the single most effective approach to prevent infection. The CDC continues to recommend that all children and adults get fully vaccinated to prevent infection and to protect infants.
Adolescents 11-18 years of age (preferably at age 11-12 years) and adults 19 through 64 years of age, as well as adults 65 and older who have close contact with an infant and have not previously been vaccinated, should receive a single dose of Tdap. Tdap should also be given to 7-10 year olds who are not fully immunized against pertussis. Children should get five doses of DTaP, one dose at each of the following ages: 2, 4, 6, and 15-18 months, and 4-6 years.
Pertussis is generally treated with antibiotics and early treatment is very important. The CDC is asking clinicians who see patients with a persistent cough or who may have been exposed to the disease to consider pertussis as a diagnosis (ICD-9-CM 033.9 Whooping cough, unspecified organism).
"Be proactive with treatment, especially with pregnant women, infants, and others who are around infants," urged Schuchat.
Latest posts by admin aapc
(see all)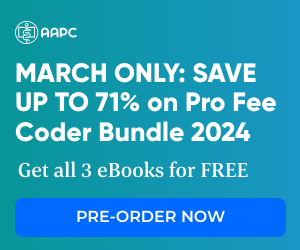 No Responses to "Physicians: Gear Up for More Pertussis"