Exciting Changes with Your CEU Event Approval
By admin aapc
August 2, 2012
Comments Off

on Exciting Changes with Your CEU Event Approval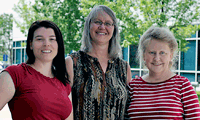 The AAPC CEU Vendor team is now handling all requests for CEUs for local chapter events. Some changes have already been made and more will come in the next few months.
Already in Effect
Email localchapterCEUs@aapc.com if you need to contact the CEU Vendor Team (Shelly, Teresa, and Darrelyn). Initial CEU requests are still made on the website.
Specialty CEUs are now available for seminar sessions.
Upcoming Changes
Online guidelines will outline how requests are submitted and handled.
Event-specific CEU FAQs will be posted.
The application process will be upgraded.
Communication between AAPC and officers:
When an event request is submitted that does not contain sufficient information to review or award CEU approval, the CEU Vendor team will communicate by email with the submitting officer and the president for the needed information. If officers do not respond within two weeks from the date of the initial email request, the event will be denied for non-communication.
If the email is regarding an ICD-10 presentation and information from the presenter cannot be obtained within the two weeks, contact the Vendor team to indicate when they can expect the requested information. Do not submit for approval if you know you will not receive the required information within two weeks of submission.
CEU requests for ineligible activities during meetings
Request CEUs only for time spent in education. It is expected that chapter meetings will require time for handling chapter business or networking, which includes giving awards and recognition. This is not education time.
Use of AAPC national conference material
Local chapters may not use national conference printed materials, recordings, or presentation slides without the written permission from the presenter and AAPC.
Use of purchased AAPC webinars
AAPC webinars are not available for use by local chapters, as explained in our webinar policy:

Webinars are for personal or single-office (e.g. a conference room) use only and may not be rebroadcast, retransmitted, shared, or disseminated. AAPC local chapters or other groups of individuals representing multiple companies or separate offices within a single facility do not constitute a "single-office" and may not share a single event or subscription webinar license.
ICD-10 content and AHIMA trainers
All events, presentations, publications, etc., pertaining to ICD-10 must be submitted for review in entirety for CEU approval to be obtained.
When seeking approval for AAPC pre-recorded ICD-10 webinars, title the event or session as follows:

AAPC webinar: Anatomy and Pathophysiology for ICD-10 Overview or ICD-10-PC: Let's Take A Look
The Presenter is Kim Reid, CPC or Betty Hovey-Johnson, CPC

AHIMA content will not be approved for AAPC local chapter presentations. Any content submitted to AAPC for approval must be completely self-created, including examples and scenarios.

Per AHIMA guidelines for ICD-10 AHIMA-certified trainers: Trainers may not remove AHIMA copyright notice or otherwise re-brand slides, trainers may not modify AHIMA copyrighted slides, trainers may add material to the deck. If adding material, please remove AHIMA credit line from added content.
Emergency Changes
In the event of a last-minute cancellation of a speaker or other change the same day as the meeting, you must contact AAPC's vendor team at 800-626-2633 option 9, then option 2. If it is after hours, call 800-626-2633, ext. 115 and leave a message if there is no answer.
All CEU approvals should follow the same processes and guidelines. We want local chapter events held to the same high standard as other CEU approvals.
Latest posts by admin aapc
(see all)
No Responses to "Exciting Changes with Your CEU Event Approval"