New Codes, Rules Add Specificity to Flu Reporting
By admin aapc
In Coding
October 19, 2009
Comments Off

on New Codes, Rules Add Specificity to Flu Reporting
A recent update to the ICD-9-CM Official Guidelines for Coding and Reporting gives coders a choice of diagnosis codes to differentiate between the two types of influenza virus patients may present with this year.
In chapter 8: Diseases of the Respiratory System, section D: Influenza Due to Certain Identified Viruses, the Centers for Disease Control and Prevention's (CDC) National Center for Health Statistics (NCHS) instructs coders to "Code only confirmed cases of avian influenza (code 488.0, Influenza due to identified avian influenza virus) or novel H1N1 influenza virus (H1N1 or swine flu, code 488.1). This is an exception to the hospital inpatient guideline Section II, H. (Uncertain Diagnosis)."
Note: Bold text indicates what has changed.
"In this context, 'confirmation' does not require documentation of positive laboratory testing specific for avian or novel H1N1 influenza. However, coding should be based on the provider's diagnostic statement that the patient has avian or novel H1N1 (H1N1 or swine flu) influenza."
"If the provider records 'suspected or possible or probable avian or novel H1N1 influenza (H1N1 or swine flu),' the appropriate influenza code from category 487 should be assigned," not 488.
Changes to the ICD-9-CM Official Guidelines went into effect Oct. 1.
Note that category 488 codes are for diagnosing patients who are exhibiting symptoms and presenting for evaluation and testing. Do not report 487 or 488 codes for influenza vaccinations.
The Centers for Medicare & Medicaid Services (CMS) instructs you (in Transmittal SE0920) to report ICD-9-CM diagnosis code V04.81 Need for prophylactic vaccination and inoculation against influenza when filing a reimbursement claim for the administration of an influenza vaccine.
In the same transmittal, CMS lists new HCPCS Level II codes intended for reporting H1N1 vaccination services. The American Medical Association (AMA) has also expedited the release of CPT® codes for H1N1 vaccination services. A word to the wise: Refer to your payer for specific coding and billing requirements. Your payer's Web site is a good place to start.
Latest posts by admin aapc
(see all)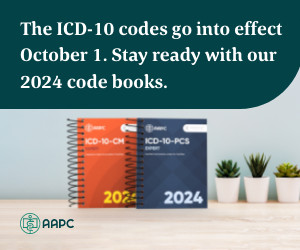 No Responses to "New Codes, Rules Add Specificity to Flu Reporting"