Grasp New Coding for Skin Replacement Surgery
By admin aapc
In Coding
March 1, 2012
Comments Off

on Grasp New Coding for Skin Replacement Surgery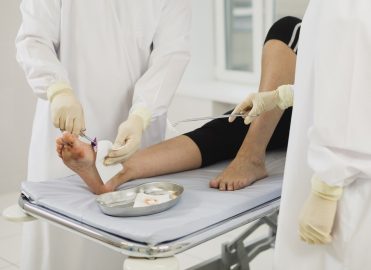 From preparation to closure, learn the latest for CPT® skin replacement codes.
In 2012, the American Medical Association (AMA) replaced CPT® codes to describe skin replacement surgery, revised section guidelines related to those codes, and added a code for bioprosthetic soft tissue reinforcement. To ensure accurate coding of these procedures, you'll want to learn the details of these changes and how they will affect coding.
Topical Skin Replacement vs. Soft Tissue Reinforcement
Per revised skin replacement surgery guidelines, CPT® now specifies use of 15002-+15278 for topical application of a skin graft. That is, 15002-+15278 do not include use of skin replacement materials as soft tissue reinforcement.
To report skin replacement materials used for soft tissue reinforcement, CPT® 2012 includes a new add-on code, +15777 Implantation of biologic implant (eg, acellular dermal matrix) for soft tissue reinforcement (eg, breast, trunk) (List separately in addition to code for primary procedure).
This code may be reported when a surgeon uses a bioprosthetic — that is, acellular dermal matrix, such as AlloDerm® — to reinforce the fascia during breast reconstruction or a large abdominal repair. However, multiple parenthetical instructions direct the coder to use other codes, as appropriate. Table 1 delineates some of the many procedures that may include use of bioprosthetic material and how to report their use.
Table 1: Bioprosthetic Material Use by CPT® Code
Procedure with which bioprosthetic material is placed
CPT® Code
Topical application of skin substitute graft
15271-15278
Fascial reinforcement during breast reconstruction
15777
Hernia repair
49568
Closure of necrotizing soft tissue infection (NSTI) wound
49568
Fascial reinforcement during other abdominal wound closure
15777
Repair of anorectal fistula with plug
46707
Repair of pelvic floor defect
57267
Pericardial patch
Included in primary procedure code
Mengingeal patch
Included in primary procedure code
Presenters from both the AMA and the Centers for Medicare & Medicaid Services (CMS) at the 2011 AMA Symposium stated bioprosthetic material used for pericardial or meningeal patches should not be reported separately. CMS also recommended that if 15777 is reported for use other than in the breast or trunk, supporting literature should be submitted prior to payment.
Skin Replacement Surgery Guideline Revisions
Section guidelines also include new instruction that treatment of the wrist and ankle are considered part of the arm and leg, respectively (not of the hand and foot), and should be reported with general body area codes (e.g., 15002-+15003), rather than the detailed body area codes (e.g., 15004-+15005).
The guidelines were further revised to explain wound measurement by anatomical site: All wounds with a similar procedure that group to the same anatomic areas (general or detailed) should be summed, and then reported.
For example, if a patient has a wound on each hand, 25 sq cm each, totaling 50 sq cm, and the surgeon performs surgical preparation of both wounds in the same surgical setting, report a single unit of 15004 Surgical preparation or creation of recipient site by excision of open wounds, burn eschar, or scar (including subcutaneous tissues), or incisional release of scar contracture, face, scalp, eyelids, mouth, neck, ears, orbits, genitalia, hands, feet and/or multiple digits; first 100 sq cm or 1% of body area of infants and children.
If, however, one burn is on the arm and the other is on the hand, report 15002 Surgical preparation or creation of recipient site by excision of open wounds, burn eschar, or scar (including subcutaneous tissues), or incisional release of scar contracture, trunk, arms, legs; first 100 sq cm or 1% of body area of infants and children and 15004.
Tip: For autografts, remember to always measure the recipient site, not the donor site.
Symposium presenters stressed a skin graft must include fixation of the surgeon's choice, including glue, suture, adhesive strips, or adept dressings over graft. If the surgeon's choice of fixation is adept dressings over the graft, ensure the documentation is clear that the dressing is more than just a typical wound dressing. Without fixation, the graft material is considered a wound dressing.
Surgical Preparation
Surgical preparation is the final process when preparing a clean wound bed prior to primary or tertiary (delayed primary) closure. Skin preparation may precede skin grafting, adjacent tissue transfer, flaps, other grafts, and negative wound pressure therapy. If a wound will be left to close by secondary intention, without active intervention, surgical preparation codes are not reported.
When a wound requires serial debridement, report active wound management (97597-97598) or debridement (11042-11047).
Surgical preparation may be reported only once per wound. If the wound is prepared, but not grafted (for instance, grafting won't occur until the next day due to patient decompensation), minimal preparation of the wound bed is included in the graft code, as is the case for removing a previous graft. In the rare instance that a wound is prepared but the graft is not placed that day, the wound becomes non-viable and serial treatments are again required, surgical preparation may again be reported.
Tissue Cultured Skin Autografts
The revisions made to the tissue cultured skin autograft series (15150-15157) for 2012 are editorial changes, replacing "epidermal" with "skin" in each code description. See Table 2 for a refresher on graft terminology.
Table 2: Graft Terminology
Autograft: Graft from the same person
Allograft/Homograft: Graft from another member of the same species (often cadaveric)
Isograft: Graft from another member of the same species who is genetically identical to the patient (identical twin)
Xenograft/Heterograft: Graft from another species (often porcine or bovine)
Skin Substitute Grafts
The AMA deleted the "product-based" allograft and xenograft codes (see Table 3) and replaced them with a series of new codes based on the physician effort involved in placing the grafts.
Table 3: Deleted Skin Graft Codes (Product-based Codes)
| | | |
| --- | --- | --- |
| 15170-15176 | 15300, 15301 | 15400, 15401 |
| 15320, 15321 | 15330, 15331 | 15420, 15421 |
| 15335, 15336 | 15340, 15341 | 15430, 15431 |
| 15360, 15361 | 15365, 15366 | |
The new CPT® code series for skin substitute grafts is 15271-15278. These new codes are delineated by anatomic site (general and detailed body areas) and size (wounds with total surface area less than 100 sq cm, and those with total surface area equal to or greater than 100 sq cm). Coding these grafts by size is a novel concept in CPT®.
Three steps are required to code skin substitute grafts:
Anatomic grouping: As with other skin replacement surgery codes, wounds are grouped by general and detailed body areas. Combine all wounds by anatomic grouping.
Total wound surface area: Determine whether the wound, or combined wounds, total surface area is less than 100 sq cm or equal to or greater than 100 sq cm. There are separate codes based on total surface area because the work involved treating small and large wounds is different. For example, wounds less than 100 sq cm total surface area may be treated in the office, while larger wounds are usually treated in a hospital OR setting and require more intense post-operative care. This coding structure allows for more accurate relative value unit (RVU) valuation.
Specific wound/wound grouping total surface area: The total surface area of the wound is again considered to report the correct parent code and any add-on codes. For example, consider a burn wound on a patient's back due to a hot water scald. The burn total surface area is 10 x 15 cm, or 150 sq cm. Because the back is part of the trunk, consider 15271–+15274. The total wound surface area is 150 sq cm, so you would use 15273 and +15274, which apply to wounds greater than or equal to 100 sq cm total surface area. The parent code, 15273, is reported for the first 100 sq cm. Add-on code 15274 is reported x 1 for the remaining 50 sq cm.
Do NOT report 15271–+15278 when a skin substitute is used for anything other than skin replacement (e.g., for fascial reinforcement during breast reconstruction). Nor should you use these codes to report wound closure with non-graft wound dressings (e.g., gel, ointment, foam, liquid) or injected skin substitutes.
Table 4: Skin Substitute Grafts Coding by Site and Size
Trunk, arms, legs
Face, scalp, neck, ears, genitalia, hands, feet, digits
Total wound surface area by anatomical grouping less than 100 cm2
1-25 cm2
15271
15275
26-50 cm2
+15272 x 1
+15276 x 1
51-75 cm2
+15272 x 2
+15276 x 2
76-99 cm2
+15272 x 3
+15276 x 3
Total wound surface area by anatomical grouping greater than or equal to 100 cm2
100 cm2
15273
15277
101-200 cm2
+15274 x 1
+15278 x 1
201-300 cm2
+15274 x 2
+15278 x 2
301-400 cm2
+15274 x 3
+15278 x 3
Be sure to educate physicians on proper use of 15777 and update encounter forms to reflect the new code series. As always, carefully read and observe all section guidelines and parenthetical instructions.
Terri Brame, MBA, CHC, CPC, CGSC, CPC-H, CPC-I, is the physician compliance officer for the University of Arkansas for Medical Sciences. She is a former AAPC local chapter president and has had the opportunity to speak at two AAPC national conferences.
Latest posts by admin aapc
(see all)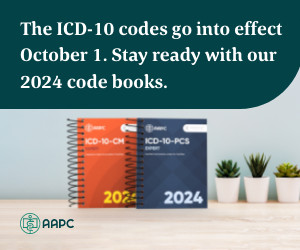 No Responses to "Grasp New Coding for Skin Replacement Surgery"