POS Codes: Do You Know Where Your Doctor Is?
By admin aapc
In Billing
October 19, 2009
Comments Off

on POS Codes: Do You Know Where Your Doctor Is?
According to the Centers for Medicare & Medicaid Services (CMS), billing staff often do not know where their physicians performed certain services, such as diagnostic test interpretations. Either that or they simply do not understand place of service (POS) codes enough to make informed decisions.
"The use of office or POS code 11 in certain situations has been problematic," CMS says in a recent transmittal.
The POS code on a claim designates the actual place where a service was provided. It also determines whether the provider is paid at the facility or non-facility rate under the physician fee schedule (PFS).
To clarify, CMS says, physicians who perform services for an ambulatory surgical center (ASC) should use POS code 24, not POS code 11. Only if the physician has an office at the ASC and the service is performed in the office would POS code 11 be appropriate. "However, no concurrent or overlapping hours can exist between the ASC and the physician's office," CMS stipulates.
Physicians who perform services in a hospital outpatient department should use POS code 22. Unless, that is, the physician maintains separate office space in the hospital or on hospital property that is not considered a provider-based department of the hospital. In that case, and providing the service was performed in the physician's office and not in the hospital, POS code 11 would be appropriate.
This assumes, of course, the physician is not working under arrangement for the hospital; in which case both the technical and professional components fall under global services. In that case, the hospital is the only entity that can bill for the diagnostic test, which includes interpretation.
What if your physician interprets an image at home or in a hotel room? Report POS code 99 or "other" — unless, of course, the space meets the definition of an office. Even then, if both the physician and the patient are present in the hotel room at the time of the interpretation, POS code 16 (temporary lodging) is more appropriate.
Remember: The POS code should coincide with the ZIP code identified on the claim form; and the ZIP code should coincide with the office practice location given in the physician's enrollment information. When in doubt, contact your Medicare contractor for guidance.
Read CMS Transmittal 1823, Change Request 6375, issued Oct. 2, for further details.
Latest posts by admin aapc
(see all)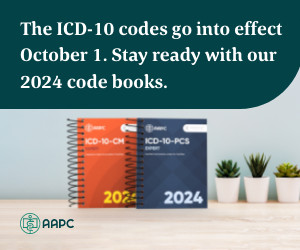 No Responses to "POS Codes: Do You Know Where Your Doctor Is?"