The A, B, C, Ds of Mammography Coding
By admin aapc
December 1, 2007
Comments Off

on The A, B, C, Ds of Mammography Coding
The National Breast Cancer Foundation (NBCF) is vigilant in getting the word out to women in regards to the benefits of screening mammography. Thanks to programs such as the NBCF's Pink Ribbon campaign, we've seen an increase in breast imaging for screening purposes over the last several years. Through advanced technology we see the mortality rate of breast cancer patients decline. The key to many of these positive outcomes is early detection.
Along with the advancement of technology, there is also an increase in the complexity of coding breast imaging services. Though many insurance companies, as well as CMS, cover screening mammography, there are still a wide variety of coverage issues. Payment for screening services is usually driven by the payer and the patient's individual schedule of benefits.
Coding for Preventive Maintenance
Patients who are asymptomatic and request a mammogram are categorized as screening. For Medicare, and many other payers, these patients do not require a physician order and may self refer to a mammography center.
Report 77057 for screening mammograms with a two view bilateral study. Additional views are seldom needed, but when they are performed, do not change the code selection or billing units.
In lieu of 77057, Medicare requires the use of code G0202 to report screening mammograms. If only one breast is screened, append modifier 52.
Patients who have a history of breast disease, whether malignant or biopsy proven benign, fall into either the screening or diagnostic category. The patient and her physician should determine the intent and type of study. For screening services, report these patients with the screening code 77057 for bilateral studies or 77057-52 for a unilateral study.
Coding Diagnostics
Diagnosis codes to consider for screening mammograms are found under screening for malignancies, V76.11 high-risk patients or V76.12 for other than high-risk patients. Additional codes that support the patient as high risk should be included and listed as a secondary code to V76.11.
V10.3  Personal history of malignant neoplasm, breast
V16.3  Family history of malignant neoplasm, breast
V15.89  Other specified personal history presenting hazards to health, other
When performing the radiologist's professional component of a radiology service, append modifier 26. The radiologist's report should contain a clinical patient history relevant to the study, the interpretation of the films, as well as a final impression.
Diagnostic mammograms will report two classifications of patients; those that are symptomatic (have some type of physical finding or experiencing pain) and those that are currently asymptomatic, but considered to be at high risk. CPT® code 77055 (for Medicare, refer to G0206) describes a diagnostic mammogram for a unilateral study; while code 77056 (for Medicare, refer to G0204) is used for a bilateral study. Since the codes don't specify the number of views, use one code along with one billing unit to report your services regardless of the number of views taken.
Men are also susceptible to breast diseases–including cancer. Male patients who exhibit symptoms and present for mammography are considered diagnostic. Refer to the same set of diagnostic codes (77055, 77056, G0204 and G0206) as you would for female patients.
Diagnosis codes for medical necessity depend upon the patient's presenting complaint. Patients who report breast pain, lumps, nipple discharge, or other symptoms require diagnostic testing. Patients who have a personal history of breast cancer or biopsy confirmed non-malignant breast disease may also fall into the category of diagnostic. For coding purposes, use the diagnosis as listed by the radiologist in his or her final impression. In the absence of a radiologic finding, revert back to the reason (diagnosis or complaint) listed on the original order.
When Additional Diagnostics Are Necessary
When our patients receive a screening mammogram, unfortunately a suspicious area may be identified by the radiologist. During the same encounter the radiologist may order additional diagnostic views. These are sometimes referred to as "magnification and spot compression." Under these circumstances, Medicare directs us to bill both the screening mammogram and the appropriate diagnostic mammogram. To indicate that a screening mammogram has taken place and ended in the decision for a diagnostic service, attach modifier "GG" to the appropriate diagnostic code. To report medical necessity appropriately, be sure to link a screening ICD-9 code to the screening mammogram CPT® code (77057 or G0202), and the diagnosis code for the abnormal finding to the diagnostic mammogram (77055, 77056, G0204 or G0206).
Many facilities now have the capability of using computer aided detection (CAD) for both screening and diagnostic mammograms. This sophisticated and sensitive piece of equipment assists the radiologist in locating abnormalities on mammography films. CAD is reported as an add-on code to the primary procedure. Use +77051 in conjunction with diagnostic mammograms and +77052 with screening mammograms.
When requesting additional reimbursement for the professional component of CAD, there should be a physician interpretation that addresses any additional findings (or lack thereof) located by the computer. The professional component should be identified through the use of modifier 26 on the radiologist's claim.
Even though mammography coding seems straightforward, there are many different patient scenarios and payer specific issues to consider when coding this highly specialized area of radiology. Explore different resources for coding and technology advancements to stay up to date with breast imaging; and don't forget to share the wealth of information you gather with your staff.
Latest posts by admin aapc
(see all)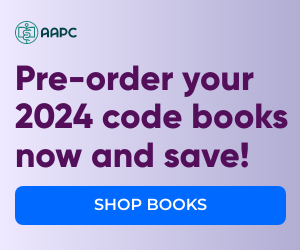 No Responses to "The A, B, C, Ds of Mammography Coding"