The Big Picture of Contract Negotiations
August 1, 2012
Comments Off

on The Big Picture of Contract Negotiations
A focused effort on negotiating payer contracts can create much-needed money for any practice, and coders are uniquely qualified to facilitate these negotiations. This month, I'll provide an overview of the contract negotiation process. In future months, we'll discuss each step in greater detail to help you level the playing field with insurance companies.
Ask for a Pay Raise
Health plan contracts drive the majority of revenue in most medical practices. You'll likely never get a rate increase unless you ask for it, but if you make such renegotiations a priority, you should succeed. You can't negotiate mandated government fee schedules (Medicare, Medicaid, and TRICARE), so concentrate on commercial payer rates.
Note: As payers get consolidated through mergers (such as UnitedHealth Group's acquisition of PacifiCare or CIGNA's purchase of Great-West), you may find your fees dropping to match the lower of the two fee schedules. You can use this as a reason to renegotiate fees.
Define Your Payer Mix
Prioritize your payers to determine where you will gain the most benefit (see
Chart A
for example). In this example, Medicare is 22 percent of the practice's business. The next four payers represent 70 percent of the practice's income. Those four payers should be your priority. Don't waste hours negotiating a contract for a payer that might only be 1 percent of your business.
Chart A:
Revenue Based on Payers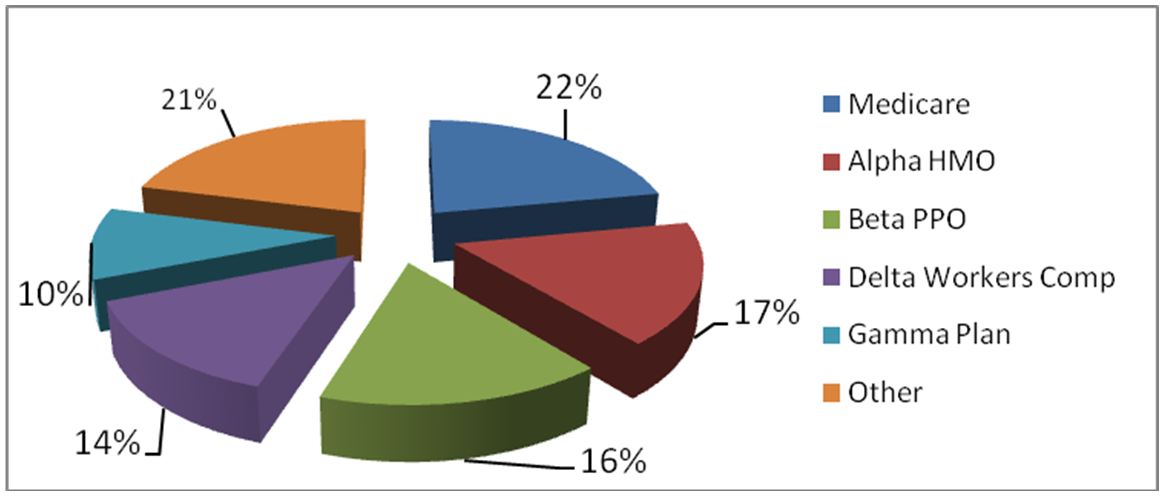 Determine Contract Reimbursement
Don't try to negotiate rates without knowing where you stand. You might find, for instance, that a payer's fee schedule results in payments less than what Medicaid pays. This is a really good reason to ask that payer for a rate increase.
Most commonly you'll be told that your fee schedule is based on a percentage of a given year of the Medicare Resource Based Relative Value Scale (RBRVS) (e.g., 120 percent of 2008 RBRVS). Find out if (and when) the payer updates its fees. Consider also what components of RBRVS the payer uses (e.g., geographic practice cost indices (GPCI) adjustment, site of service differential, multiple procedure discounts, etc.).
Identify Often-used Codes
Coders are uniquely qualified to identify those services/procedures billed most frequently. Gather the following:
Superbill with CPT® and HCPCS Level II codes – HCPCS Level II codes are often neglected, but may constitute a significant monthly expense. If you don't include them, they become a cost rather than a revenue center.
Frequency count of CPT® and HCPCS Level II codes – Your billing system should generate a report to define which codes your practice uses, and how often. Realize that history is the best predictor of the future. If evaluation and management (E/M) constitutes 80 percent of what the practice does, one negotiation strategy would be to accept a lower reimbursement on procedures to increase reimbursement for E/M services.
Fee schedule with charges for each code – Evaluate whether your charge is in excess of the current contract allowed amount. Often charges below the current allowed amounts are uncovered.
Commonly used ICD-9 codes – Gathering this information will help you to define patient mix. For example, most payers consider dermatology an "elective specialty," and may not prioritize a rate increase. The payer's attitude may change, however, if the top diagnostic codes you report are for neoplasm treatment (an "essential" service).
Know the Contract Negotiation Process
After you've determined your baseline utilization and current rates, you're ready to begin negotiations. This will take time and energy. If you dive in naively with no idea of the scope and phases of the process, you're bound to burn out and give up. Your apathy only benefits the payer.
Here's a quick rundown of making progress toward your goal:
0 Percent: Identify Payer Contact 
Identify a specific person in charge of contracting for an entire network. Create a database for your contacts with as much information as possible (e.g., full name, title, phone number, address, and email address).
10 Percent: Draft and Send Health Plan Proposal Letter
Drafting this letter helps you gather your thoughts, and literally gets you on the same page as physicians and other stakeholders at your practice. Include your demographic information (practice name, tax identification number, office address(es), and contact information). Spell out the strengths your practice brings to the payer and the market and state your rate request. For example, if your current contract is for 120 percent of current-year Medicare rates, and you're requesting 140 percent, state that; and, provide a few reasons for the rate increase.
The health plan proposal should be mailed and certified with a return receipt requested. Be prepared to follow up. As a general rule, if letters are sent to 10 different health plans, one or two might respond without you having to make a follow-up call.
20 Percent: Follow Up with Payer
The health plan representative may have already told you during the initial phone call the typical fee schedule for physicians of your geographic location and  specialty. During the same call, you may be able to express what alternate rates would be acceptable. Save time by getting a verbal commitment from the payer that they'll offer and send the agreed-upon, acceptable rates before they send out a fee schedule and  contract to you.
30 Percent: Receive Offer from Payer 
When the offer of new rates is received (either as part of a contract or as a standalone fee schedule for preliminary approval), you'll need to make the entire offer (rates and contract language) acceptable to the unique needs of the practice. As such, you should request the complete agreement for review.
You may want to have certain codes carved out as fixed amounts. Check the fees for rates for in-office radiology, clinical labs, consultation codes, preventive exams, and unlisted procedures—anything that might cause future payment problems. These additional specifics about the fee schedule should be defined to your satisfaction in the offer under consideration.
40 Percent: Read Language and Draft Revisions 
Unless you're desperate for the payer contract, review the language and fee schedule terms for acceptability. If you find areas of disagreement or concern over the language of the contract, prepare a letter or email specifically citing the problematic contract language, why you object, and the proposed alternate language you'd find acceptable. Go back and forth with the payer on requested language revisions, and review all contract drafts.
The bulk of the work (the negotiations) is over. Now begins the administrative endurance test to confirm the contract terms get implemented.
50 Percent: Language and Rates Acceptable 
Initial each page of the contract. This will prevent anyone questioning whether you overlooked a page of the agreement or an attachment. Even if the agreement drafts were redlined throughout the negotiation, compare the final draft to the exact text you desire.
60 Percent: Signature on Contract 
Print the agreement provided by the health plan, if via email, and prepare the agreement by assembling it in the proper order, with all pages completed and exhibits/addenda attached. Have the physician sign all relevant areas. Fill in the other necessary information, such as adding the practice address to the "notice" section of the contract, the signature page, or any exhibits requiring demographic information such as the tax identification number, billing address, etc.
70 Percent: Credentialing Packet Complete and Submitted 
Generally, a new agreement comes with an associated credentialing packet. Complete the packet, providing copies of all requested documents. Now is a great time to set up online payer log-ins, if you don't already have them.
80 Percent: Contract Returned Correctly 
Send the agreement with a tracking number. Keep a hard copy of the partially executed documents, and follow up until you receive a fully executed (counter-signed) copy for your files. Save the agreement in an easy-to-locate place within the practice. Have a copy for your records, in case you need to supply the payer with a copy.
90 Percent: Credentialing Approved 
When the plan gets the credentialing packet, the internal review by the payer starts. Be proactive, and find out when the credentialing committee will review the applications. Respond quickly when asked for additional information.
100 Percent: Effective Date 
At this point, the credentials are approved and the contract is received by the plan. Now you wait for an effective date. Generally, a "welcome letter" stating the effective date is sent to the practice address. This often accompanies your fully executed agreement. If you are in need of an expedited effective date, you may be able to get one over the phone or via email by your payer contact.
Having the effective date is the ultimate confirmation that you are done with the contracting process. Most practices we come across only have partially executed versions of their agreements, which are not legal documents.
Monitor for Continued Success
With the contract enacted, be sure to monitor payments and other terms to be certain that you are receiving the improvements you've worked to achieve. Summarize the agreement in fewer than two pages, with essential terms identified for all stakeholders. This cheat sheet will be the primary reference for everyone involved with the contract in the future. Ideally, the actual agreement will need to be referenced only for specific details on a rare occasion.
Provide your front desk schedulers and pre-authorization coordinators with a list of payers the practice accepts and online payer log-ins. Share the effective date and new rates with the billing staff. Chart B is a format that is useful.
Chart B: Example of Payer Monitoring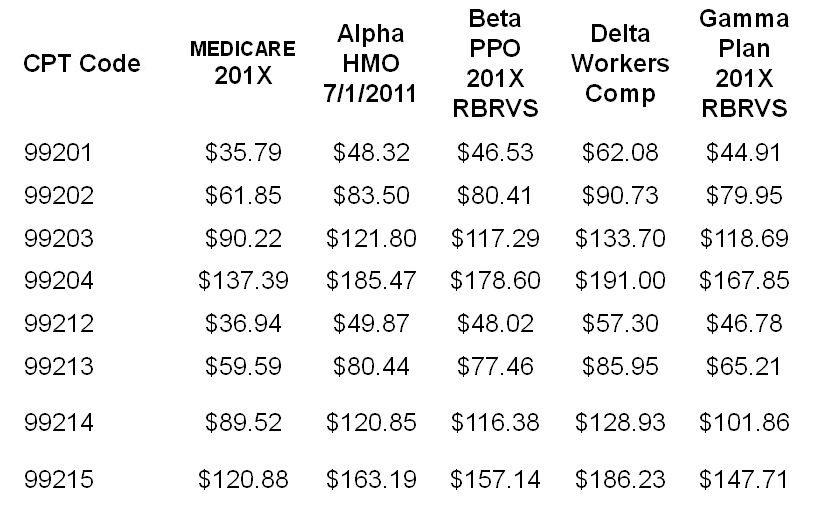 Mark your calendar for a renegotiation in the future. If you have escalators built in for your rates, mark those on the calendar, too, so you can be assured they will take effect.
The value of staying organized throughout the contract negotiation process is essential. The aforementioned steps should help you prepare for—and endure—the lengthy negotiation process. Any rate increase should make the endurance test worthwhile.
Stay tuned: We will provide additional tips and specifics to improve your success during contract negotiations.

Latest posts by Marcia Brauchler
(see all)