EHRs Coding Urgent Care Come at a High Price
By admin aapc
September 1, 2012
Comments Off

on EHRs Coding Urgent Care Come at a High Price
By Thomas A. Maher, CPA, CPC
Are you intrigued at the prospect of reducing your medical claims coding costs? Have you heard the promise of an electronic health record (EHR) that will eliminate your paper records and choose billable codes for you?
My advice: If it sounds too good to be true, it probably is. Be skeptical of the claim that artificial intelligence built into some EHRs can code for you.
Documentation Components of a Medical Encounter

To understand why current EHRs aren't up to the task of selecting codes for urgent care encounters, a brief explanation of the components of evaluation and management (E/M) documentation and coding is necessary.
The Center for Medicare & Medicaid Services (CMS) established 1995 and 1997 Documentation Guidelines for Evaluation and Management Services. The 1995 guidelines are typically easiest to follow and yield the most appropriate coding in the urgent care setting.
The components of an E/M visit are history, exam, and medical decision-making (MDM).
A.) HISTORY (three areas)
Chief complaint: Required.
1.) History of present illness (HPI): Location; quality; timing; duration; severity; context; moderating factors; and associated signs and symptoms (four+ elements are required for a level five E/M).
2.) Review of systems (ROS): 14 elements of system review: constitutional; eyes; ears, nose, mouth, throat (ENMT); cardiovascular; respiratory; gastrointestinal; genitourinary; musculoskeletal; Integumentary (skin and/or breast); neurological; psychiatric; endocrine; hematologic/lymph; and allergic/immunologic. You need at least 10 elements for new patients and two elements for established patients (10+ elements are required for a level five E/M).
3.) Past, family, and social history (PFSH): You must have two of three elements for new patients (all three elements are needed for a level five E/M).
B.) EXAM
You must have a documented exam of the affected body areas/organ systems.
Organ systems: Eyes; ENMT; cardiovascular; respiratory; gastrointestinal; genitourinary; musculoskeletal; integumentary; neurologic; psychiatric; hematologic/lymph; allergic/immunologic (eight+ organ systems are needed for a level five E/M).
Body areas: Head, neck, chest, (include breast and axilla), abdomen, genitalia (includes groin and buttocks), back, each extremity (body areas may be used only for E/M levels 1-4 on established patients and E/M levels 1-3 on new patients).
C.) MDM (three areas) 
1.) Number of diagnosis/management options (Must be a new problem to the provider, with additional workup planned, to attain a level five for this section of E/M.)
2.) Amount and complexity of data reviewed (point system)
a.) Order of labs (1 point)
b.) Order of X-rays/radiology (1 point)
c.) Order of medicine section tests (1 point)
d.) Independent or second interpretation of an image, tracing, or specimen (2 points)
e.) Discussing results with performing or consulting physician (1 point)
f.) Decision to obtain old records or additional history from someone other than patient (1 point)
g.) Review and summary of data from old records or history from someone other than patient (2 points)
Documentation in the chart must support four total points to reach a level five E/M for this section.
3.) Risk: This is measured based on the provider's determined probability of the patient becoming ill or diseased, having complications, or dying between this encounter and the next planned encounter. Risk indications include the nature of the presenting problem, the urgency of the visit, co-morbid conditions, and the need for diagnostic test or surgery.
a.) Risk classifications: Minimal, low, moderate, and high (high risk is required for level five E/M in this section).
b.) The provider must indicate "the plan" in the chart so the coder can properly assess MDM into one of the above four categories (minimal, low, moderate, or high). It is helpful to list certain management options, such as drug management, further testing, and/or surgery.
Checkboxes Don't Account for Context of History Elements

The history section of the chart lends itself to "checkboxes," with associated provider comments. Although the EHR can easily count the number of boxes (quantity) checked in each section, it is quite another thing for the EHR to verify that the "checks" are correct or appropriate.
EHRs Count Detail, but Not Appropriateness

A common example related to HPI is the "context" element. The context identifies where the patient was, or what the patient was doing, when the symptoms first began. It can also identify what was present before and after the problem began. An example of poor provider documentation next to the context element might be: "Patient reports it was not the result of an injury, which had a gradual onset." In this case, the provider's statement is insufficient to support the context element; therefore, counting this element toward the scoring for a higher level E/M code would be incorrect. The EHR cannot, however, distinguish the insufficient "context" documentation from proper documentation. An example of this might be: "Patient injured foot while riding her bike on the sidewalk."
Another common error is reusing information from one section of the history to count toward another section of the history. For example, a patient presents with an ulcerated foot. In the HPI, "history of diabetes" is used as an associated sign and symptom. This detail is also used in PFSH as past medical history. The history of diabetes may be used in either the HPI or PFSH, but not both. Crediting the same detail twice may raise the E/M level improperly. This is another case when an EHR—which is merely counting detail items, not analyzing their appropriateness—would be unable to distinguish the problem.
Not All Exam Components Are Equal
The exam section presents yet another issue: The EHRs we have reviewed make no distinction between organ systems and body areas. And, although body areas can be counted for the lower level E/M codes, they cannot be used for the higher level codes, where only the organ systems count. Documentation and coding errors occur when all exam details are "counted" equally.
MDM Limits E/M Level Selection
Astute coders use the MDM section as a limiting factor when coding a chart. Medical necessity remains the overarching criterion in the selection of an E/M level, and helps to prevent common errors occurring due to over-documenting the history and exam.
This is relevant because established patient E/M guidelines allow you to ignore any one of the three primary components (history, exam, or MDM). A patient can arrive with a hangnail, and the provider can document the history and exam sections to a level five and "throw away" the MDM. Yet, a hangnail obviously presents minimal risk and would not warrant a level five visit. If the EHR treats the history, exam, and MDM as equal, however, the visit might be reported as a level five.
Remember: The presenting problem and associated risk limit the E/M level, regardless of work performed. The above example clearly illustrates the importance of medical necessity to ascertain the proper code level.
Case Study: Reviewing an EHR Often Used in the Urgent Care Setting

Earlier this year, our company reviewed the E/M coding of a prospective urgent care center (UCC) client using a popular "coding EHR." A CPC® performed the review.
A cursory review of the codes billed identified a 94 percent frequency of level four E/M codes for all new and established patients. This was a clear indication that something was amiss in the coding portion of the software. Our review resulted in an average error rate of 35 percent (seven charts coded incorrectly based on a random sample of 20 charts).
The estimated total overpayment on these seven charts for this client's payer mix was $95.18. If we were to annualize the impact of these overpayments to all visits for this UCC, based on 10,000 visits per year, the result is staggering. The overpayment on each incorrectly coded chart was $13.59. The 35 percent error rate would include 3,500 encounters incorrectly coded, for an annual overpayment of $47,565.
Pricing Model of EHRs
Based on a small sample review of EHR products that pitch coding as part of their EHR package, it appears that this feature is certainly priced into the software. For example, we have seen subscription pricing for these EHR packages in the range of $2-$2.50 per medical encounter. For a typical UCC with 12,000 visits per year, this is an annual cost of $24,000-$30,000. The additional cost (over a package that does not code) is designed to save the UCC the expense of a human coder. This additional cost is of no value because, as there is a high probability the results will not stand up to an audit. Potential upcoding and over-billing can result in payment recoveries by government and commercial insurance carriers.
Buyer Beware
The aforementioned examples of potential coding compliance issues are just a few of the problems that can result in an EHR applying a higher E/M code than an encounter warrants. Don't be surprised if the Office of Inspector General (OIG), recovery audit contractors (RACs), and commercial insurers' audit departments look to EHRs with a coding function to recover large overpayments.
Our research indicates the current technology for coding in EHR packages can be helpful, but it is not close to replacing the necessary human element in arriving at the correct code. The human element applied correctly will cost about the same as the technological "replacement," while avoiding a potential compliance nightmare.
Tom Maher, CPA, CPC, began his career as health care auditor for a local CPA firm in his hometown of Buffalo, N.Y. in 1982. He has continued his work in health care as a CPA. He became a CPC® in 2008.
Latest posts by admin aapc
(see all)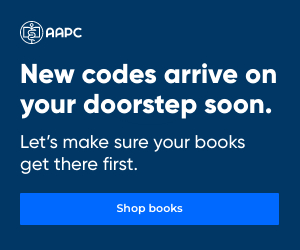 Comments are closed.