ASC Coding and Billing: Know What's Important
The basics of ambulatory surgery center (ASC) coding and billing aren't hard to master, but they do differ from physician and facility requirements. The following overview will help you know what's most important in the ASC setting.
Definition of ASC
To understand correct coding and billing for an ASC, you must first understand what an ASC is.
The
Medicare Carriers Manual
, section 10.1, defines an ASC as a distinct entity, operating exclusively to furnish outpatient surgical services. ASCs are not in the business of providing office visits, laboratory services, diagnostic tests, etc.
A hospital-operated facility may be considered by Medicare to be
either
an ASC
or
a provider-based department of the hospital, as defined in 42 CFR 413.65. To provide and bill services performed in an ASC, the ASC must enter into a participating provider agreement with the Centers for Medicare & Medicaid Services (CMS).
Basic Coding and Billing
ASCs use a combination of hospital and physician billing. Although ASCs use
CPT®
and HCPCS Level II codes to bill most of their services (as do physicians), some payers will allow an ASC to bill ICD-9-CM
procedure codes
(like a hospital). Some payers even base implant reimbursement on revenue code classification.
It's important to use the proper form when submitting claims. Medicare pays for ASC services under Part B and requires the CMS-1500 claim form. Some third-party carriers will accept the CMS-1500 form, while others allow the UB04.
Approved List of Surgical Procedures
For Medicare patients, you cannot perform just any procedure in the ASC setting. Medicare has an "approved" list of procedures for the ASC that CMS has determined not to pose a significant safety risk, and that are not expected to require an overnight stay following the surgical procedure. The list of approved procedures is based on the criteria:
They are NOT emergent or life threatening (for example, a heart transplant or reattachment of a severed limb).
They CANNOT be performed safely in a physician's office.
They can be elective.
They can be urgent.
Procedures also do not involve major blood vessels or result in major blood loss, and cannot involve prolonged invasion of a body cavity.
Medicare publishes this list of covered procedures annually. Updates are published quarterly, or as necessary. The file consists of two addenda listing approved surgical procedures and covered ancillary services.
Addendum AA (Final ASC-covered Surgical Procedures) includes comments, payment indicators, and final payment amounts for covered surgical procedures. (See the Addendum AA example on the next page.)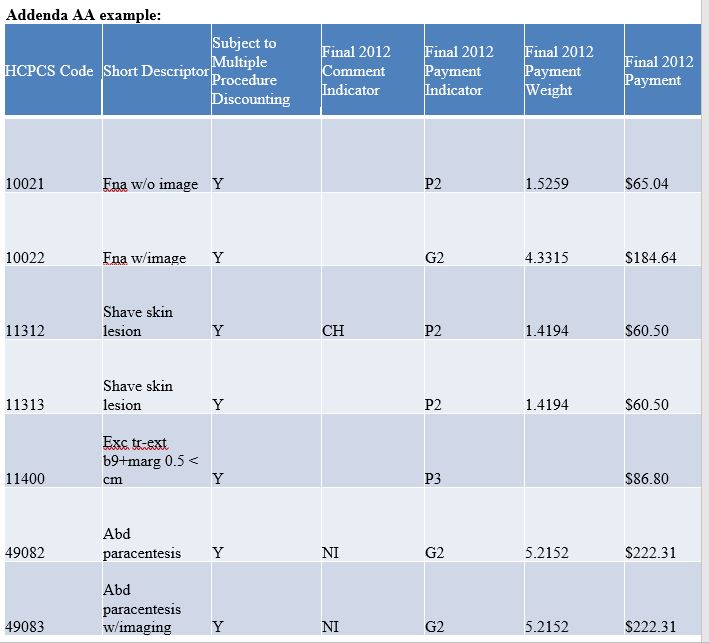 Addendum BB (Final Integral to Covered Surgical Procedures) covers included and separately billable ancillary services. (See the Addendum BB example on the next page.)
Addendum BB example: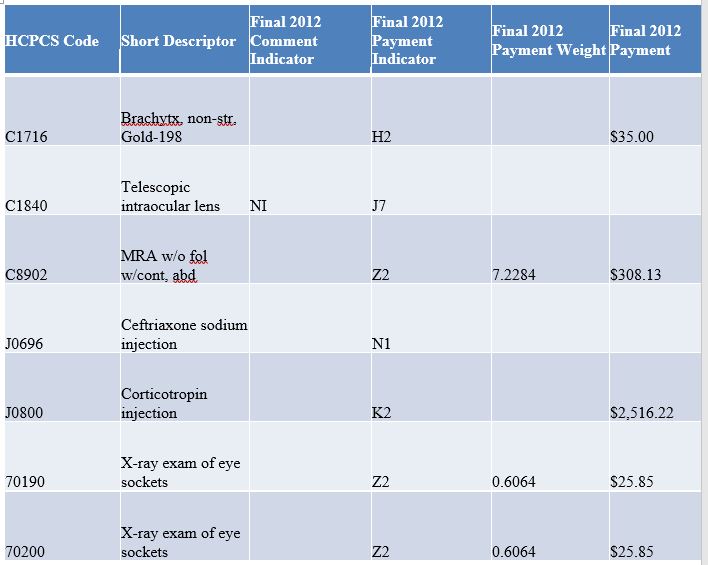 Other addenda included in the file tell us how to interpret the comments and indicators listed on addenda AA and BB. You should have this file and refer to it frequently when billing CMS for ASC services. These addenda are:
Addendum DD1 – Final ASC Payment Indicators: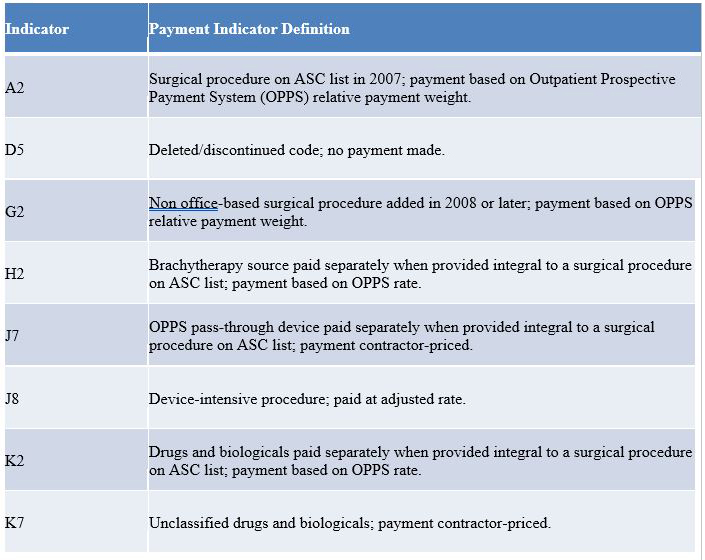 Addendum DD2 – Final ASC Comment Indicators: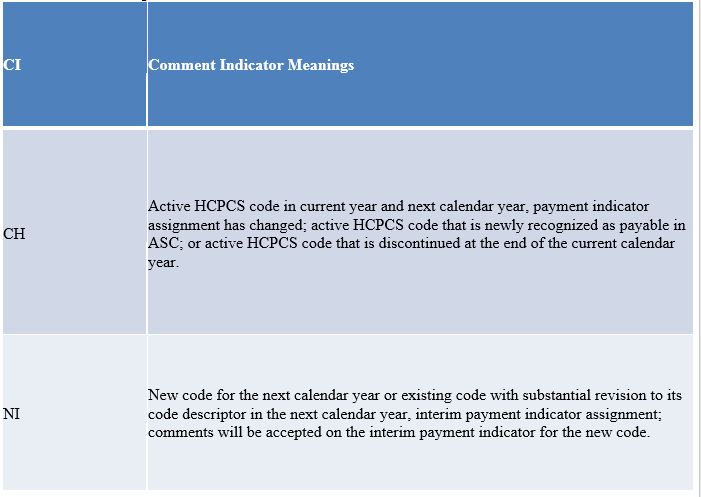 Addendum EE – Surgical Procedures to Be Excluded from Payment: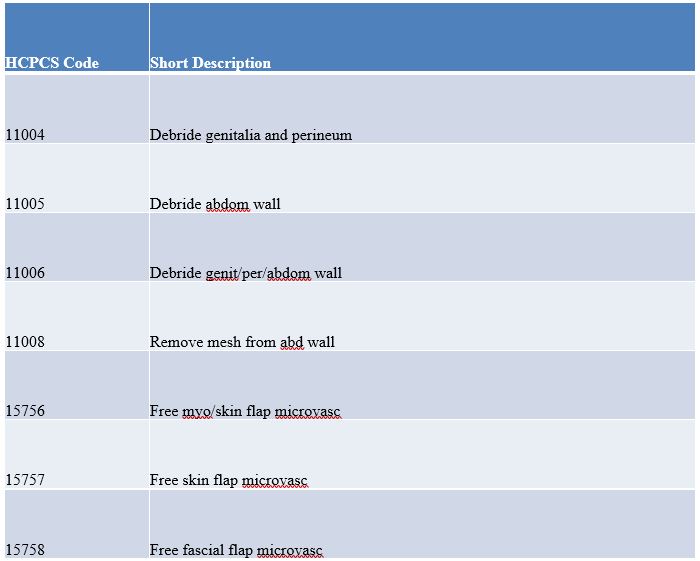 Addendum EE is the "Excluded from Payment" list. If these procedures are performed in the ASC, you may not be paid unless there were extenuating circumstances.
Packaged Services and Separate Payment
Payments to ASCs are "packaged," which means related services are bundled together and paid in one lump sum.
Examples of packaged items include:



Some categories listed above include a note stating "not on pass-through status." This means that even though payment is based on a package price, some items are "carved out," or may be reported and paid in addition to the package price for the surgical procedure. Be aware of the supplies that have pass-through status: You do not want to miss an opportunity to capture the correct reimbursement.
Other items that may be reported separately include brachytherapy sources, as well as certain items and services that CMS has designated as contractor priced (e.g., procurement of corneal tissue).
Medicare Claims Submissions
There is a separate set of billing rules for ASCs. While some issues may be addressed by CMS, most billing guidelines are best obtained from your local carrier or intermediary. Some carriers/intermediaries issue very detailed guides (e.g., Trailblazer), while others may simply provide a list of links to the CMS website (e.g., Empire).
To reiterate, an ASC must not report separate line items, HCPCS Level II codes, or any other charges for procedures, services, drugs, devices, or supplies that are packaged into the payment allowance for covered surgical procedures. The allowance for the surgical procedure itself includes these other services or items.
CMS does, however, strongly encourage billing for drug and biologicals that are eligible for separate payment. ASCs should report supplies with the correct HCPCS Level II code and correct number of units on the claim form.
Device Intensive Procedures
A modified (and somewhat confusing) payment methodology is used for device-intensive procedures (i.e., procedures done specifically to insert a device, such as a pacemaker).
The ASC will get paid for the device, but does not submit a separate line item for the device. The ASC would instead include the cost of the device in the procedure code and submit one line item. ASCs are not allowed to base price on the allowable code from the Medicare Physician Fee Schedule (MPFS).
For example, if a device intensive procedure is performed, and the formula is to bill the Medicare allowable plus 10 percent, you may be leaving money on the table. If the 10 percent increase does not cover the cost for the device, the money will not be recouped. It is important to know the cost to the ASC and add the cost of the device into the allowable. See Tables 1 and 2 for the right and wrong ways to bill a device intensive procedure.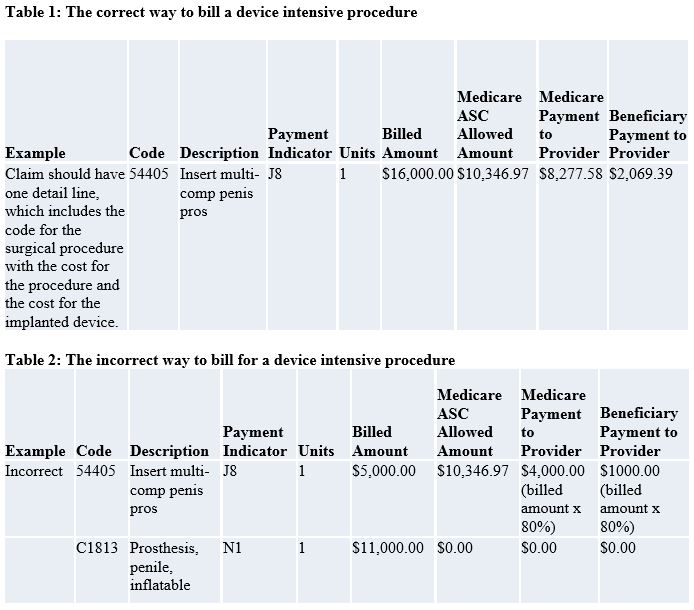 Modifiers in the ASC
Some modifiers used in the ASC are the same as those used by physicians, while others are unique to the ASC facility. Modifiers recognized for ASC claim filing are (these are abbreviated descriptions):
52 Reduced services
59 Distinct separate procedure
73 Procedure discontinued after prep for surgery
74 Procedure discontinued after anesthesia administered
RT Right side
LT Left side
TC Technical component
FB Device furnished at no cost/full credit
FC Device furnished at partial credit
PT Screening service converted to a diagnostic or therapeutic service
PA Wrong body part
PB Surgery wrong patient
PC Wrong surgery on patient
GW Surgery not related to hospice patient's terminal condition
ASCs have their own modifiers for a discontinued procedure. Modifier 73 Discontinued outpatient hospital/ambulatory surgery center (ASC) procedure prior to the administration of anesthesia is used when preparation for surgery has begun, but anesthesia has not been administered. The patient is taken back to the "prep" area and has completed paperwork, etc. The reasons may be the patient has a low grade temperature, or has eaten within the past four hours. The facility charges for the preparation, etc., but adds the modifier to show the procedure was not completed.
Modifier 74 Discontinued outpatient hospital/ambulatory surgery centers (ASC) procedure after administration of anesthesia is used when the procedure is terminated after anesthesia is administered. Plans can pay from 25 percent to 65 percent of the allowable amount, based on the modifier and documentation of how much of the service was performed.
New modifier PT Colorectal cancer screening test; converted to diagnostic test or other procedure designates that a screening colonoscopy was converted to a diagnostic or therapeutic service. For example, a patient presents to the ASC for a screening colonoscopy. He is not high risk and has no symptoms or complaints. During the colonoscopy, a polyp is found in the sigmoid. The ASC reports 45380 Colonoscopy, flexible, proximal to splenic flexure; with biopsy, single or multiple instead of 45378 Colonoscopy, flexible, proximal to splenic flexure; diagnostic, with or without collection  of specimen(s) by brushing or washing, with or without colon decompression (separate procedure) or G0121 Colorectal cancer screening; colonoscopy on individual not meeting criteria for high risk. Modifier PT designates the procedure was planned as a screening, but resulted as a diagnostic procedure. For Medicare patients, this allows the procedure to be paid as a screening with no co-insurance.
Commercial Plans
Commercial plans may or may not follow CMS policy for ASC claim filing. Check the carrier's site for information on claim filing, and check your contract with the payer.
Brenda Chidester-Palmer, CPC, CPC-I, CEMC, CASCC, is the principal of Palmer Coding Consultant, providing audits and education to physicians in northeast Texas. She has 25 years experience in both single- and multi-specialty practices. Brenda is the former coding compliance manager of Kelsey-Seybold Clinic, a 300 physician practice in Houston. She has spoken nationally at conferences and AAPC workshops, teaches PMCC curriculum, and is a former coding educator at San Jacinto Junior College in Pasadena, Texas. Brenda was an officer of the Houston, Texas chapter and former AAPC National Advisory Board (NAB) member.
Latest posts by Brenda Chidester-Palmer
(see all)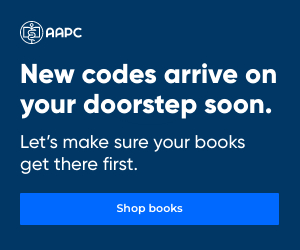 14 Responses to "ASC Coding and Billing: Know What's Important"