Fractures 101: Let's Cover the Basics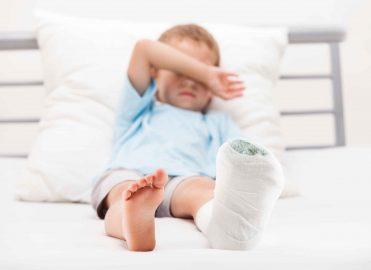 By Cynthia Everlith, BSHA, CPC, CMA
Fracture care may seem straightforward, but there are common misconceptions and confusion when it comes to the different types of fractures and how to bill for services. To set the record straight, here's everything you wanted to know about fractures, but were afraid to ask.
What Is a Fracture? 
Many people believe a fracture is a "hairline break," or a certain type of broken bone. That is not true: A fracture and a broken bone are the same thing.
What Are the Different Kinds of Fractures?
There are several types of fractures: transverse, oblique, spiral, angulated, displaced, and angulated, and displaced (see
Figure 1
).

How Many Types of Fractures Are There?
An exhaustive list of precise fracture types would fill a book. A few examples include the following:
Barton's fracture:
Fracture of the distal end of the radius into the wrist joint (ICD-9-CM 813.42
Other closed fractures of distal end of radius (alone)
).
Fissure fracture:
A crack extending from a surface into, but not through, a long bone.
Jefferson's fracture:
Fracture of the atlas (first cervical vertebra).
Lead pipe fracture:
The bone cortex is slightly compressed and bulged on one side, with a slight crack on the other side of the bone.
Parry fracture/Monteggia's fracture:
Fracture of the proximal half of the shaft of the ulna, with dislocation of the head of the radius (ICD-9-CM 813.03
Closed Monteggia's fracture
).
Ping-pong fracture:
A type of depressed skull fracture usually seen in young children, resembling the indentation that can be produced with the finger into a ping-pong ball; when elevated it resumes and retains its normal position.
Pott's fracture:
Fracture of the lower part of the fibula, with serious injury of the lower tibial articulation, usually including chipping of the medial malleolus, or rupture of the medial ligament.
Colles' fracture:
A fracture of the lower end of the radius, with the lower fragment displaced backward. If the lower fragment is displaced forward, it is a reverse Colles' fracture (ICD-9-CM 813.41
Closed Colles' fracture
).
These are just a few fracture types; the list is extensive. To help with coding when reviewing fracture documentation, have a medical dictionary or other resource on hand to look up unfamiliar terms.
How Do You Fix Fractures? 
Generally, bones heal best when immobilized, so treatment often involves casting the broken bone (or fracture), and may require surgery to set the bone in place. Prior to casting or fixation, the broken bone(s) must be returned to its proper position. This is referred to as "reduction."
"Closed" reduction is manipulation of a fracture without an incision. "Open" reduction refers to manipulation of a fracture after incision into the fracture site. When coding fractures, you will need to know the type of reduction used, as well as which body part is affected (leg, arm, finger, foot, etc.) and, in some instances, the precise location of the fracture (For instance, does the fracture affect the head or shaft of the femur?).
As an example, consider the X-ray images in
Figure 2
. Each describes a different type of fracture and fracture reduction.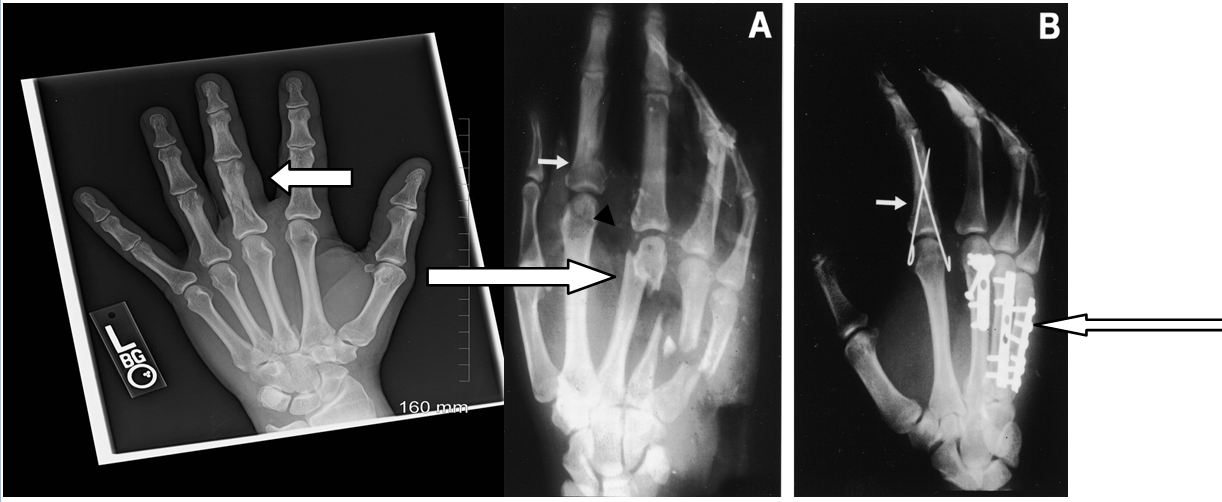 The X-ray on the left reveals a fracture on the third or long finger proximal phalanx (816.01
Closed fracture of middle or proximal phalanx or phalanges of hand
). This fracture is minimally displaced, and could be an example of a closed treatment of a phalangeal fracture (CPT® 26720
Closed treatment of phalangeal shaft fracture, proximal or middle phalanx, finger or thumb; without manipulation, each
) or closed treatment with manipulation (26725
Closed treatment of phalangeal shaft fracture, proximal or middle phalanx, finger or thumb; with manipulation, with or without skin or skeletal traction, each
), depending on what the provider documents.
On film A, the short arrow shows a displaced fracture of the index finger (816.01), while the long arrow shows multiple finger metacarpal fractures (815.03
Closed fracture of shaft of metacarpal bone(s)
).
On Film B, the short arrow points to a percutaneous pin fixation (CPT® 26727
Percutaneous skeletal fixation of unstable phalangeal shaft fracture, proximal or middle phalanx, finger or thumb, with manipulation, each
) and the long arrow points to an internal fixation with plates and screws (CPT® 26615
Open treatment of metacarpal fracture, single, includes internal fixation, when performed, each bone
). There are also types of internal fixation for fractures, such as rods and spheres.
How Do You Bill Fracture Fees?
There are two common approaches when coding non-manipulative fracture care services. The American Academy of Orthopaedic Surgeons (AAOS) and the American Medical Association (AMA) support these two approaches. The AMA has published several articles in
CPT® Assistant
to reflect how these options work. The two options are:
Fracture global fees
Alternative method for fracture fees
The AAOS Guide to CPT® Coding for Orthopaedic Surgery definition of fracture global fees reporting method states:
"Fracture global fees may include the hospital or office encounter in some payment areas. In others, CMS allows you to code an E/M service with a -57 modifier [Decision for surgery] within the global period if the visit was the one in which the decision to perform the procedure was made. The initial cast or splint is applied, and all revisits, excluding radiographs that are obtained by the physician, should be included within a 90-day period from the time of the initial fracture. All recastings and or splinting are on an 'encounter' basis and are separately billed."
AAOS defines the alternative method as such:
"Only when treatment of the fracture does not consist primarily of a 'procedure' (for example, closed treatment without manipulation), services may be itemized as if the problem were recognized as an office encounter. Examples include an undisplaced fracture of the fifth metatarsal; a fracture of the pelvis, undisplaced or minimally displaced; or a compression fracture of a vertebra. Office, hospital, and emergency department encounters are coded as appropriate, as are all injections, supplies, casts, splints or treatment program necessities."
Be aware that this guidance is payer specific: When fracture care is performed in the office, the payer may want you to append modifier 25 Significant, separately identifiable evaluation and management service by the same physician on the same day of the procedure or other service to the evaluation and management (E/M) service.
Your practice must decide whether to bill for treatment of a fracture or to itemize, depending on your scenario.
Coding Example No. 1
Closed reduction without manipulation vs. E/M
If you report closed reduction w/o manipulation:
Cast/splint/strapping is included.
X-ray and supplies may be separately reported.
If you report an E/M service:
Cast/splint application, X-ray, and supplies all may be separately reported.
The closed reduction, if you report it, includes a 90-day global package. The first casting, splinting, and strapping are included in the procedure, along with all post-op visits. Global treatment excludes X-rays, durable medical equipment (DME), and any casting or splinting supplies, all of which must be reported separately. The global package means that you are not allowed to charge for the post-operative portion of the procedure. In simple terms, you cannot charge for an office visit until after the global period.
In such a case, proper coding would be:
Procedure: 26725
Do not code separately for cast or splint application.
Next visit: 99024 Postoperative follow-up visit, normally included in the surgical package, to indicate that an evaluation and management service was performed during a postoperative period for a reason(s) related to the original procedure
You cannot charge separately for related E/M services during the 90-day global period.
You may report casting and/or splinting supply charges according to documentation.
Coding Example No. 2
A patient comes into your office with a fractured clavicle. The fracture is not displaced and has good position. The patient is given a sling and told to follow up PRN (as needed). Can the office bill fracture care? Is this considered treatment if the patient is not to return?
Remember: When charging for a fracture care code (or any surgical procedure), there is a formula that includes preoperative, operative, and postoperative portions.
Physician reimbursement (approximate): 
17 percent preoperative
63 percent operative
20 percent postoperative
In this example, there is no intent that the provider will follow up with the patient, which eliminates the postoperative portion of the formula. The argument could be made that billing the fracture treatment code would be incorrect. For instance, if an emergency department (ED) physician treats a fracture with no intent to follow up with the patient, it would be incorrect to bill a fracture care code. Rather, you would report an appropriate E/M service.
Let's consider a different scenario using fracture codes and how the reimbursement varies using the formula.
Coding Example No. 3
A patient was injured on the slopes of Utah and lives in New Jersey. He has surgery in Utah and returns home, where he receives follow-up care. What happens to reimbursement?
Ideally, the surgeon in Utah should get 17 percent for the preoperative portion and 63 percent for the operative or surgical portion. If the surgeon knows that the patient is not staying for postop care, he should apply modifier 54 Surgical care only to the billed fracture care code. He or she should call (and provide written documentation to) the patient's orthopedist in New Jersey to transfer care. The orthopedist accepting care should bill the same surgery code with modifier 55 Postoperative care. The accepting orthopedist would receive 20 percent or the postoperative fee.
In the real world, the billing is almost never as ideal as in our examples. What surgeon wants to give up 20 percent of his surgery fee? What physician wants 20 percent payment to treat someone else's work? In working in orthopedics for 25 years, I have not seen this happen. What can one do if faced with this similar scenario?
You should make a call to the surgeon in Utah (or wherever the initial treatment occurred) and plead your case. If the surgeon has already filed a claim, but agrees to split the fee, a corrected claim would need to be filed. If there is no phone call placed, with no documentation stating the transfer, you cannot bill for the postoperative care.
Have the Proper Orthopaedic Coding Tools
If you are a coder with experience and expertise in orthopaedic coding, AAPC encourages you to prove your value to employers by taking the Certified Orthopaedic Surgery Coder (COSC™) exam.
To help you steer clear of compliance issues, be sure your orthopaedic coding is as current as possible by using the most up-to-date medical coding books.
To help with claims processing efficiency, you can quickly search across medical coding sets using a keyword or a code by using AAPC Coder, the fastest and most comprehensive code search engine on the planet and add much more.
Author Bio:
Cynthia Everlith, BSHA, CPC, CMA, is practice administrator for Arizona Hand and Wrist Specialists, a division of OSNA, PLLC. She has more than 25 years of experience in orthopaedic coding and practice management, and 16 years with her current practice. She is actively involved in workers' compensation legislation and has worked closely with the Industrial Commission of Arizona and the Arizona Medical Association in rules affecting physicians. She has presented nationally and locally. She is a past American Association of Orthopaedic Executives (AAOE) Board of Directors and past president of AAPC's Grand Canyon Coders Phoenix chapter. She serves on the AAOE Communication Council and Technology Task Force, and is president of the Arizona AAOE Chapter.
Latest posts by Michelle Dick
(see all)
10 Responses to "Fractures 101: Let's Cover the Basics"