Gain Employer Support For Continued Education and Training
By admin aapc
May 1, 2010
Comments Off

on Gain Employer Support For Continued Education and Training
By Jonnie Massey, CPC, CPC-P, CPC-I, CPMA, AHFI
As certified coders, we are required to fulfill yearly continuing education unit (CEU) requirements to maintain our credentials and stay current with medical coding updates. This requirement may be the driving force that motivates you to seek out education and training. If it is, perhaps you're doing yourself an injustice. Earning your CEUs should be a source of fun, and the joy comes not just from learning but from becoming an active participant in the industry.
Why CEUs Aren't Just About Education
Obtaining CEUs is about much more than just gaining text book education. It's an opportunity to go above and beyond the minimum annual requirement and open doors to unlimited knowledge.
I am a perfect example of how obtaining CEUs started a path to career-building achievements. Early in my coding career, I attended my first chapter meeting. I was told attending chapter meetings was how to obtain CEUs. I quickly discovered I really liked the group of coders in my chapter. We had more in common than just coding. Before I knew it, I was invited and honored to become a chapter officer. I considered what my duties would entail, I watched the other officers, and how they interacted with each other and chapter members. I got involved.
While I was learning, opportunity was presented to me. I embraced these opportunities and with them came bonuses I had not anticipated, such as:
Having a large network of friends both on a personal and professional level.
Building schedule and coordination skills by organizing local chapter meetings and conferences.
Developing a local and national network of specialized experts in numerous health care-related fields.
Accessing instant help with a perplexing coding, billing, or auditing scenario.
Gaining experience, becoming an expert, and offering any assistance in return.
AAPC offers more than 91,000 members as resources—that is a large network to tap into. To this day, I maintain the networking friendships I've built, continue to support my local chapter, and stay involved.
Education by Choice
Each of us learns differently. Some coders need the social interaction they gain from attending chapter meetings, workshops, and conferences. Others like their solitude and listen to audio conferences, download educational material, and participate in interactive online sessions.
If you're a social being, sharpen your communication skills by attending local chapter meetings, as well as statewide and local chapter conferences. Better yet, participate in planning a local chapter conference. You'll pick up all sorts of new skills, such as:
Selecting topics conference attendees would like to hear.
Seeking out the appropriate speakers.
Scheduling events on a large scale.
Selecting a venue to hold the conference.
Choosing the right food and how much food is necessary for a two-day conference.
Marketing the conference.
Registering members.
Arranging an array of vendors and door prizes.
Assigning CEUs.
Apply Chapter Experience to the Workplace
While I attended local chapter meetings to obtain CEUs, I learned much more than coding and became educated on many levels. I quickly learned getting involved was the key to bolstering coding education.
During this time period, I became responsible for giving presentations and conducting training. It takes a lot of work to research and prepare a training course. Every time I prepare a presentation, even if it is a topic I have presented before, I learn something new. When we acquire new skills, we can do our jobs better by building confidence and applying the know-how to our work environment. We can put more into our jobs and offer more to our employers.
From my experience, education and training is the key to getting involved, which unlocks the door to career advancement. Seeking and utilizing education benefits everyone.
Gain Employer Supported Education
In this financially challenged time, one of the first budget cuts is made to training and education. Fortunately, there are several ways to gain employer support of continue education and keep it. You have to show there is a return on investment (ROI). You need to give back to your employer the time and money he or she invests on education resources. Do this by considering:
Cost: The dollars and cents it will cost your employer to send you to training locally or out of your area. In other words, think about if an employer sends you to training, what will he or she get out of it financially? Can you assign a dollar value?
Value: If you can't assign a monetary value on what the company will gain from your training, you should at least bring back training materials, write a report about what you've learned and the value the training has on your job performance. Better yet, bring back the material, file them on the shelf, share them, and spread the word. If you put effort into the training and really learn something, the employer should know the value of the investment they just made in your education.
Recouping lost revenue: Look at the training as much more than CEUs or a free trip to a conference. Apply what you've learned during training by identifying lost revenue, recovering money, or knowing how to prepare for an audit in your practice. This demonstrates the value of education to your employer.
Remember: When you are at educational events, make contacts and get business cards. You may return from training and have additional questions or need clarification on coding specific to your employer's specialty.
When Employer Support Is NOT an Option
If outside training simply is not an option, then arrange your own training. This might sound like a daunting task, but you will reap the rewards. Get creative. Use your network of coder buddies and local chapter to get a committee together, or join an existing group and organize an event. Start with location, then topics, and then speakers. Don't forget to consider topics for potential CEUs.
Remember: "If you build it, he will come," (Ray Liotta, Field of Dreams, 1989). This holds true in coding circles.
Again, bring your knowledge and value back to your employer because this time the cost may be only one day out of the office for an event you organized. If your employer still doesn't support taking a day off of work for free education, make it a Saturday event.
One of my students said to me once that she thought coding was "just working in a cubicle all day." She had no idea there was so much more to coding—until she heard my story. And it all started with an AAPC coding credential and a chapter meeting I attended simply to earn CEUs.
Jonnie Massey, CPC, CPC-P, CPC-I, CPMA, AHFI, is director of payers and audits at AAPC.

Latest posts by admin aapc
(see all)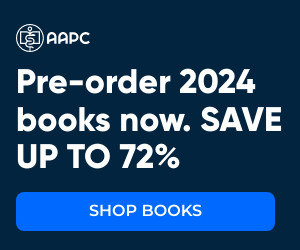 Comments are closed.