Give Unsupported Foot, Ankle, and Lower Leg Claims the Boot
By admin aapc
October 23, 2009
Comments Off

on Give Unsupported Foot, Ankle, and Lower Leg Claims the Boot
By David J. Freedman, DPM, FASPS, CPC
While reviewing records for submission, I often see coding and billing errors in foot, ankle, and lower leg claims. Bypassing the following seven common foot and ankle mistakes and using certain tips for ensuring successful coding will help you collect what your practice is entitled to.
1. E/M Visits Are Reported Separately During Procedure's Global Period.
Related evaluation and management (E/M) visits during the global period are included in the original procedure, and should not be reported separately.
For E/M visits unrelated to the original procedure, append modifier 24 Unrelated evaluation and management service by the same physician during a postoperative period to the appropriate E/M service code. To stress the unrelated nature of the E/M service, include in Box 19 of the CMS-1500 form (for paper claims) or the "electronic notes" portion of the claim (for electronic claims) the accompanying statement, "This visit is unrelated to the surgery."
For example, within the 10-day global period for an excision of nail and nail matrix (11750 Excision of nail and nail matrix, partial or complete (eg, ingrown or deformed nail), for permanent removal), a patient is evaluated and treated for a new complaint of heel pain. For this you would bill 9921x-24 for the E/M visit's heel pain care.
2. Modifier 78 and 79 Use Is Confused
A frequent source of confusion is the appropriate application of modifier 79 Unrelated procedure or service by the same physician during the postoperative period versus modifier 78 Unplanned return to the operating/procedure room by the same physician following initial procedure for a related procedure during the postoperative period.
Keep in mind: Modifier 78 is for a return trip to the operating/procedure room for a related procedure during the post-operative period. The place of service (POS) must be an operating/procedure room (hospital inpatient, hospital outpatient, or ambulatory surgical center (ASC)). Modifier 79 is for when a new, unrelated procedure is performed in the post-operative period. The POS could be the aforementioned, but may include other options such as office, home, nursing home, assisted living, etc.
For instance, a patient is treated for incision and drainage (I&D) of an abscess on the right foot (10060 Incision and drainage of abscess (eg, carbuncle, suppurative hidradenitis, cutaneous or subcutaneous abscess, cyst, furuncle, or paronychia); simple or single). Within the 10-day global period of the initial I&D, the patient undergoes I&D for another abscess on the left foot. Because the second I&D is unrelated, but occurring during the global period of the initial procedure, modifier 79 is required for coverage and is reported as 10060-79.
In an alternate scenario, a patient undergoes correction of hallux valgus by metatarsal osteotomy (28296 Correction, hallux valgus (bunion), with or without sesamoidectomy; with metatarsal osteotomy (eg, Mitchell, Chevron, or concentric type procedures)). The osteotomy is displaced during the global period and requires a return to the operating room (OR) to recreate the osteotomy for an angular correction. In this case, you would append modifier 78 to 28306 Osteotomy, with or without lengthening, shortening or angular correction, metatarsal; first metatarsal) to describe the related but unplanned return to the OR during the global period.
3. Modifier Usage for New Condition Requiring Same Day Procedure Is Wrong.
When a patient is seen for a new condition/diagnosis and a procedure is rendered the same day, report the E/M visit separately with modifier 25 Significant, separately identifiable evaluation and management service by the same physician on the same day of the procedure or other service.
Do not report an E/M service routinely with every procedure. Most procedures include an element of E/M. The E/M service must stand by itself as a truly significant and separately-identifiable service to report it and append modifier 25 correctly.
For Medicare and other payers (check with your individual private payers for guidance), append modifier 57 Decision for surgery — rather than modifier 25 — if the E/M service prompts the decision to render a major procedure (defined by Medicare as a procedure with a 90-day global period). Use modifier 25 when an E/M service is provided on the same day as a minor procedure (defined by Medicare as having a 0-day, 10-day, or "xxx" global period).
For example, a patient is seen for a scheduled minor procedure, such as partial nail and nail matrix excision (11750). In such a case, it would be inappropriate to bill an E/M visit on the same date as the planned, related procedure. If the patient is scheduled for the same minor procedure but an additional E/M service is performed for an unrelated reason (i.e., the patient is diagnosed with tinea pedis, ICD-9-CM 110.4 Dermatophytosis of foot), report the separate E/M service at the appropriate level with modifier 25 appended (9921x-25).
In another example, a new diabetic patient is seen for consultation at the request of his endocrinologist. After a workup in the office, the patient is determined to have cellulitis (682.7 Other cellulitis and abscess; foot, except toes) with an ulceration (707.13-707.15 Ulcer of lower limbs, except pressure ulcer; ankle/heel or midfoot/other part of the foot) and acute osteomyelitis (730.07 Acute osteomyelitis; ankle and foot). The patient is sent to the hospital for admission, and surgery is performed that evening to incise and drain the infection, and to debride necrotic tissue and bone.
Depending on the exact nature of the procedure, applicable codes for debridement may include codes from series 28120-28124 or 11040-11044. Codes 28120-28124 are major procedures, with a 90-day global period (11040-11042 have a 0-day global, 11043-11044 have a 10-day global).
Applicable codes for the I&D could include 10061 Incision and drainage of abscess (e.g., carbuncle, suppurative hidradenitis, cutaneous or subcutaneous abscess, cyst, furuncle, or paronychia); complicated or multiple (10-day global); 28002 Incision and drainage below fascia, with or without tendon sheath involvement, foot; single bursal space (10-day global); 28003 Incision and drainage below fascia, with or without tendon sheath involvement, foot; multiple areas (90-day global); or 28005 Incision, bone cortex (eg, osteomyelitis or bone abscess), foot (90-day global).
The E/M consultation is separately reportable. Medicare (and some other payers) requires modifier 57 to be appended to the E/M visit (codes 99241-99245) if a major procedure (for instance, any of the procedures above with a 90-day global) is performed on the same date.
4. EOB isn't Checked for Denied or Improperly Paid Claims
Always review the explanation of benefits (EOB) for claims denied or improperly paid. Identify any errors and sit down with the physician to assess whether the error can be appealed based on the medical record. Such reviews should occur immediately, and may require a call to the payer to identify specifically what went wrong. Whenever possible, submit an appeal.
When contacting the payer, verify the address or fax number where the appeal should be sent. (I prefer fax because you get a confirmation of receipt from the fax machine.) The address provided on the EOB is not necessarily the address where the appeal should be sent. Include necessary identifying information about the practice, the patient, and the processing identification number of the originally-denied or improperly-paid claim in the appeal.
Correct your claims prior to resubmission. When claims are resubmitted with the same error, you won't achieve anything.
5. Radiology Reimbursement for Multiple Studies is Often Overlooked.
A patient is seen with a fracture, for example, and three views of the foot are initially taken (73630 Radiologic examination, foot; complete, minimum of 3 views). The doctor performs a closed reduction of the fracture, however, necessitating a follow-up X-ray study to assess the alignment.
Reimburse the subsequent study using the same CPT® code and the appropriate body modifier (LT Left side or RT Right side) with the addition of modifier 76 Repeat procedure by same physician (for a repeat procedure).
6. Physicians Are in the Dark About NCCI Determinations.
Many physicians either do not know about, or do not know how to apply, the National Correct Coding Initiative (CCI). The CCI, administered by the Centers for Medicare & Medicaid Services (CMS), allows coverage determinations with regard to paired CPT®/HCPCS Level II codes. Private insurers increasingly are using similar edit systems for their payment or denial of payment of paired claims.
To be sure the chosen code combinations are separately reportable and payable under the particular circumstances for Medicare claims, coders and physicians should review the Column 1/Column 2 edits and Mutually Exclusive CCI edits prior to billing multiple codes on the same date. Rules for private payers are specified by contract. Providers should not assume the private carrier is using NCCI unless that provision is in their contract.
Medically Unlikely Edits (MUEs) impose frequency limitations on certain procedures for Medicare claims. For instance, a bunionectomy cannot occur more than twice on one given date. Other MUEs prevent billing for clinically impossible situations, such as a procedure specific to females cannot be reported for a male patient.
7. Undercoding of E/M Services is Due to Lackluster Documentation.
When supported by medical necessity, physicians should document the history of present illness (HPI) in four areas. The review of systems (ROS) should attempt to document at least two pertinent elements, with documentation of at least one element from the patient's past medical/surgical history, family history, and social history. These initial steps go a long way in supporting necessary E/M services preventing recoupment in an audit.
Following generally accepted guidelines helps to secure successful coding results. Be aware, be smart and be ethical.
David J. Freedman, DPM, FASPS, CPC, is a practicing podiatric physician, vice-president of the Maryland Board of Podiatric Medical Examiners, a member of the American Podiatric Medical Association (APMA) Coding Committee for past five years, and Chairman for the Ninth Annual APMA CAC meeting.
Latest posts by admin aapc
(see all)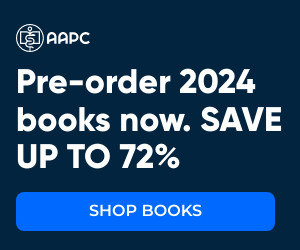 No Responses to "Give Unsupported Foot, Ankle, and Lower Leg Claims the Boot"