Mend Fingertip Injury Coding in the ED
By admin aapc
July 1, 2009
Comments Off

on Mend Fingertip Injury Coding in the ED
Get an in-depth look at fingertip laceration, contusion, and fracture.
By Sarah Todt, RN, CPC, CEDC
The finger is composed of many tissue types. Injuries to the fingertip may involve the skin, nail bed, nails, blood vessels, nerves, bone, or any combination of these tissues.
Patients with fingertip injuries frequently seek treatment in the emergency department (ED). A procedure's complexity may range from simple hematoma evacuation to debridement for open fracture care. Reporting procedures with accuracy requires the coder to understand complex finger anatomy, recognize the appropriate CPT® codes and descriptors, and be aware of applicable code bundles.
Look to Depth for Laceration Repair
Finger laceration is a very common ED presentation. Lacerations involving only the skin and sparing more specialized nail structures and deeper tissues are reported with laceration repair codes. Superficial repairs involving uncontaminated wounds, closed with a single layer, are reported with codes 12002-12007 and are based on the laceration length. For example, 12001 Simple repair of superficial wounds of scalp, neck, axillae, external genitalia, trunk and/or extremities (including hands and feet) 2.5 cm or less is appropriate for wounds less than 2.5 cm in length, and 12002 Simple repair of superficial wounds of scalp, neck, axillae, external genitalia, trunk and/or extremities (including hands and feet) 2.6 cm to 7.5 cm is appropriate for lacerations between 2.6 cm and 7.5 cm.
Closure with simple laceration repair is generally performed with non-absorbable suture material, such as nylon, Ethilon, or Prolene. Alternately, the physician may use tissue adhesive, which is also reported with the simple laceration repair CPT® codes for non-Medicare patients. Medicare, however, requires G0168 Wound closure utilizing tissue adhesive(s) only use for reporting single layer tissue adhesive repairs.
If the wound is heavily contaminated or requires a layered closure, move from the simple repair codes to intermediate codes 12041-12047. Final code selection depends on laceration or repair length. If tissue adhesive is used in addition to suture material, the repair is reported with the 12041-12047, as appropriate to wound length, for both Medicare and non-Medicare payers.
Note that when tendon repairs are performed, musculoskeletal section codes, such as 26418 Repair of extensor tendon, finger, primary or secondary; without free graft, each tendon, should be reported.
Apply Nail Bed, Avulsion Codes with Care
Some fingertip lacerations may involve the nail bed. Nail bed repair generally requires the use of absorbable sutures such as Vicryl, chromic, or gut utilized in a single layer repair (11760 Repair of nail bed).
Occasionally the physician needs to remove the nail to allow for access to the nail bed for repair. The removal will be documented as an avulsion and should not be reported in addition to the nail bed repair. Avulsion performed without an associated procedure may be reported with 11730 Avulsion of nail plate, partial or complete, simple; single.
Coders need to be clear that the physician is documenting a procedure, not the wound description. Both the diagnosis (for example, 883.0 Open wound of finger, uncomplicated) and the procedure may be described as an "avulsion." Procedures involving the nail bed may also have a physician noting the replacement of an avulsed nail over the wound as a splint for protection. This splint is not separately reportable.
Quick Tip: Code bundles, such as those described above and below, are common when reporting fingertip injury repairs. Coders should review current coverage policies when applying these codes.
Contusions and More Call for Dedicated Coding
Crush injuries may result in a wide range of injuries from contusion to maceration and open fracture.
Contusions involving the nail area may result in a subungual hematoma. Bleeding under the nail can result in increased pressure and pain. The physician may elect to drain this hematoma either through drilling or cautery. These procedures—which might also be documented as a "trephination"—would be reported with 11740 Evacuation of subungual hematoma.
Macerated tissue may require debridement. The physician will perform extensive cleaning and explore the wound for additional injuries. Debridement may include subcutaneous tissue alone, or muscle and even bone. Severely damaged tissue may result in the need for bone debridement and finger shortening to allow for tissue to close the wound, as noted by bone roungering and flap creation. A wound requiring this repair level would be reported with 11044 Debridement; skin, subcutaneous tissue, muscle, and bone or 11012 Debridement; skin, subcutaneous tissue, muscle fascia, muscle, and bone if associated with open fracture.
Fingertip crush injuries may also result in distal phalanx fracture. When applying ICD-9-CM codes, finger fractures are identified by location (proximal, middle, and distal phalanx) and may be reported as open or closed. For instance, code 816.02 Closed fracture of distal phalanx or phalanges of hand represents closed fracture of distal phalanx.
Fracture care procedures are differentiated by manipulation, location, and procedure type. These codes are also identified as open or closed procedures, and with or without anesthesia. Open procedures refer to surgical incision to repair the fracture. Coders should be aware that procedures identified as "open" and/or "with anesthesia" are generally reserved for the operating room and do not fit into the scope of this article.
Fractures involving fingertip injuries generally affect the distal or possibly the middle phalanx. Fracture treatments may range from stabilization to definitive care. Stabilization would include temporary splinting while the patient awaits definitive care. Splints are reported with 29130 Application of finger splint; static for finger splint and 29125 Application of short arm splint (forearm to hand); static for short arm splint.
A thumb spica splint is considered a short arm splint, and would be reported with 29125.
Fractures requiring manipulation represent definitive care. For example, reduction of a displaced fracture of the finger's proximal phalanx would be reported with 26725 Closed treatment of phalangeal shaft fracture, proximal or middle phalanx, finger or thumb; with manipulation. In this case, splinting is considered bundled in fracture care and should not be reported separately.
Include Digital Block in Overall Procedure
Many finger injuries require local anesthesia for pain control. Frequently, the ED physician may provide the anesthesia as a digital block. Digital blocks are considered local anesthesia and are included in the global surgical package. If the digital block is performed without a subsequent procedure, it may be reported separately with 64450 Injection, anesthetic agent; other peripheral nerve or branch.
Sarah Todt, RN, CPC, CEDC, is associate director of Quality Assurance and Compliance with emergency medicine coding and reimbursement specialist MRSI, Inc. Sarah has served on the National Advisory Board for AAPC and on the AAPC steering committee for the CEDC exam.
Latest posts by admin aapc
(see all)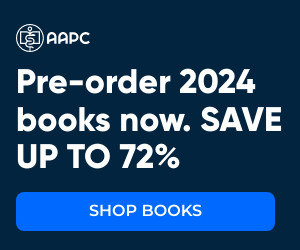 No Responses to "Mend Fingertip Injury Coding in the ED"