Don't Cross the Lines of Professionalism in Social Media
By admin aapc
July 1, 2013
Comments Off

on Don't Cross the Lines of Professionalism in Social Media
Used wisely, providers can take advantage of social media benefits.
By Judy A. Wilson, CPC, CPC-H, CPC-P, CPCO, CPPM, CPC-I, CANPC
Because social media is a staple in the average household, a growing number of healthcare providers are using it as a marketing tool, among other things. This technology doesn't come without challenges, however. Here's a quick review to help you avoid common pitfalls.
What is Social Media, and How is it Used?
Social media is any web-based communication interface used to share or exchange information, including videos or audio messages. Facebook™, YouTube, Linked in®, and Twitter™ are just a few social media tools.
Many providers have incorporated social media into their practices to educate patients and to collect pre-visit review of systems (ROS) information. Social media also can effectively generate business and interest in a provider's services.
While social media can help to create a more personal medical experience, providers must observe strict policies when using it. The Internet is full of individuals trying to pass themselves off as legitimate medical providers, looking to profit from unsafe or ineffective treatments, or even fraudulent medical schemes that can harm patients. Professionalism is important in regards to compliance, patient satisfaction, and credibility.
What NOT to Post Online
What you post online creates a near-permanent record that will follow you wherever you go. Warning: Courts have said you do not own what you post on a website—the website owns it. When you post to social media, you no longer control your own words. When in doubt, don't post.
When using social media, keep the following in mind:
Providers must be careful not to violate patients' privacy rights. Never post online anyone's protected health information (PHI). Ever. Providers need to use security settings, so only those with security access can see a patient's PHI. In other words, access to information on the Internet should work the same as in the office—on a "need to know" basis only.
Be careful how much medical advice or opinion you provide online, for several reasons:
Comments made or advice given on a social media site could be misconstrued. There is a potential for liability from patients who misread or misapply information a provider posts online.
Without seeing the patient, the provider can't accurately determine the nature of the patient's problem or that the patient understood the medical advice.
If a patient from another state posts a question on your practice's website, and the provider gives medical advice, is he or she now practicing without a license? I am not an attorney, but I do know that a license to practice medicine is issued and controlled by each state's medical board. A provider is subject to a criminal offense if it's determined that he or she is practicing without a license for that state.
State medical boards can also initiate an investigation if a patient complains and the board believes it's valid. Remember: When you post something on a social media site, assume it's there forever.
An employee who is not aware he or she is actually giving medical advice may end up crossing the line. This will leave the employee and the provider exposed to liabilities if there is a negative outcome from what was posted.
Anyone can use a website against a provider, and it's very easy to obtain evidence of misconduct if it has been posted online. It's very difficult to defend against something permanently posted online.
Don't be offensive. Avoid profanity, discriminatory remarks about another provider or practice, incorrect or misleading comments, and sexually suggestive remarks or materials.
Make Everyone Accountable
Patients may become angry if they post comments or questions on your social media site and don't receive a response in what they consider to be a timely fashion. Avoid this by monitoring your social media sites regularly and by having clear policies in place against dispensing specific medical advice online.
Warning: If you allow comments on your sites, you are likely to get some negative remarks. The plus side is that negative feedback is sometimes your best indicator of problem areas or needed improvements in your practice. The real problem comes from "anonymous" comments, where the practice is unable to contact the commenter to make amends (or verify the validity of the complaint). To combat this, consider requiring users to register on the site before they can post comments. This makes the user responsible for his or her comments and allows the practice the option to contact the user, if necessary.
Do not hire someone to make comments about your practice. There is a line between marketing and fraud; it's inappropriate to pay someone to make favorable comments about a provider or his or her practice on a physician rating website.
Get Your Staff Onboard
Social media is here to stay; providers need to incorporate effective social media policies into their compliance plan. Training is the most important part. Providers need to recognize that their actions online can negatively affect their professional reputation and medical career. Make sure there are safeguards to protect your practice.
Put in place a policy for using smartphones, cameras, and other devices in the workplace, and another policy specifically addressing the use of social media by providers and other clinical staff. Good advice is not to allow any employee's smartphone in the office during working hours. It's way too easy to use a smartphone to take a picture of patient PHI or other private information, which could then end up somewhere on the Internet.
There are very specific federal rules a business must follow if a PHI breach involving more than 500 individuals is detected. Employees should be made aware that it's a requirement to immediately report a breach to their compliance office, no matter who is responsible, even if it involves a supervisor. Your compliance office will then confirm the breach, and take the necessary steps.
All employees, including physicians, must be trained on these policies to ensure they know what actions will be taken if social media is misued at work.

Judy A. Wilson, CPC, CPC-H, CPC-P, CPCO, CPPM, CPC-I, CANPC, has been an anesthesia medical coder/biller for more than 30 years. For the past 20 years, she has been the business administrator for Anesthesia Specialists, a group of nine cardiac anesthesiologists who practice at Sentara Heart Hospital. Wilson started the Virginia Beach chapter and continues to be an active participant. She also teaches the Professional Medical Coding Curriculum in Tidewater, Va. In 2011, Wilson served as treasurer for the AAPCCA board of directors and is serving for a second time. She has presented at several AAPC regional and national conferences, as well as at local chapters.
Latest posts by admin aapc
(see all)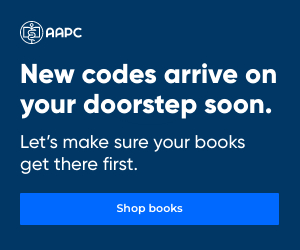 Comments are closed.