Factor in All Components of OB/GYN Hospitalist Coding
By admin aapc
June 1, 2013
Comments Off

on Factor in All Components of OB/GYN Hospitalist Coding
Facility
Coding relies on the details of these much-needed emergent care services.
By Lori-Lynne A. Webb, CPC, COBGC, CCS-P, CCP, CHDA
Coding for an obstetrics/gynecology (OB/GYN) hospitalist requires an understanding of the OB/GYN specialty, as well as of place of service (POS) codes, time-based codes, evaluation and management (E/M), ancillary services, and OB/GYN procedures.
Get Time on Your Side
Within an OB/GYN hospitalist practice, E/M services are very time dependent. Due to the emergent nature of the practice, the physician may spend more time with the patient providing counseling and coordination of care, rather than providing an E/M service based on history, exam, and medical decision-making (MDM). CPT® allows for coding based on time if the physician or provider spends more than 50 percent of the face-to-face encounter in counseling and/or coordination of care. Knowing how to code accurately based on time is a necessity.
Documentation diligence for time-based coding is a factor in revenue and reimbursement for the provider. The most common scenario for an OB/GYN hospitalist practice is the outpatient or labor and delivery (L&D) hospital visit for a pregnant patient with a maternal or fetal problem that requires monitoring or extensive testing. These visits may require one or more hours spent on the floor or in direct face-to-face care and counseling with the patient, plus non-face-to-face time for ancillary testing (e.g., fetal non-stress tests or ultrasonography).
Scenario: Patient Sally Jones is 30 weeks pregnant. She arrived on the L&D unit stating that she "felt funny" after eating. She states that she and one of her co-workers indulged in pizza and soda earlier this evening. She currently has gestational diabetes, managed only with diet. Patient reports she is uncertain what to eat because of its impact on her blood sugars. She is trying not to eat while she is working third shift at a local call center (overnights). She also complains of thirst, fatigue, and feeling tired all the time. She sleeps two to four hours at a time throughout the day. Patient has not noticed any decreased fetal movement or other problems with this pregnancy.
I performed a finger stick glucose test on the patient; her blood sugar reading was elevated at 183 (two hours post meal). I spent a total of 25 minutes face to face with Ms. Jones. Twenty minutes of that time was spent discussing the ramifications of gestational diabetes and non-compliance during pregnancy, which can include fatigue and thirst. The patient is having difficulty managing her diabetes at this time. I went over basic nutritional and dietary requirements regarding sugar, carbohydrate counting, and basic nutritional needs during pregnancy. I will also have patient undergo nutritional counseling with the diabetic educator. In addition, I also counseled the patient on future fetal non-stress testing and ultrasound testing, which we will coordinate with Sally's primary care OB/GYN, Dr. Jones, at the ABC123 clinic. Time in is 7:23 p.m.; time out is 7:48 p.m.
Coding: 99214 Office or other outpatient visit for the evaluation and management of an established patient, which requires at least 2 of these 3 key components: A detailed history; A detailed examination; Medical decision making of moderate complexity. Counseling and/or coordination of care with other physicians, other qualified health care professionals, or agencies are provided consistent with the nature of the problem(s) and the patient's and/or family's needs. Usually, the presenting problem(s) are of moderate to high severity. Typically, 25 minutes are spent face-to-face with the patient and/or family.
Dx: 648.83 Abnormal glucose tolerance of mother, antepartum condition or complication
POS Code: 22 Outpatient hospital
In this scenario, the OB/GYN hospitalist did not do a full exam, and took only a minimal history. The majority of this visit pertained to management of the gestational diabetes. The physician documented the total time spent, as well as time in and time out, as per CPT® requirements.
Stress Testing
Another crucial component to the practice is the fetal non-stress test (FNST). As part of the normal "scope of practice," fetal non-stress testing is an integral part of good patient care. The ultimate goal of antepartum fetal surveillance is to prevent fetal death. The FNST (CPT® 59025 Fetal non-stress test) is a non-invasive procedure that allows the OB/GYN hospitalist to evaluate the fetus and maternal status. When OB hospitalists perform this in addition to an E/M code, apply modifier 25 Significant, separately identifiable evaluation and management service by the same physician or other qualified health care professional on the same day of the procedure or other service to the E/M code.
When coding the FNST, a coder needs to be clear if the service was performed as a "global" service, a physician interpretation-only service (modifier 26 Professional component), or a facility only/technical component service (modifier TC Technical component appended).
Specific documentation criteria must be met to report the FNST:
Clinical Indication: e.g., decreased fetal movement, intrauterine growth restriction (IUGR), etc.
Interpretation: e.g., fetal heart tones (FHT) show a baseline of 130 with 10 x10 accelerations and moderate variability. Reactive with no decelerations.
Time noted: e.g., patient was monitored for "x" minutes over the course of her stay.
Signed/Authenticated: e.g., Jose Hero, MD
Scenario: Ms. L is a 25-year-old gravida 5, para 3, female patient of Dr. Hero's at 33-4/7 weeks gestation, who presents to the L&D area at 8:05 p.m. complaining of uterine contractions. They are anywhere from four to 10 minutes apart and are mild to moderate. She denies any leaking fluid, ruptured membranes, or bleeding. She has had no problems with this pregnancy except that her blood pressure has been running somewhat high throughout her pregnancy, with systolics in the 140s on numerous occasions.
PHYSICAL EXAMINATION
VITAL SIGNS: Afebrile, vital signs stable.
GENERAL: The patient is a well-developed, well-nourished female in no acute distress.
ABDOMEN: Soft. Uterine contractions are present about every 4-6 minutes. Fetal heart tones show moderate variability, 15 x 15 accelerations and no decelerations, with a baseline of 145. Testing time = 45 minutes on the fetal monitor.
PELVIC: Cervix is very posterior, -2 station, 50% and tight 1 cm.
ASSESSMENT: False labor in a multiparous patient at 33-4/7 weeks gestation. Fetal status is reassuring.
PLAN: Patient was reassured regarding Braxton-Hicks/false labor. She will be calling Dr. Smith's office in the morning regarding possible pre-term labor care and somewhat elevated blood pressures. Patient was discharged from the unit at 9:39 pm.
Coding: 99213-25 Office or other outpatient visit for the evaluation and management of an established patient, which requires at least 2 of these 3 key components: An expanded problem focused history; An expanded problem focused examination; Medical decision making of low complexity. Counseling and coordination of care with other physicians, other qualified health care professionals, or agencies are provided consistent with the nature of the problem(s) and the patient's and/or family's needs. Usually, the presenting problem(s) are of low to moderate severity. Typically, 15 minutes are spent face-to-face with the patient and/or family and 59025-26.
Dx: 644.03 Threatened premature labor, antepartum
POS Code: 22
In this scenario, you are billing for only the physician-based services (not the facility), so you'd report for the E/M service and only the professional portion of the FNST.
Obstetrical vs.
Non-obstetrical Sonography
Another very important piece of an OB/GYN hospitalist practice is the evaluation using ultrasonography. The OB/GYN ultrasound has become a standard practice procedure during pregnancy. Ancillary ultrasound tests also provide a non-invasive avenue to diagnose, evaluate, and treat the emergent maternity patient. An ultrasound can quickly evaluate a fetus, placenta, or amniotic fluid levels within the abdomen. Providers may use ultrasound to assess fetal movement and growth, or detect an emergent condition or crisis affecting the fetus. An OB/GYN hospitalist practice performs the entire scope of OB ultrasound codes, and also performs traditional abdominal/pelvic ultrasound procedures.
CPT® describes obstetrical ultrasound with codes 76801-76828. The services include:
Traditional OB ultrasound
Fetal biophysical profile(s)
Doppler velocimetry of the fetal umbilical and middle cerebral artery
Echocardiography of the fetus
CPT® describes non-obstetrical ultrasound using codes 76830–76857. Such ultrasound guidance procedures are used with other procedures and surgical interventions, and require a permanently recorded image and a final written report.
Example 1:
76815 Ultrasound, pregnant uterus, real time with image documentation, limited (eg, fetal heart beat, placental location, fetal position and/or qualitative amniotic fluid volume), 1 or more fetuses
HISTORY: A 29-year-old female, late care, MD request for size/date of pregnancy.
FINDINGS: A single live intrauterine gestation in the cephalic presentation, fetal heart rate is measured 147 beats per minute. Placenta is located posteriorly, grade 0 without previa. Cervical length is 4.2 cm. There is normal amniotic fluid index of 12.2 cm. There is a 4-chamber heart. There is spontaneous body/limb motion. The stomach, bladder, kidneys, cerebral ventricles, heel, spine, extremities, and umbilical cord are unremarkable.
BIOMETRIC DATA:
BPD = 7.77 cm = 31 weeks, 1 day
HC = 28.26 cm = 31 weeks, 1 day
AC = 26.63 cm = 30 weeks, 5 days
FL = 6.06 cm = 31 weeks, 4 days
Composite sonographic age is 30 weeks, 6 days plus or minus 17 days.
Estimated fetal weight is 3 pounds, 11 ounces plus or minus 10 ounces.
IMPRESSION: Single live intrauterine gestation without complications as described.
Example 2:
76830 Ultrasound, transvaginal to evaluate acute pelvic pain
HISTORY: Acute pelvic pain in a 22-year-old female.
FINDINGS: The right ovary measures 1.3 x 3.2 x 2.2 cm. There are several simple-appearing probable follicular cysts. There is no abnormal flow to suggest torsion on the right. Left ovary is enlarged, demonstrating a 6.0 x 3.0 x 3.2 cm complex cystic mass of uncertain etiology. This could represent a hemorrhagic cyst versus abscess. There is no evidence for left ovarian torsion. There is a small amount of fluid in the cul-de-sac, likely physiologic. Uterus measures 7.3 x 4.8 cm. The endometrial echo is normal at 6 mm.
IMPRESSION:
No evidence of torsion.
Large, complex cystic left ovarian mass as described. This could represent a large hemorrhagic cyst; however, an abscess/neoplasm cannot be excluded. Recommend either short interval follow-up versus laparoscopic evaluation given the large size and complex nature.
"Standby" for Better Coding
Another code used in the OB/GYN hospitalist practice is 99360 Standby service, requiring prolonged attendance, each 30 minutes (eg, operative standby, standby for frozen section, for cesarean/high risk delivery, for monitoring EEG). Standby services can also be very confusing for coders and providers alike.
CPT® defines a physician standby service as a service requested by another physician and involving prolonged physician attendance without direct (face-to-face) patient contact. The physician may not provide care or services to other patients during this period. A physician cannot use 99360 to report time spent proctoring another physician, or if the period of standby service ends with the performance of a procedure that is part of a surgical package performed by the physician who was on standby.
At this time, there are no official documentation requirements for 99360. This code should be billed in 30-minute increments. Coders may encounter a third-party payer that will not pay for 99360, but the Centers for Medicare & Medicaid Services (CMS) does have relative value units assigned to the code, and submission of the claim with good documentation should help you obtain payment when the provider is requested to be on standby.
To support standby services, in the event you are requested to provide documentation for payment, the following should be documented in the medical record:
The request from the surgeon to the physician that they want on standby
The reason standby is being requested (such as a high-risk OB cesarean delivery, urgent/trauma operative surgical session)
The standby physician's time in and time out while on standby
For example, complete documentation might specify, "I (Dr. John Doe) was requested by Dr. Greg Smith to be on standby for the emergent, high-risk cesarean section to be performed on patient Jane Jones on March 1, 2013. I arrived at the OR at 10:57 a.m. and departed at 12:14 p.m."
In this scenario, you may report 99360 x 2 units for two complete 30-minute blocks of time. CPT® does not allow coding for a "partial unit" of standby if less than 30 minutes.
OB/GYN Hospitalists:
The Up and Coming Subspecialty for Emergency Medicine
An OB/GYN hospitalist, or OB laborist, is a specialty OB/GYN physician who provides care in all areas of the hospital, including emergency, outpatient, inpatient, and observation areas for emergent and trauma patients. These specialists do not take the place of the patient's regular OB/GYN or family practice physician, but provide a much-needed service for emergent or trauma patients presenting outside of normal clinic hours. Private practice OB/GYN physicians have embraced this service, as hospitalists help to manage and care for the emergent patient in the interim, until the patient's regular physician arrives to assume care.
In some hospital facilities, the OB hospitalist/laborist program is staffed 24/7/365. In other facilities, OB/GYN hospitalists may provide coverage for nights and weekends. They also help to pick up unassigned patients, and to provide coverage for private OBs and family medicine physicians who are in surgery or in clinic and unable to quickly arrive at the facility. In some practices OB/GYN hospitalists also function as maternal fetal medicine specialists.
As of September 2012, it is estimated that between 1,500 and 2,500 OB/GYN practitioners devote all or part of their time within a hospital labor and delivery department functioning as an OB/GYN hospitalist or laborist. The OB/GYN community has welcomed this sub-specialty as a part of the complete OB team for obstetric patients. In many private practices, when a patient is choosing a facility to delivery her baby, she is encouraged to meet the OB laborists as a part of the pregnancy tour experience.
OB/GYN hospitalists provide many different services within their scope of practice, including:

Evaluate and manage emergent labor services ("I think I'm in labor," "I think my water broke," etc.)
Measure cervix dilation
Labor induction and management of the labor process
Performing and/or order lab studies, fetal monitoring, and ultrasound
Perform and assist vaginal, cesarean, and V-back deliveries
Assess pain management needs
Stabilize OB and GYN trauma patients (such as from a vehicle accident)
Assess emergent GYN services such as pelvic pain, ovarian cysts, ovarian torsion, and heavy bleeding
Provide interim OB/GYN care for patients with no local or assigned physician
Provide surgical and procedure services such as cerclage, cephalic version, amniocentesis, and dilation and curettage services for miscarriage and fetal demise

This list shows only a small but important part of what hospitalists do.
Lori-Lynne A. Webb, CPC, COBGC, CCS-P, CCP, CHDA, lives in Boise, Idaho. She provides coding, consultation, and education support for the Society of OB/GYN Hospitalists (Obgynhospitalist.com) and Saint Alphonsus Regional Medical Centers' OB/GYN, OB Hospitalists and Maternal Fetal Medicine specialty programs. She also writes her own "Lori-Lynne's coding coach" blog site.
Latest posts by admin aapc
(see all)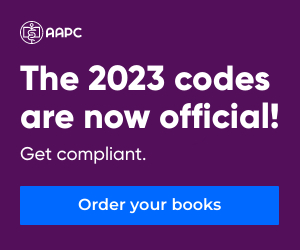 No Responses to "Factor in All Components of OB/GYN Hospitalist Coding"