5 Common Claims Mistakes to Avoid
By admin aapc
In Audit
August 30, 2013
Comments Off

on 5 Common Claims Mistakes to Avoid
Preventing claim denials is far more efficient than wading through resubmissions and appeals. The good news is, the most common reasons for claim denials are also among the easiest to avoid. The key is to get "back to basics" and pay attention to easily overlooked details. Here are five problem areas to consider.
Orders Gone AWOL
Orders for services must be documented and stored in accordance with state or federal law, and must be included in the patient's permanent medical record. The order demonstrates medical necessity for the service. The provider who renders and bills the service—not necessarily the one who orders it—is responsible to be sure the order is part of the medical record. Staff should review each request for service to deem it complete, accurate, and legible prior to servicing the patient.
Illegible Records
Don't assume that because you (or your physician) can read it, that the payer can, too. Illegible records are as good as no records at all, from the payer's point of view.
Illegible records should be returned to the provider so that they may be amended prior to claim submission. Proactive solutions to illegible documentation can include employing scribes, using dictation systems, working with administrative staff to create paper templates, or—arguably the best solution—adopting an electronic health record (EHR) system.
Medical Necessity, MIA
Medical necessity denials are clinical denials, and might require the expertise of a clinical practitioner. But first, review coding guidelines and your contracts and/or payer determinations (LCDs and NCDs) to be sure the services billed are in accordance with payer rules (e.g., an appropriate diagnosis, services don't exceed frequency limitations, or require pre-authorization or prior indications, etc.).
If all else fails, ask the payer for an explanation of why the claim was denied. You want to know how to avoid similar denials going forward.
Ignoring Payer Requests
Payers may send an Additional Development Request (ADR) for claims under prepayment review. If you ignore these requests, your claims may be denied due to lack of response. You should monitor ADR claims weekly, and act promptly to supply the requested information.
Documentation? What Documentation?
Health record documentation alone supports coding, which in turn supports billing. Providing only a copy of the encounter form to support a service, for example, will result in denial of payment. Charge slips, superbills, and encounter forms aren't part of the health record, and are not legal evidence that a service occurred.
Knowledgeable coders can be helpful in this respect. Whereas encounter forms tend to limit charge capture to the services listed, coders are trained to report what is actually documented in the medical record. Coders may also counsel providers on the documentation details that are necessary to fully code all services rendered, thus appropriately optimizing reimbursement.
Finally, staff members who are responsible for sending patient records must be trained to recognize which documentation is needed to fulfill payer requests.
Latest posts by admin aapc
(see all)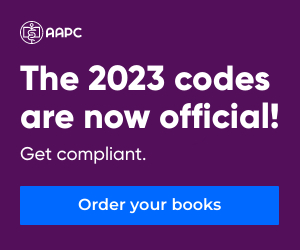 No Responses to "5 Common Claims Mistakes to Avoid"