Report Audit Results to Educate
By admin aapc
September 1, 2013
Comments Off

on Report Audit Results to Educate
Part 1: Use effective communication to coach providers towards better record keeping.
Brenda Chidester-Palmer, CPC, CPC-I, CCS-P
Editor's Note: This is the first part of a two-part series. In the next article, we'll discuss how best to relay your audit results to the overseeing physician, committee, or board.
One of the most important aspects of auditing medical records is relaying the results back to the service provider—and it's a crucial element of your audit and compliance plan. How you convey the results will vary based on who your audience is. This month, we'll talk about sharing results with the individual physician or non-physician practitioner (NPP).
Be Prepared and Run the Right Reports
Providers go through all types of chart audits, such as HEDIS® (a managed care audit), a quality improvement or quality assurance audit, or—with the new managed care plans for Medicare—a hierarchical condition category (HCC) audit. When you report results for any of these audit types, it's best to review each record independently with the physician. You can include an overall summary, but this is the point where detail will aid in education. Begin with the type of audit that was performed, an evaluation and management (E/M) note, or office procedure or surgery note.
If you use auditing software with good reporting capabilities, you can print a report to take with you. If you audit by hand, or you don't have good quality reports, you will need to create your own.
An audit results report, as shown in Example A, needs to contain the basics:
Patient identifier
Date of service
CPT® code selected by provider
ICD-9-CM code selected by provider
CPT® code supported by documentation
ICD-9-CM code supported by documentation
Example A: Audit report
INV#
DOS
Billed
Documented
Comments
CPT®
DX
CPT®
DX
501120
3/7/11
99212
272.0 250.00 401.1
99213
272.0 250.00 401.1
Documentation supports a higher level of service than selected by the provider. Per 1997 guidelines – the status of three chronic conditions – extended HPI. The history level and the MDM both supported the higher level of service.
504354
3/15/11
99213
529.9 V70.0 V03.89
99213
529.9 V03.89
Pass.
V70.0 should not be linked to 99213. It should only be used when a routine examination or counseling is performed.
518295
4/15/11
99213 71020
465.8
99213
71020
465.8
Pass
518669
4/18/11
99213-25 96372 J0702
477.9
99213-25 96372
J0702
477.9
Pass
518670
4/18/11
99214
401.1 311 272.4
99214
401.1 311 272.4
Pass
523310
4/28/11
99214
401.1 274.9 790.6
99213
401.1 274.9 790.6
Documentation does not support the level of service selected by the provider. All three of the key components support a lower level of service. The CC and HPI are related to HTN–ROS and Exam only address areas related to the HTN.
530994
5/18/11
99214 71020
786.2 110.1
99214
71020
786.2 110.1
Pass
533372
5/25/11
99214 71020
780.60 788.42
99214
71020
780.60 788.42
Pass
549344
7/6/11
99213
719.41
99213
719.41
Pass
550447
7/8/11
99213
239.2
99212
239.2
Documentation supports a lower level of service than selected by provider. All three key components support the lower level.
(Note: This is only a sample. Providers' records will not look the same.)

In addition to the basic information, a great report should include summary notes and findings . When reporting results and meeting with provider, don't use the word "failed" because this gives a negative impression. I use "pass" and either "not supported by documentation" or "supported at a different level than selected." These tend to get the message across, but don't put the provider on the defensive.
Make sure you have provided enough information in the summary for you to explain fully any notes that did not correspond in the audit to the code selected by the provider. To provide more detail, break down your findings into an encounter detail report, as shown in .
Provide a bell curve report, as well. A bell curve shows physicians how they are coding, relative to their peers . Each provider should have a bell curve done every year. The curve is a good tool to help select providers and charts to audit. It's also important to bring copies of the 1995 and 1997 audit guidelines with you, plus any special audit rules or regulations from your Medicare intermediary.
Make the Meeting Positive
Open your meeting with a statement such as, "I'm here to educate you on the findings of your chart review," followed by a general and positive statement, for example:
"Overall, you did very well."
"Most of the records passed."
"The pass rate was <insert percentage>."
"Several notes were of excellent quality."
After you make the general "pass/fail" statement, explain why the physician passed, or didn't, and then drill down to the actual results.
If you start with the "passing" records first, it starts the meeting off in a positive way. Second, the "why" for passing an audit is as important as the "why" for not passing an audit. You want the provider to know what he or she did right on these records, and to keep documenting this way.
Explain how the provider correctly documented the necessary elements for history, exam, and medical decision-making (MDM), based on the documentation guidelines. If reviewing a surgery note, show the provider the note with the sections highlighted that led to the correct procedure code(s). Let him or her know how many elements were required and show how he or she documented each area. If time is short and most charts passed, go through a few of the passing charts, but reserve most of your time to review the charts that did not pass.
iver Bad News Tactfully
When we turn our attention to notes that did not support the level of service selected, there are several phrases to avoid to keep communication lines open.
Don't Say, "If it's not documented, it didn't happen."
The No. 1 phrase to avoid is the phrase you've learned to say often: "If it's not documented, it didn't happen." In the context of coding, the statement makes sense. But from the provider's point of view, saying this immediately suggests that you think this provider is charging for a higher level of service than what he or she performed. A better way to get your point across might be to say, "If you didn't document an element, it cannot be discovered during an audit." That way, you aren't implying the provider failed to do an element necessary to support the level he or she selected; only that it was not documented in the note.
Use "You" Sparingly
Be careful of the word "you" when reviewing results (e.g., "You only documented two HPI," "You did not exam six or more bullet points," or "You haven't documented a moderate MDM"). Using "you" too much can put a person on the defensive because it conveys criticism of the individual, rather than of the documentation. Keep the focus on the documentation and not the person. Use phases such as, "The documentation contains only three HPI elements," or "Only low medical decision-making was documented," or "The exam only had five bullets items documented."
Know What's Missing
When discussing documentation that supports a lower level of service than the provider selected, make sure you know exactly which elements are missing to support the code selected. This is important because most providers will ask, "What else needs to be documented to support my level?"
If necessary, you can refer to "Appendix C – Clinical Examples" of AMA's 2013 CPT® Professional Edition as a coaching tool. For example, you can compare a physician's documentation showing a patient with insulin-dependent diabetes mellitus and coronary artery disease to the Clinical Examples, which describe this as a level III visit (99213). If the clinical example suggests a lower code than what the provider selected, ask the provider what was it about this visit that made him or her select a higher level. This may lead to coaching on counseling time or documenting other issues the patient brought up but were not documented by the provider.
When discussing documentation that supports a higher level of service than selected by the provider, be ready to explain why. A provider may select a level based on his or her interpretation of how well the patient is. A room full of family practice providers may disagree on the level of service for a patient with acute bronchitis. Some argue it's always 99213, while others think it's justifiable to use 99214 (level IV established outpatient visit). When discussing this type of scenario, the clinical guidelines and the Table of Risk are key. Be open to listening to the provider.
Review and Explain the Bell Curve
Lastly, review the provider's bell curve report with him or her (If you select charts for review based on the bell curve, say this up front.). Be sure to explain what the report is and how Medicare and other insurance providers use it. Let the provider know that using one code exclusively could trigger an audit. Be ready to explain how a provider can be on the bell curve, but still fail the audit (or can pass an audit, but not be on the bell curve). Reasons for being outside of the bell curve may be that the provider:
Sees sicker patients than his or her peers
Sees more patients than his or her peers
Performs more office procedures than his or her peers
Providing feedback to healthcare providers on documentation review can be an educational experience for both the provider and the auditor. And speaking as a coach—instead of an auditor—helps us to communicate better.

Brenda Chidester-Palmer, CPC, CPC-I, CCS-P, has 18 years of coding and billing experience. She is the principal of Palmer Coding Consultants and former coding compliance manager for Kelsey-Seybold—a large group practice in Houston. Chidester-Palmer is an approved PMCC instructor, AAPC workshop presenter, past president of her Tyler, Texas, local chapter, and a former member of the AAPC National Advisory Board. She had been a presenter at AAPC national conferences in Long Beach,  Calif., Jacksonville, Fla., and Las Vegas, Nev.
Latest posts by admin aapc
(see all)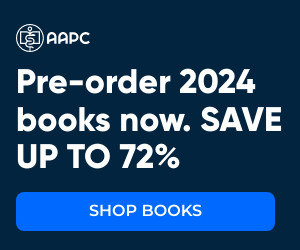 No Responses to "Report Audit Results to Educate"