HHS Reports on Personalized Health Care
By admin aapc
In CMS
November 1, 2008
Comments Off

on HHS Reports on Personalized Health Care
Someday, patient medical care will be differentiated based on individual biology. Physicians will prescribe medicine according to patient's metabolism and other factors that cause certain prescription medication to work well with some, but not others. Someday may be sooner than you think.
Health and Human Services (HHS) Secretary Mike Leavitt has re-released his report "Personalized Health Care: Pioneers, Partnerships, Progress," from his initiative on personalized health care. The report, first released in 2007, examines the potential for new findings in genetics and other molecular-level medicine to improve the quality and cost-effectiveness of health care. Included in the report is information from 10 institutions where personalized health care techniques are used and seven commissioned papers examining the opportunities and challenges for personalized health care from different stakeholders' perspectives in the health care sector.
The belief is that genetic and molecular medicine will help physicians detect diseases before symptoms appear and enable treatments to delay or preempt the disease—thus avoiding costly late-stage treatments. It is also thought that if individuals were aware of their particular predisposition to disease, they would take more effective disease-prevention steps.
Secretary Leavitt says in the report that the potential for personalized health care techniques to improve health and increase value in health care make personalized health care a factor that should be targeted as part of any plan to reform the nation's health care system.
HHS says it seeks to advance this initiative through two guiding principles:
Provide federal leadership supporting research addressing individual aspects of disease and disease prevention with the ultimate goal of shaping preventive and diagnostic care to match each person's unique genetic characteristics.

Create a "network of networks" to aggregate anonymous health care data to help researchers establish patterns and identify genetic "definitions" to existing diseases.
You can learn more about the goals of Secretary Leavitt's initiative on personalized health care on the HHS Personalized Health Care Web site.
Latest posts by admin aapc
(see all)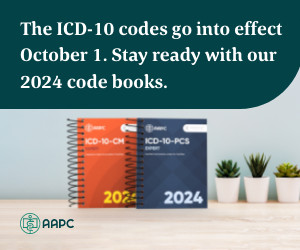 No Responses to "HHS Reports on Personalized Health Care"