Write the Right Resume
By admin aapc
May 1, 2013
Comments Off

on Write the Right Resume
The most relevant information to land you an interview can be broken down into eight direct steps.
By Julie Bos, CPC
I have been on the hiring side of the resume; and with the tough job market today, I have been asked by several people how to compose one that will land an interview. To give you an idea of how to present an effective resume, here are eight, no-nonsense tips from an employer perspective:
1. Provide your best. A resume is your introduction and first impression. Make it a great one.
2. Tailor to fit. To get your resume into in the "first look" pile, showcase the information that is pertinent to the job you are applying for. This may mean having several different drafts of your resume to meet the job requirements of the posted position.
3. Keep it simple. When a resume comes through that is more than one page, it generally gets left to last or skipped over completely. Make your resume a brief overview of who you are as related to the open position. When more information is given than is necessary, and there are 200 resumes to go through, the cleanest and most concise ones get reviewed first. Only after these fail to produce a good candidate, will the others get reviewed. The interview and hiring process is long and tedious for the employer. Presenting them with a clean precise overview of who you are will greatly enhance your chances to get called in for the all-important interview.
4. Skip the frills. Keep the format clean and professional. A cute, flowery resume may be tossed straight into the garbage, or at the very least, to the end of the pile. Personality has its place; save it for the interview.
5. Be relevant. Include only pertinent education and work experience. If you are applying for a medical coding or billing job, your two years as a hairdresser will not make a difference. This information is just extra words to sift through for your potential employer. Use the space for your six months in medical billing school and getting your Certified Professional Coder (CPC®) credentials. The other things may come up in the interview, but are not necessary in your resume.
6. Be qualified. Don't apply for something for which you are not qualified. For example, we posted ads specifically indi-cating that an applicant must have three years of experience in the medical billing field; and yet, we got applications from truck drivers and McDonald's employees. Don't waste your time or the employer's applying for a job you're clearly not qualified for.
7. Cut out the fluff. Don't add in all the baloney about "wanting a fulfilling job with a reputable employer to further your career," etc. No one is fooled by this type of wording, and it wastes space where you could be selling yourself.
8. Answer their needs. Provide the information the employer wants to know about you:
What can you do for me?
What have you done before?
Can you do it again, or better?
Writing an effective resume is important, but knowing how to create a favorable first impression at the interview is, too. To find out how to sell yourself to get the job, read the article, "Make the Right First Impression," in this issue of AAPC Cutting Edge.

Julie Bos, CPC, spent nine years managing a billing office in Southern California and now owns a revenue management business based in Denver, Colo. Ms. Bos enjoys teaching others the skills necessary to succeed in the medical billing field.

Latest posts by admin aapc
(see all)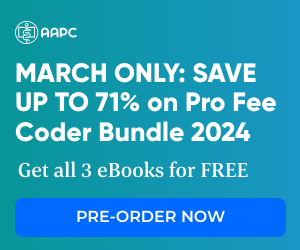 No Responses to "Write the Right Resume"