Mitigate the Risks for Using Modifier 25
Know the full scope of scrutiny when claiming same-day, separately identifiable E/M services.
By Tricia Radatz, CPC
"Be Aggressive with Same-day E/M and Office Procedures" (June 2012, pages 14-15) explained that billers and coders should fight back when payers incorrectly deny codes appended with modifier 25 Significant, separately identifiable evaluation and management service by the same physician or other qualified health care professional on the same day of the procedure or other service. The article provided clear and thorough examples of appropriate use of modifier 25, and reinforced the importance of going after every available dollar that is due to healthcare providers—especially in this time of shrinking reimbursements and increasing expenses.
But there is more to the story. You should be aware of the scrutiny that modifier 25 claims are under. Through data mining analytics and focused reviews, regulators and private payers have found inappropriate payments issued for modifier 25 claims.
Examples include:
A November 2005 Office of Inspector General (OIG) report claimed that 35 percent of 431 claims reviewed did not meet Medicare program requirements, which resulted in $538 million in improper payments.
An April 2012 report by UnitedHealthcare® indicated that they overpaid between $3.2 million and $7.8 million in claims processed for the New York State Department of Civil Service for misuse of modifier 25.
In September 2012, the U.S. Attorney's Office for the Northern District of Georgia issued a report on an oncology practice that paid $4.1 million to settle a False Claims Act investigation that included the misuse of modifier 25.
Claims Must Withstand Heavy Scrutiny
Inappropriately billing an office visit on the same day as a procedure drives up costs to payers and potentially increases patients' out-of-pocket expenses. For these reasons, this area of coding must be thoroughly understood to prevent ac-cusations of fraud and abuse. There are ways to mitigate the risk associated with appending modifier 25.
Know the Rules
Modifier 25 indicates that on the day a procedure or service was performed, the patient's condition required a significant, separately identifiable evaluation and management (E/M) service, above and beyond the other service(s) provided, or beyond the usual preoperative and postoperative care associated with the performed procedure(s). CPT® codes assigned with an "XXX" or "10-day" global period (per the Medicare physician fee schedule) include payment for routine pre- and post-work services. Payers will allow for an additional payment, however, when modifier 25 is appended to the E/M service. Identifying a significant E/M service is key.
Review Modifier 25 Claims
Before submitting a claim for a separately identifiable E/M service, ensure you have appended modifier 25 appropriately and that you have sufficient documentation to support its use. For a claim to be able to stand up to an audit, a medical reviewer must be able to see the additional work involved. This may be evident through new or more severe symptoms in the patient's history, or possibly a change in the patient's treatment plan.
For example, a patient diagnosed with cancer presents for her scheduled round of chemotherapy. The oncologist sees the patient, checks the patient's port for infection, and inquires about any side effects. This service would be reported with 96372 Therapeutic, prophylactic, or diagnostic injection (specify substance or drug); subcutaneous or intramuscular for the chemotherapy infusion, and the corresponding HCPCS Level II code for the chemotherapy agent.
In an alternate scenario, the same patient presents for her scheduled round of chemotherapy and complains of congestion and a productive cough. The oncologist performs an exam and prescribes an antibiotic and documents the service. This documentation is evidence of significant and separately identifiable work performed. An E/M service would be reported with modifier 25 appended, along with 96372 for the chemotherapy infusion and the chemotherapy agent.
Review LCDs and NCDs
Local coverage determinations (LCDs) and national coverage determinations (NCDs) are invaluable resources for guidance on procedural coding and billing. NCDs are made through an evidence-based process overseen by the Centers for Medicare & Medicaid Services (CMS). In the absence of an NCD, Medicare contractors may create an LCD for coverage or non-coverage of an item or service. NCDs and LCDs are updated periodically, so stay on top of these.
Research Physician Professional Organizations
Determine if any physician professional organizations have recently issued opinions for procedures routinely performed by your specialty, along with coding guidance. These organizations are Medicare's source of information when writing medical review policies and NCDs. Professional organizations also often advocate to regulators for clarification on coding-related matters, so their websites often provide a wealth of information about coding rules.
For example, the American Academy of Family Physicians (AAFP) recommends physicians ask themselves the following questions in determining if modifier 25 should be used:
Did you perform and document the key components of a problem-oriented E/M service for the complaint or problem?
Could the complaint or problem stand alone as a billable service?
Is there a different diagnosis for this portion of the visit?
If the diagnosis is the same, did you perform extra physician work that went above and beyond the typical pre- or post-operative work associated with the procedure code?
Collaborate with Your Providers
Coders and billers are not clinical experts. If there is an uncertainty about whether a separate service should be reported, provide the rules and ask for clarification from the provider or his or her peers.
Your providers might recognize the need to improve documentation when such issues are brought to their attention. Sometimes, it may be necessary to ask the question, "If your peers were to review your note, would they be able to de-termine why an E/M service was separately reported with this procedure?" If there is hesitation in the provider's response, chances are some education might be warranted.
The importance of you understanding the full scope of your responsibilities cannot be understated. Your job is more than assigning codes or releasing claims as they are presented to you. You owe it to your employer and to your profession to use critical thinking skills when coding and billing provided healthcare services. By doing so, you build credibility as professionals—which, in turn, helps all coders and billers become more relevant to employers. You need to look for ways to capture all the revenue that is due, as well as to be aware of what can potentially open your provider and institution up to outside scrutiny.

Tricia Radatz, CPC, is the director for regulatory compliance at The MetroHealth System in Cleveland, Ohio. She has over 20 years experience in revenue cycle management and most recently has transitioned to healthcare compliance. Radatz is a member of the Cleveland Southwest Ohio local chapter.
Latest posts by admin aapc
(see all)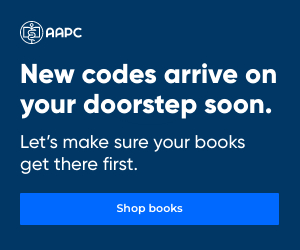 3 Responses to "Mitigate the Risks for Using Modifier 25"