Understand Documentation from a Risk Perspective
By admin aapc
August 1, 2013
Comments Off

on Understand Documentation from a Risk Perspective
Concise documentation leaves little room for doubt and helps keep you in the clear.
By Brenda Edwards, CPC, CPB, CPMA, CPC-I, CEMC
If you were asked to summarize a story in which important details were omitted, words were missing, or the language was foreign, do you think you'd get it right? Probably not. Think of medical record documentation as a story and providers as the authors of their patients' medical history. To set the story straight, documentation must be timely, detailed, and complete. When it is, coders have ample patient-specific, meaningful information on which to base their coding—thereby reducing risk of improper payments and ensuring quality care.
A Thorough Medical Record 
Is a Multi-purpose Tool
The medical record has evolved from a tool used exclusively by the practitioner into a multi-purpose document. Think of the medical record as:
a compliance document that shows the chronological accounting of the patient's health, including adherence or lack of adherence to treatment options;
a legal document that records the provider's thoughts and plans; and
a shared medical document when multiple providers engage in concurrent care.
Make It Timely
Ideally, documentation occurs as soon as possible after an encounter with a patient. Details begin to blur as time lapses between the face-to-face encounter and the actual documentation of the event. Clinical details and other important in-formation may be completely forgotten if not documented in a timely fashion, and this could result in treatment errors.
Sparse or low quality documentation in the medical record also has many repercussions that extend beyond quality of care. For one, it makes it difficult to determine if an adverse outcome was due to negligent medical care or factors outside of the physician's control. If you are asked for a deposition years later, it may be difficult or even impossible to recreate the day or event in question from memory. Documentation may be the only piece of evidence you have in a malpractice case. And without timely, patient-specific details, you don't even have that.
Don't Forget the Details
The devil is in the detail. The time to be concerned is when your provider's documentation does not address these factors:
Does the note include a rationale for medical decisions?
Is there documentation for follow up on diagnostic tests?
What if the patient did not have a test performed after it was scheduled?
Patient "no show" appointments or cancellations could represent a change in the patient's behavior. A patient may not be taking a medication according to written orders because he misunderstood the directions. Or maybe that patient cannot afford the medication. Without documentation, the story isn't complete. The note should reflect the attempt(s) to reach a patient with test results or to inquire about a missed appointment. Lack of information could be a jackpot for a plaintiff's attorney. Remember the old adage, "If it's not documented, it's not done."
Make sure documentation is complete with rich details of the encounter and not full of generic terms such as "normal," "negative," "WNL." Avoid ambiguous terms such as "light work" or "follow up with surgeon." Instead, paint the picture with qualifying terms, such as "patient may return to work in a limited capacity, which includes no lifting over three pounds," or "we will call the general surgeon today to get an appointment for his belly pain."
Use Addenda Correctly
It's acceptable to add an addendum to a note to clarify information or explain a change. When adding an addendum to the record, make changes in a timely manner so the details are fresh in the provider's mind, and be sure the date and time is included. A red flag could be raised if months have elapsed before an addendum is added. For example, there would be no explanation for two separate addenda dictated for the same encounter, written months apart from each other, and with conflicting information between them.
Check for Signatures, Legibility
Every (written, verbal, or phone) order or note should have a legible signature and date. All forms, questionnaires, and reports should include an indication of review using initials or a signature and a date. Documentation should be reviewed for accuracy or to fill in the blanks where narratives are incomplete. The same holds true for the authentication on an electronic health record (EHR). Errors or omissions could result in patient harm, and malpractice.
Keep in mind: The provider ultimately is liable for anything entered in the record as if they recorded it, regardless of who entered it. "Dictated or signed, but not read" does not relieve the provider of liability.
Use Standardized Free Text
EHR systems contain shortcuts and drop-down menus that have a tendency to make patient notes look the same, or "cloned." The ability to "free" text greatly reduces the cloned look of a note; however, avoid using text lingo or nonstandard abbreviations or terms, which can be dangerous if misinterpreted, and potentially life-threatening to a patient.
The Joint Commission developed a "do not use" list of abbreviations for accredited organizations. This list contains dangerous abbreviations, acronyms, symbols, and dose designations. It was created before the advent of EHRs and does not apply to preprogrammed health information technology systems, but may be considered in the future. It's wise to follow a policy such as this in all settings. The list can be found on the commission's website.
Happy Ending
The way a story ends is equally as important as the way it begins. The same can be said about documentation. To know the true outcome, the reader needs more than a brief summary. For example, consider an assessment and a plan that simply indicates, "DM, f/u 3 mo," compared to, "Type 2 Diabetes Mellitus well controlled on insulin [specific name and dosage indicated] and diet. The patient will return in three months and have A1C drawn prior to that visit." The detail is in the second ending is clearly better, leaving nothing to the imagination.
Clear, detailed, and timely documentation in the medical record leaves little room for doubt about a patient's care, and could make all of the difference if you're ever questioned about a patient's care or the way that care was coded. And that, my friend, is the end of this story.
Informed Consent
"Informed consent" means more than simply stating, "informed consent obtained" in the note. The discussion between the patient and provider should be documented, including the purpose, benefits, significant risks, other specific common risks, alternative treatments and risks, and risks from non-treatment that are specific to this patient. Document that the patient's questions were answered and that the patient understood the procedure prior to giving informed consent for the service—it's too late after the procedure has taken place.

Brenda Edwards, CPC, CPB, CPMA, CPC-I, CEMC, has been involved in many aspects of coding and billing for over 25 years. At her current position as a coding and compliance specialist at Kansas Medical Mutual Insurance Company, Edwards' responsibilities include chart auditing, coding and compliance education, and contributing articles to the company's website and publication. As an AAPC-approved PMCC instructor, workshop presenter, and ICD-10 trainer, Edwards is a frequent speaker for local coding chapters in Kansas and Missouri and has presented at AAPC regional conferences. She is co-founder of the northeast Kansas chapter and 2013-2014 AAPCCA chair.

Latest posts by admin aapc
(see all)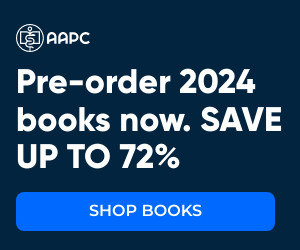 Comments are closed.