AAPC Releases Results of 20,000-Record ICD-10 Study
By admin aapc
September 27, 2013
Comments Off

on AAPC Releases Results of 20,000-Record ICD-10 Study
Data reveals doctors are ill prepared for implementation
Table 1

Percent of Documentation Sufficient to


Transition To ICD-10

Gastroenterology

48%

Pediatrics

53%

Pulmonary

56%

Urgent Care

56%

Internal Medicine

58%

Psychiatry

61%

Primary Care

63%

View All
Over the last 6 months, AAPC Client Services (cs.aapc.com) has worked with a number of organizations to evaluate their physicians' readiness for transitioning to ICD-10. The assessment included conducting more than 20,000 audits of physicians' clinical documentation practices to determine how well their documentation will support ICD-10 specificity requirements.
According to AAPC's findings, only 63% of providers' current documentation is sufficient to support the more rigorous ICD-10 requirements. Table 1 highlights findings associated with documentation deficiencies by medical specialty.
>> Download Hybrid Sample Report
Traditional chart audits focus on correct CPT and diagnosis coding for medical necessity. In addition to evaluating these areas, AAPC's new hybrid audit also focuses on diagnosis identification by evaluating the clinician's documentation practices to determine how well it will support the necessary ICD-10 specificity requirements.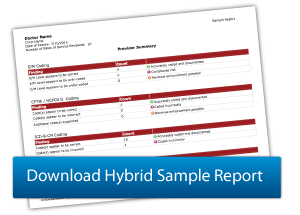 By conducting a concurrent review, organizations are able to be more efficient and cost effective in their ICD-10 implementation efforts.
AAPC Client Services' hybrid audit is based on feedback from hundreds of coders and physicians that participated in the 6-month assessment. The audit is designed to avoid information overload by conveying results that the provider can easily understand and gives them actionable information they can incorporate into their coding and documentation habits.
Organizations participating in the assessment indicated several benefits of the hybrid audit including:
Builds physician awareness related to ICD-10
Helps organizations target high risk areas through early identification of deficiencies
Creates support and physician buy-in for further education and training needs
Contact AAPC Client Services for more information or to find out how you could benefit from an ICD-10 readiness chart review.
Latest posts by admin aapc
(see all)