Lori Pimentel Holds AAPC Strong at 125K
In AAPC News
October 28, 2013
Comments Off

on Lori Pimentel Holds AAPC Strong at 125K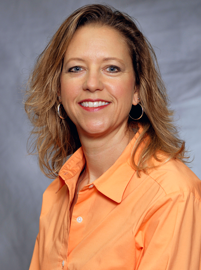 As regulations get tighter, the need for compliance experts becomes greater.
It seems hard to believe that AAPC has reached 125,000 members since its inception in 1988; at least it was a shock for Lori Pimentel of Big Bend, Wis. When Pimentel found out she was the milestone 125K member for AAPC she said, "I had no idea AAPC had that volume of members. It just goes to show what a credible, knowledgeable, and reliable organization AAPC must be!"
Pimentel's decision to become certified was a choice after more than 25 years in the healthcare field, working at QuadMed. She said, "I am seeking to improve my working knowledge and ensure I stay informed on regulatory changes and compliance-related matters." After six months of looking for educational opportunities and deciding on the best fit for her career needs, Pimentel decided on AAPC. She said, "AAPC appears to offer what I am looking for, since it promotes compliance in the healthcare setting so well."
Pimentel's career began after obtaining a bachelor's degree in Medical Technology, and then a few years later, her master's degree in Healthcare Management from the University of Wisconsin – Milwaukee. Since then, she has been mostly in operations and now is the laboratory director for four moderately complex laboratories. Pimentel also oversees the physical rehab department at 16 locations nationwide and the Employee Assistance Program (EAP), which includes a state licensed alcohol and other drug abuse treatment program. She said, "I needed to learn more, and AAPC is going to help me do it!"
Pimentel is getting her feet wet at AAPC. She said, "I'm still learning about what AAPC is and how the organization and resources can help me achieve my goals." Pimentel intends to take advantage of its benefits to help her career; she said, "I'm very excited to learn about everything there is to offer through this membership." Pimentel plans to use AAPC as an additional resource as it relates to her work at QuadMed.
Outside of work, Pimentel enjoys spending time with her family. She has a husband and three children, two of which are serving in the military and one is an automotive technician. Pimentel loves weekend trips, traveling, and bicycling all over the Midwest. She is a gardener, which helps her de-stress in the summer. Someday Pimentel would like to move away from the cold Wisconsin winters, she said, "but for now I have been blessed to be with the same organization for 20 years, and to still be given the opportunity to learn new things and grow in my career."
AAPC Steadily Increases in Strength
Since the founding of the company in 1988, AAPC has reached several milestones:
Early 1990s – 2,000 members and the organization changed its name to American Academy of Professional Coders
By 2000 – 15,000 members
By 2005 – 50,000 members
March 2009 – Andrea Malcolm, CPC, became AAPC's 75,000th member
April 2010 – Donna Peters, CPC-A, became AAPC's 90,000th member
November 2010 – Carla Peacock, CPC-A, became AAPC's 100,000th member
When Malcolm became its 75,000th member, the membership milestone prompted AAPC's "Drive to 100K." AAPC quickly reached this goal, and since then several other goals, making it the nation's largest medical coding training and certification association at 125K.
To honor this record-breaking membership, AAPC is offering Pimentel:
Free attendance for her and a guest to an AAPC national or a regional conference, whichever she decides
Free travel to the conference and accommodations while there
Free AAPC membership for a year
Free Medical Office Compliance Toolkit
Free Certified Professional Compliance Officer (CPCO™) exam
It's Medical Business as Usual
As healthcare changes, AAPC remains focused on being a valuable resource for coding, billing, auditing, compliance, and practice management education. AAPC's certified members represent the highest industry standards and are recognized by physicians and clinical professionals for their expertise in the business-side of medicine.
Keep a lookout for more milestones as the nation's largest association of medical business professionals leads its members into the future of healthcare.
Latest posts by Michelle Dick
(see all)
No Responses to "Lori Pimentel Holds AAPC Strong at 125K"