Prepare for Increased Audit Scrutiny: Steps 1-8
February 1, 2014
Comments Off

on Prepare for Increased Audit Scrutiny: Steps 1-8
Know where auditors are focusing and build a solid defense.
By Elin Baklid-Kunz, MBA, CHC, CPC, CCS
The Department of Health & Human Services has an agenda—to put measures in place that both increase quality of care and decrease government spending, due mainly to healthcare fraud and abuse. Not one of us is exempt from the watchful eyes of those in charge of this weighty task. More than ever, providers must be aware of increased audit risks and the importance of documentation. No matter your practice size, no matter your specialty: It's essential for you to review claims (particularly for evaluation and management [E/M] services) and documentation to ensure compliance with government and payer standards.
What You Are Up Against
Physicians certify they are knowledgeable of Medicare's requirements in the provider enrollment form each time they submit (or someone submits on their behalf) a CMS-1500 claim form. They are also responsible for ensuring the codes submitted accurately reflect the services provided. Failure to fulfill either requirement can have extreme consequences.
For example, in February 2013, the U.S. Department of Justice (DOJ) announced that a dermatologist, Dr. Steven J. Wasserman of Venice, Fla., agreed to pay $26.1 million to resolve allegations that he violated the False Claims Act by accepting kickbacks from a pathology laboratory and for billing Medicare for medically unnecessary services.
Although this case is extraordinary (the settlement is one of the largest in U.S. history for an individual provider), inaccurate claims are an issue even for well-intentioned providers. An article that appeared in Academic Medicine (August 2013), "Expanding Physician Education In Healthcare Fraud and Program Integrity," sums up the situation nicely: "Few physicians will perpetrate fraud or abuse during their careers, but nearly all will contribute to the remaining spectrum of improper payments, making preventive education in this area vital."
E/M coding is a top contributor to CERT error rates. As such, E/M services have been a target on the Office of Inspector General's (OIG) annual work plan for years, and are a poplar audit target of private payers and the Centers for Medicare & Medicaid Services' (CMS) Comprehensive Error Rate Testing (CERT) and recovery cudit contractor (RAC) programs.
There are basically eight steps your practice can take to prepare for added scrutiny that E/M claims are likely to face. The goal is to arm yourself with the knowledge to find and correct potential errors in your practice before an auditor does.
Know where previous improper payments were found. Chances are, potential problem areas in your own practice will mirror those identified by auditors (such as RACs, OIG, CERT, and MACs). Good places to go for published audit reports include:
Bookmark CMS' Provider Compliance webpage. Here, you'll find Medicare Learning Network® (MLN) educational products, such as "Compliance Fast Facts" and the "Medicare Quarterly Provider Compliance Newsletter." Use these resources to help educate your providers about common billing errors and how they can avoid improper payments. This page also includes online training courses.
Sign up for CMS Connects™ provider e-news. Receive important notifications of Medicare updates and CMS national provider calls published every Thursday.
Stay tuned for a new CMS integrity contractor. Also called a Unified Program Integrity Contractor (UPIC), this entity will focus on both Medicare and Medicaid integrity issues. The plan is for both Zone Program Integrity Contractors (ZPICs) and MACs to be combined to form these UPICs.
Understand CERTs' top E/M error codes. The improper error rate published in the 2012 CERT Report (Sept. 9, 2013) was 8.5 percent, which represents $29.6 billion in improper payments. E/M services accounted for 13 percent of the overall Medicare fee-for-service improper payment rate, representing approximately $4.2 billion in improper payments.
CERT errors are categorized into five error types:
No documentation
Insufficient documentation
Medical necessity
Incorrect coding
"Other" errors
E/M errors were mostly due to incorrect coding and insufficient documentation. Incorrect coding results when claims are down-coded because the documentation does not support the code paid. These claims are considered partial improper payments; the amount in error is the difference between the higher payment billed and the lower payment received.
Insufficient documentation often results from lack of physician authentication or the physician not obtaining the additional documentation required, which often occurs for hospital services that can be harder for the physician office to obtain. Another example of insufficient documentation is a split/shared E/M service, where the submitted documentation has the physician's signature on the non-physician practitioner's clinical note, but no other documentation supporting that the physician performed a substantive portion of the split/shared E/M service. These claims are considered improper payments.
The 2012 CERT report includes details that will help you to understand E/M problem areas. For example, Appendix H, Tables H1-H3, identifies "problem CPT® codes" and the percent of lines in error:
H1: CPT® 99233, subsequent hospital visit, level 3 = 59.1 percent error rate
H2: CPT® 99214, established office visit, level 4 = 18.5 percent error rate
H3: CPT® 99232, subsequent hospital visit, level 2 = 14.8 percent error rate
Part B service-specific overpayment rates for each service are listed in Appendix I (Table I1) by CPT® code (including the "problem codes," above). The top five E/M codes, based on projected dollars overpaid, are shown in Table 1.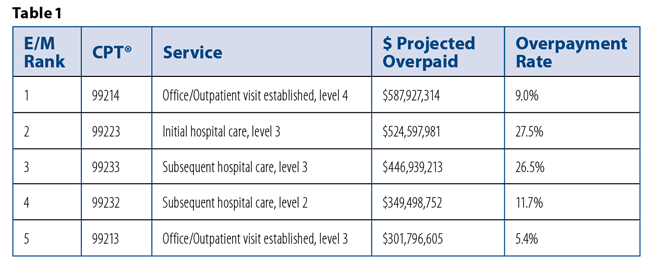 You may find it more meaningful to sort this data by the overpayment rate to identify the top five E/M codes with the highest errors (respectively): 99223, 99233, 99222, 99291, and 99204. (Note that the top four E/M codes are hospital services.)
Stay on top of regulation changes. For example, RAC focus may shift away from short inpatient stays, which could increase audit risk for physician practices.
RACs have a strong incentive to find problem claims because they are paid on a percentage of collections. They also have the power to order retroactive overpayments, going back three years. The permanent RAC program includes review of E/M services. In September 2012, Connolly (Region C) was the first RAC to add complex medical review of level 5 E/M services to its CMS Approved Audit Issues list.
The largest recoupment for RACs, so far, has been on the hospital side, for medical necessity related to admissions provided in the wrong setting (inpatient stays that should have been outpatient). But according to a September 2013 CMS webcast, CMS medical review contractors will no longer focus on claims that are more than two midnights after the admission order is written and the inpatient admission begins. Rather, these inpatient stays will be presumed to be medically necessary. With the RAC focus away from short stay medical necessity, it could shift to physician services, including E/M services.
To learn if the RAC in your area may begin scrutinizing E/M claims, check the CMS Approved Audit Issues for your RAC contractor (e.g., for Region C, Connolly.
Bonus Tip: Per the 2014 Inpatient Prospective Payment final rule, physicians who admit patients will be required to certify the inpatient stay in their admission order. See "Hospital Inpatient Admission Order and Certification" for details.
Surgical practices also must know which CPT® codes CMS considers to be inpatient-only procedures. A hospital cannot claim these without an inpatient (admission) order from the physician. The physician must admit the patient to claim these services. The inpatient-only list is published as part of the Hospital Outpatient Prospective Payment final rule (OPPS) every year.
Know where auditors focus their attention. Use the annual OIG work plan and reports when establishing internal audit plans. The OIG work plan addresses issues the OIG intends to audit, evaluate, and inspect during the year. For example, there were four items on the 2013 Work Plan related to E/M services:
E/M potentially inappropriate payments in 2010
E/M use of modifiers during the global surgical period [new in 2012]
Error rate for incident-to services performed by nonphysicians
Place-of-service coding errors
Of specific interest is "E/M Potentially Inappropriate Payments in 2010," which follows a May 2012 OIG report "Evaluation and Management Services: Trends in Coding of Claims," based on OIG 2011 and 2012 Work Plans. In this report, the OIG identified an increase in use of higher-level E/M codes across all services, but did not determine whether physicians who billed higher-level E/M codes did so appropriately. The 2013 Work Plan will be the first OIG report to evaluate the use of electronic health records and potentially improper payments related to cloned documentation. This should be an area that you review in your practice, as well.
Editor's note: The 2014 OIG Work Plan was published in January 2014 "to better align priorities the OIG has set for the coming year," according to the OIG website. The 2014 OIG Work Plan was not available at press time, but will be reviewed in a future issue of Healthcare Business Monthly.
Look out for MAC prepayment reviews. Review your MAC Part B Bulletin to keep abreast to changes. The OIG, RACs, and MACs share information regarding potential problem areas and improper payments. For instance, following the May 2012 OIG report on E/M coding trends, we saw several MACs performing prepayment review of E/M services.
For example:
In January 2013, First Coast Service Option identified high risk based on potential over-utilization and/or abuse of critical care services, CPT® 99291, and initiated 100 percent prepayment review of:
Code 99215 for certain specialties in Florida
All critical care services in Florida provided outside the following places of service: 21 hospital, 22 outpatient hospital, 23 emergency room
National Government Services (New York and Connecticut) prepayment review of:
99223 – Initial hospital care (general surgery) (54.17 percent)
99233 – Subsequent hospital care (cardiology and gastroenterology) (63.64 percent*)
99215 – Office or other outpatient visit (hematology/oncology) (45.45 percent*)
*Error Percentages
To Be Continued …
In my next installment, I'll identify additional ways you can prepare for greater audit scrutiny, including how to compare your utilization to national averages, how to develop a practice-specific audit plan, and more.
Elin Baklid-Kunz, MBA, CHC, CPC, CCS, is director of physician services for a Halifax Health in Florida. Her 20 years of healthcare experience includes seven years in finance and four years in compliance. Baklid-Kunz is a national speaker and published author on topics related to medical practice compliance issues, coding and reimbursement, chart audits and federal regulations. She presents workshops for AAPC and delivers key note presentations for Eli Research Coding Institute & Audio Educator. Kunz is a member of the Daytona Beach, Fla., local chapter.
Latest posts by Renee Dustman
(see all)