2014 OPPS Collapses Clinic Visit E/M Levels for G0463
In Coding
March 1, 2014
Comments Off

on 2014 OPPS Collapses Clinic Visit E/M Levels for G0463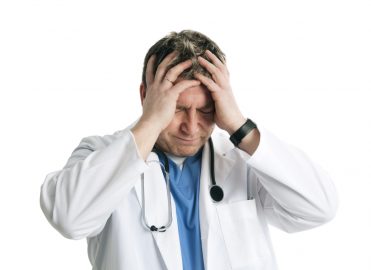 Recognize the impact of "one clinic code fits all" on hospital reimbursement and your coding process.
By Jim Strafford, CEDC, MCS-P
Effective Jan. 1, 2014, hospitals are required to report outpatient clinic visits furnished to Medicare patients using a single, new HCPCS Level II code, G0463 Hospital outpatient clinic visit for assessment and management of a patient, rather than CPT® evaluation and management (E/M) codes 99201-99205 (new patient) and 99211-99215 (established patient). Let's explore how this reduction to a single code might affect reimbursement and coding for your facility.
Note: This particular regulation affects only facility-side clinic services, not physician services or the professional component of services provided in the hospital clinic.
Reimbursement for G0463
Payment for G0463 under the 2014 Outpatient Prospective Payment System (OPPS) is $92.53 and, according to the Centers for Medicare & Medicaid Services (CMS), is revenue neutral because it is based on "average reimbursement" to hospitals for all outpatient levels. That's not exactly correct. A hospital's 2014 revenue generated from G0463 will depend on its clinic acuity mix and the average E/M levels it reported prior to Jan. 1.
A hospital's average Medicare payment for outpatient clinic visits depends heavily on its outpatient acuity mix. Clinics with an older, sicker patient population generally experience higher acuity levels. Coding guidelines a facility follows also play a role; hospitals have no equivalent of the 1995 or 1997 Documentation Guidelines for Evaluation and Management Services to standardize coding for E/M services. Many hospitals code based on CPT® guidelines, with hospital clinic time and cost factored in.
One aspect of CPT® guidelines recognized by CMS and used by hospitals is the distinction between new and established patients. Hospital clinics are not required to follow these guidelines, but from a reporting and census view, tracking new vs. established outpatients is appropriate.
For hospital outpatient/clinic visits for services prior to Jan. 1, 2014 codes 99201-99205 and 99211-99215 translated to five distinct ambulatory payment classifications (APCs) for outpatient reimbursement. Chart A illustrates the payment affect of G0463 on reimbursement.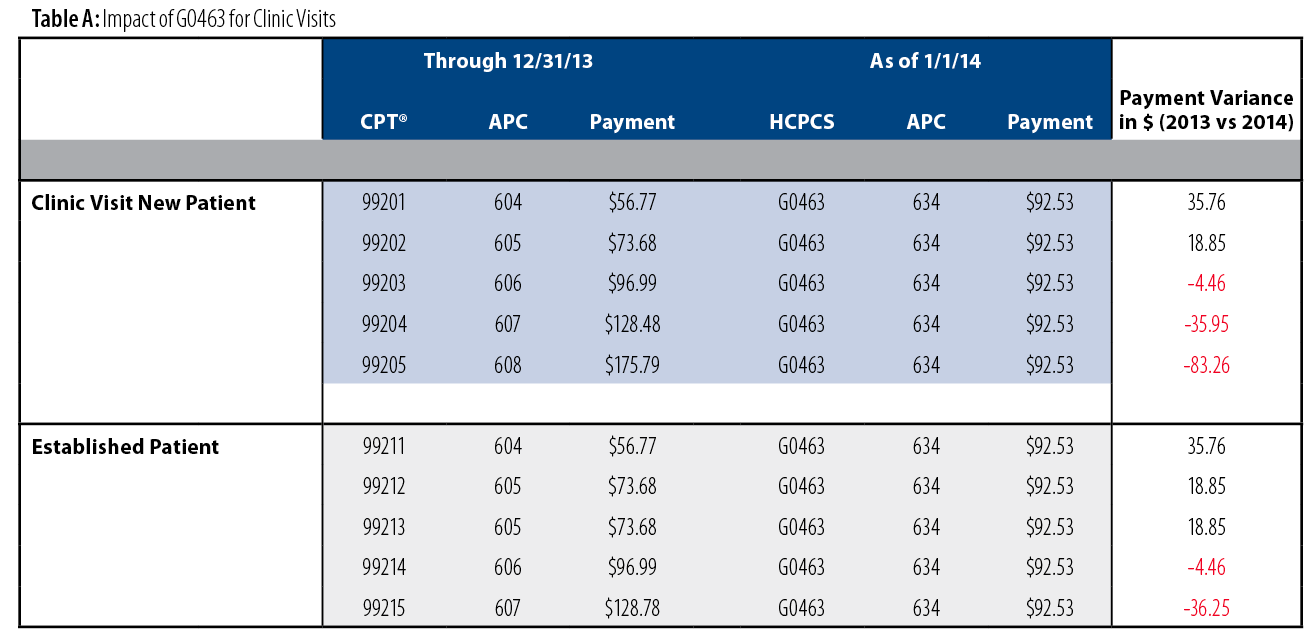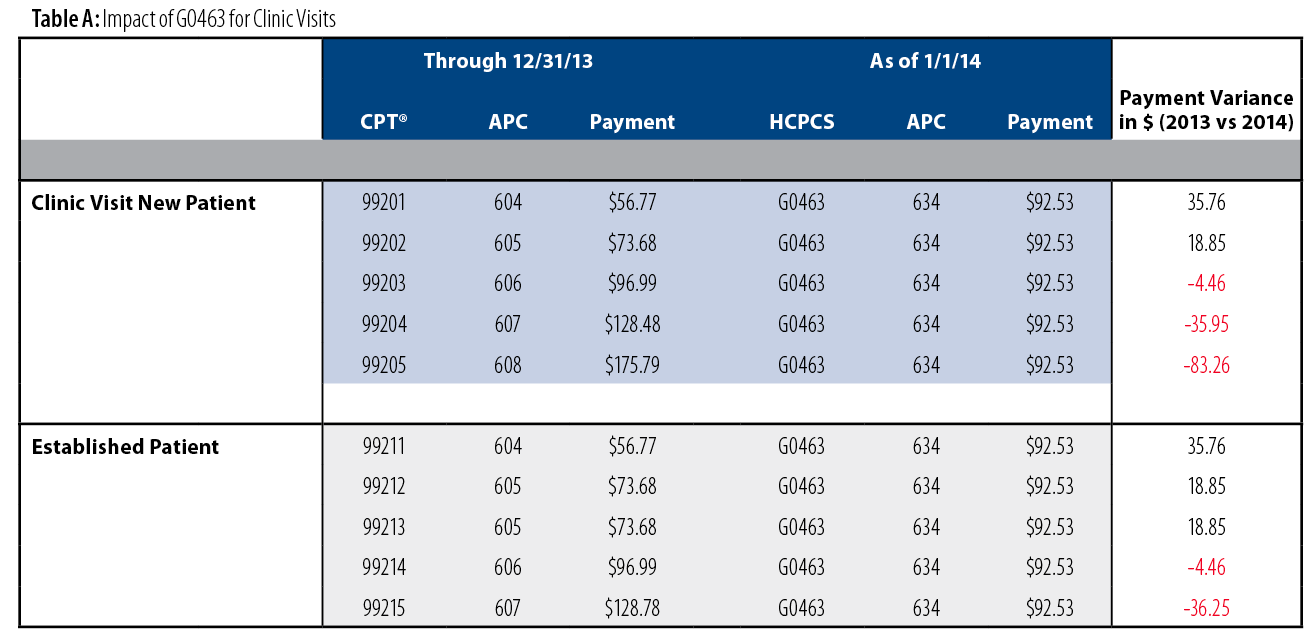 If your hospital has not done so already, it should calculate its average Medicare payments for the 10 E/M outpatient clinic visit codes that are no longer accepted by Medicare (99201-99205 and 99211-99215). If the hospital's average payment was greater than $92.53, the impact of G0463 will be a decrease in Medicare outpatient revenue. If the hospital was averaging less than $92.53 per Medicare outpatient visit, the revenue impact should be positive.
Level Ground
The elimination of "levels" is perhaps part of a trend toward code bundling that has been going on for many years, as well as a move to reduce government spending. There is no difference between new and established patient visits reported using G0463.
For hospitals that reported mostly lower level new (99201-99202) and established (99211-99213) CPT® codes, G0463 represents a reimbursement increase, ranging from $18.85 to $35.76 per visit. For hospitals that reported mostly higher level new (99203-99205) and established (99214-99215) CPT® codes, G0463 means a reimbursement decrease, ranging from $4.46 to $83.26 per visit.
Higher level, new patient CPT® codes (99203-99205) are more highly valued than the corresponding established patient codes (99213-99215). Prior to Jan. 1, the five APCs for clinic services (0604-0608) were applied differently to new vs. established patients. For example, new patient code 99205 Office or other outpatient visit for the evaluation and management of a new patient, which requires these 3 key components: A comprehensive history; A comprehensive examination; Medical decision making of high complexity merited the highest reimbursement (APC 0608, $175.79), while the highest-level established patient code (99215 Office or other outpatient visit for the evaluation and management of an established patient, which requires at least 2 of these 3 key components: A comprehensive history; A comprehensive examination; Medical decision making of high complexity) correlated to APC 0607, which reimbursed only $128.78.
Analysis:
Hospital clinics that previously reported mainly 99201-99212 and/or 99211-99213 (e.g., low-level services) for Medicare clinic visits should see a revenue gain from G0463. This scenario is unlikely because Medicare typically serves an older, sicker population with the expectation of higher acuity visits.
Hospital clinics with higher acuities (e.g., more high-level E/M clinic visits) will likely see a revenue decrease.
Hospital with a higher proportion of new patients vs. established patients will also likely see a revenue decrease.
Coding Conundrum
At first glance, it appears Medicare has greatly simplified outpatient coding. "One code fits all" should result in greater coder productivity. It should be audit proof, too. In fact, CMS cited administrative and coding simplification as justification for the new code. But hospital outpatient coders most likely will (and should) continue to code all 10 outpatient E/M levels, for all payers, for a number of reasons:
Hospitals will still want to track outpatient acuity levels for all payers. Calculating a single service level for Medicare will compromise critical metrics related to outpatient acuities at the facility, diagnoses that typically correspond to each level, treatment and medications by level, etc.
For similar reasons, hospitals will also want to continue tracking new vs. established clinic visits, as well as demographic changes and clinic growth, which will require hospitals to identify new vs. established patients.
Although coders may continue to assign CPT® codes 99201-99205 and 99211-99215 for all outpatient clinic visits, the hospital billing system will be set up to convert all 10 outpatient levels to G0463 for Medicare patients. G0463 most likely will not—and should not—affect your coding process. A "one code fits all" philosophy is most likely not a path to staff reduction. If your hospital has moved to coding G0463 only, without conversion to levels for reporting purposes, you might take the issue up with your management, for all of the reasons listed above.
Other Payers, Services, May Adopt "One Code" Approach
A "one code fits all" approach will simplify the claims process for Medicare payers, who now can reduce their payment codes and, hopefully, their rejection and denial codes. Other payers may try to follow CMS' lead. Your hospital managed care personnel should review the language of your current contracts. If CPT® codes are clearly spelled out with fees, you could have an argument against changes in payment methodology. Note, however, that many managed care contracts include clauses that allow the payer to "follow government changes."
Emergency department (ED) services have avoided the "one code" fate; however, CMS has said that it "intends to further explore the cost issues related to facility billing for ED visits." It seems that the ED facility levels have received a temporary reprieve—not a pardon. CMS has accepted the argument that one-level ED coding would punish high acuity, inner city trauma centers. CMS may seek to overcome this objection by designating one ED HCPCS Level II for designated high acuity hospitals and teaching facilities in the inner city, and a second (lower valued) ED service HCPCS Level II code for facilities not meeting those criteria. For this reason, groups lobbying CMS for retention of the five ED levels found in CPT® should likewise continue to lobby for (and offer) uniform documentation and coding guidelines for the ED.
---
Jim Strafford, CEDC, MCS-P, has over 30 years of experience as a consultant, manager, and educator in all phases of medical coding, billing, compliance, and reimbursement. Strafford is a published, nationally recognized expert on ED revenue cycle and coding issues. Strafford is director of special projects for Healthcare Administrative Partners and is a member of the Philadelphia, Pa., local chapter.
Latest posts by Guest Contributor
(see all)
No Responses to "2014 OPPS Collapses Clinic Visit E/M Levels for G0463"