Identify Signs and Symptoms of Allergic Reactions
March 1, 2014
Comments Off

on Identify Signs and Symptoms of Allergic Reactions
By Brenda Chidester-Palmer, CPC, CPC-I, CEMC, CASCC
Proper diagnostic coding requires knowing what to look for in documentation and patient history.
Allergic reactions are troublesome and not always easy to diagnose or code. For example, an allergic reaction might include nasal congestion and sneezing, rashes and itching, or all of the above. These symptoms can also be associated with the common cold, influenza, insect bites, or eczema. In ruling out these other known causes, a physician is able to diagnosis and treat the patient accordingly.
Allergy: Nasal Symptoms
When a patient presents with nasal symptoms, the provider generally begins the exam by taking a patient history. In reviewing the patient's history and current symptoms, the provider is able to determine whether the symptoms are short-lived or longstanding and possibly allergic reactions. If the provider believes the patient is experiencing an allergic reaction, a skin prick test may be ordered to determine what environmental factors or foods are causing the allergic reaction in the patient.
Some of the common allergens to test for are:
Legumes and nuts – lima, soy, green beans, green peas, peanuts, and pecans
Cereal grains – corn, oats, rye, rice, wheat, and barley
Milk – cow's milk
Egg – egg white, egg yoke
Fowl – chicken and turkey
Vegetables – onion, garlic, green pepper, white potato, broccoli, carrot, squash, and tomato
Meats – beef, pork
Fruits – strawberry, banana, watermelon, cantaloupe, lemon, orange, peach, apple, and grapes
Miscellaneous – yeast and chocolate
Fish and seafood – tuna, salmon, catfish, trout, bass, perch, shrimp, crab, and lobster
Spices – mustard, black pepper, and vanilla
Inhalant screening – mold, trees 1 and 2, grass, fall pollen, mite (P and F), dog, and cat
Histamine positive control
Only positive skin reactions are recorded. Positive reactions are typically scored with a "+," which indicates a slight or questionable reaction, to a "4+," which indicates a strong reaction. Additional testing may be performed based on results.
Diagnosis codes (as shown in Table A) are based on positive reactions, whether slight or strong.
When the allergens are identified, histamines and nasal sprays may be used for adequate control. The histamine positive control is important in testing because it tells the physician whether the patient's immune system will respond to histamines to help the body combat these irritants. Severe allergies, or those that cannot be adequately controlled with histamines, may require allergy injections to de-sensitize patients.
Histamine positive control is also important when a patient presents with allergy symptoms of nasal congestion, drainage, and sneezing, but reacts to none of the allergen skin tests. If the histamine control is positive, it validates the test results as negative. This usually, but not always, leads a physician to a diagnosis of vasomotor rhinitis (coding is shown in Table B).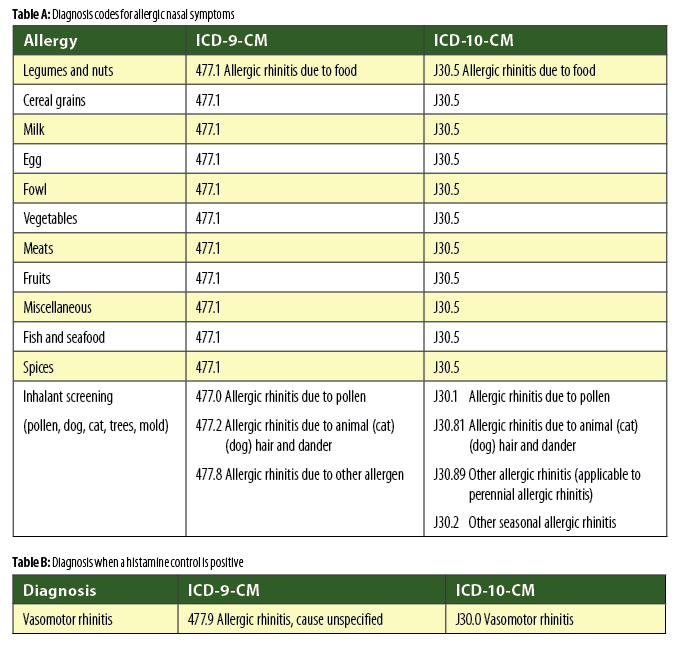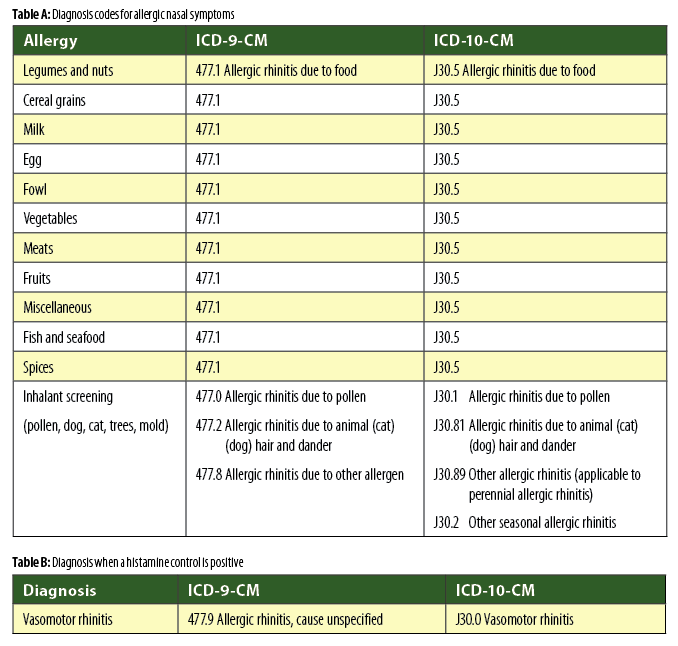 Vasomotor rhinitis is a condition in which something that irritates the nose causes the symptoms (e.g., perfumes, scented candles, hair sprays, chemical fumes, household cleaning products, tobacco smoke, dust, molds, or air pollution). Symptoms may also be triggered by change in temperature or barometric pressure, alcohol ingestion, spicy foods, infections, or even emotions. Patients with vasomotor rhinitis are usually treated with nasal sprays, antihistamines, or leukotriene modifiers such as montelukast.
Allergy: Itching or Rash Symptoms
Itching and rash symptoms can be caused by so many things: Aside from an allergic reaction, itching and rash may be due to an insect bite, eczema or psoriasis, nerves, etc. A patient who presents with one or more of these symptoms may require multiple office visits before the physician can determine whether the patient is experiencing an allergic reaction, and if skin testing is merited.
Example
A woman begins scratching her stomach and legs. She makes an appointment to see her doctor. The physician reviews the history, along with current symptoms, and determines the rash is of unknown origin. He advises the patient to use anti-itching topical medication and to return if the problem persists.
Several weeks later, the patient returns with itching on her legs. In this patient's case, the history reveals the woman had been working in her yard. The physician determines that these are most likely chigger bites because itching and redness is confined to the lower legs.
Several weeks later, the woman again has itching on her abdomen and forearms, with raised areas. She returns to her physician. After obtaining a history, the physician determines this is probably dermatitis due to using a new detergent, and recommends she discontinue the product.
Two weeks later, the patient is back in the office with complaints of a rash and itching on her shoulders, forearms, stomach, and back of knees. The physician takes a history and determines that this is dermatitis due to the hydrochlorothiazide (HCTZ) the patient has been taking for her hypertension. The physician advises a change in medication. The patient agrees.
Four weeks later, the patient returns to her physician with complaints of an itchy rash, mainly on the arms, shoulders, and thighs. The patient has discontinued the HCTZ. The physician decides to send the patient to a dermatologist.
The patient presents to the dermatologist with active areas of redness and itching. The dermatologist determines the areas are hives, and ask about her allergies. The patient's only known allergies are to medications she is not currently taking. The dermatologist suggests allergy testing.
This patient has had numerous diagnosis codes on her way to being diagnosed with several allergies. From the first visit with symptoms to the final diagnosis, ICD-9-CM coding is shown in Table C (on the preceding page).
When testing was performed, the patient relayed she had been trimming trees and hauling tree branches, and eating a lot of the foods to which she is allergic. These allergies may have just cropped up, or she may have just increased her exposure to them. Obtaining a history and keeping records helped determine this patient's diagnosis of allergic hives.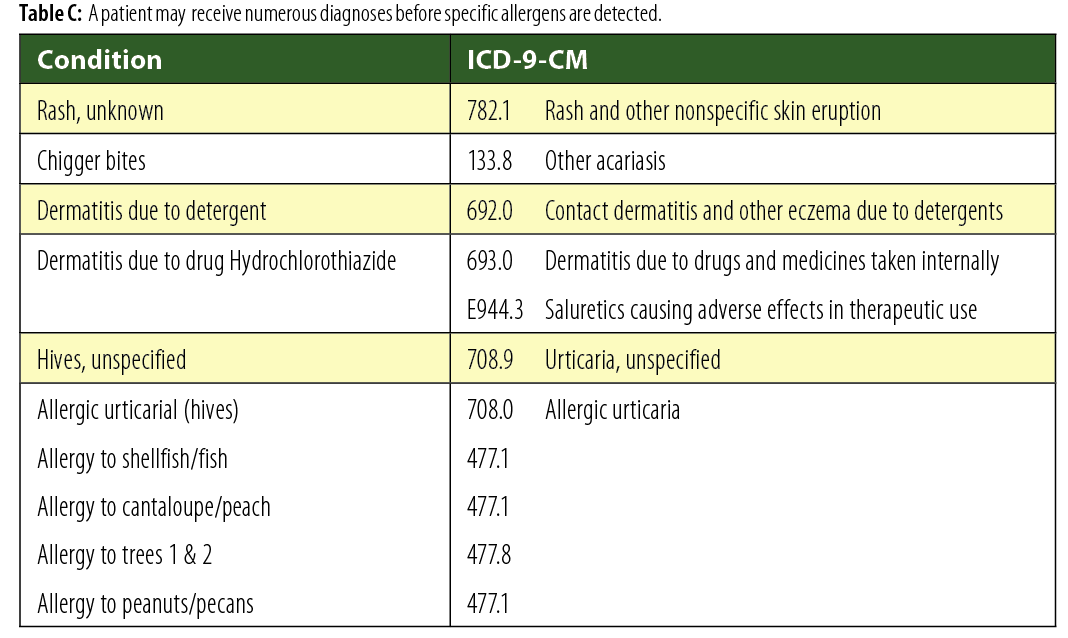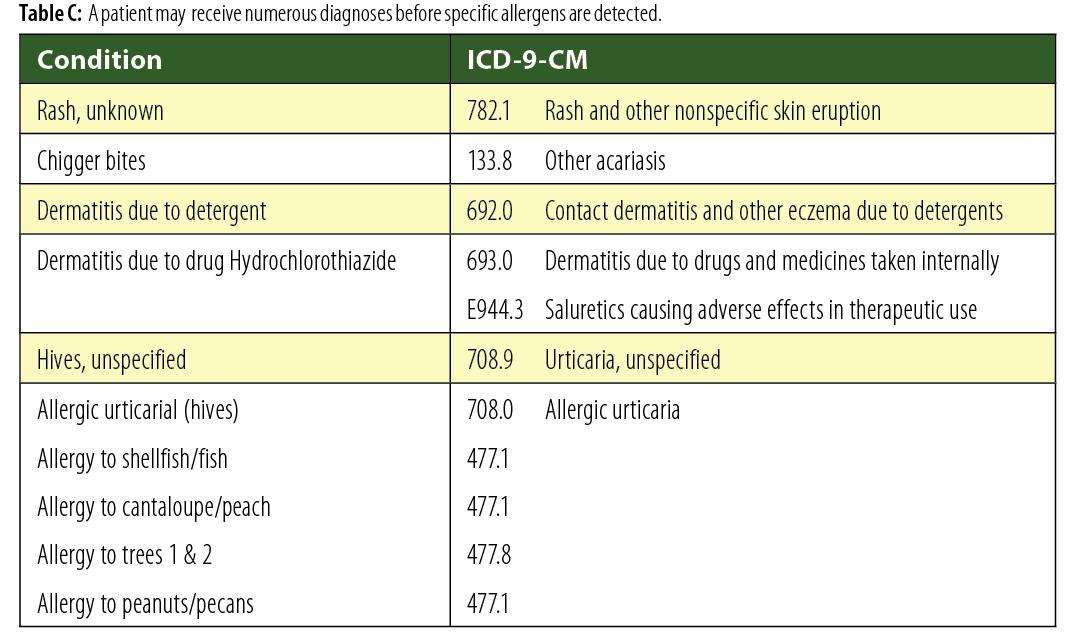 Allergic Reaction: Anaphylactic Shock
Anaphylactic shock is the most severe allergic reaction, and it has its own set of ICD-9-CM codes, shown in Table D (on the preceding page). Anaphylactic shock is an allergic reaction associated mainly with ingestion of foods. Allergy to peanuts or other nuts is probably the most common to produce anaphylactic shock. During anaphylactic shock, a person must seek immediate medical attention because swelling of the eyes, nose, tongue, and throat can inhibit breathing. Death is a likely result without medical attention.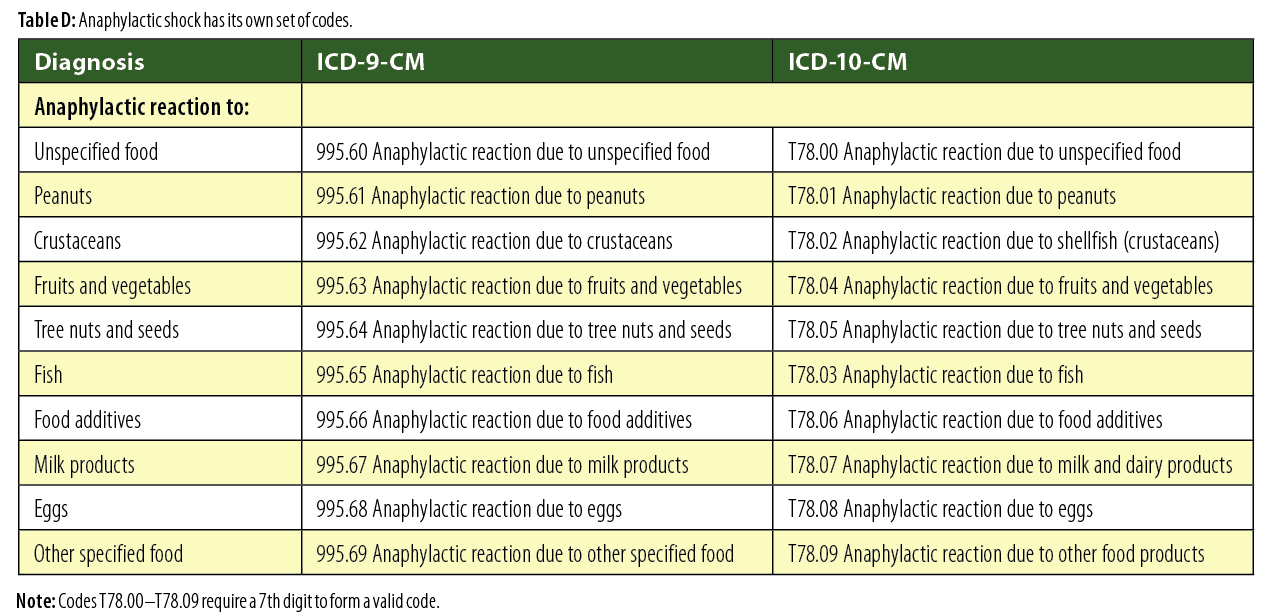 As shown here, patient history and other documentation play crucial parts in both diagnosing and coding allergies.
Brenda Chidester-Palmer, CPC, CPC-I, CEMC, CASCC, has 18 years of coding and billing experience. She is the principal of Palmer Coding Consultants and the former coding compliance manager for Kelsey-Seybold, a large group practice in Houston. Chidester-Palmer is an AAPC workshop presenter, past president of the Tyler, Texas, local chapter, and a former AAPC National Advisory Board member. She was a presenter at AAPC National Conferences in Long Beach, Calif., Jacksonville, Fla., and Las Vegas.
Latest posts by Renee Dustman
(see all)