Authenticate Services with Proper Physicians' Signatures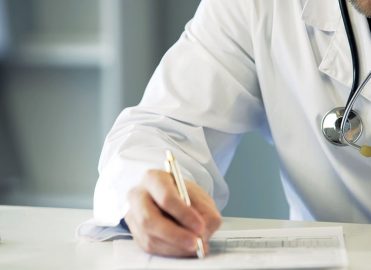 Without a valid signature, you risk payer reimbursement.
The purpose of a physician's signature in a medical record or operative report is to clearly identify who ordered and provided supplies or services for the patient. It also serves as a testament that the services he or she provided were accurately and fully documented, reviewed, and authenticated. Equally important: Payers deny claims unsubstantiated by the service provider's signature. And not just any signature will do.

Acceptable Signatures
Each signature must be legible, and include the provider's first and last name. The signature also should include the provider's credentials (e.g., PA, MD, DO). Medicare specifies acceptable methods of signing records/tests orders and findings, which include:
Handwritten signatures or initials
Electronic signatures usually contain date and timestamps and include printed statements, "electronically signed by" or "verified/reviewed by," followed by the practitioner's name and a professional designation.
Digital signatures are an electronic method of a written signature typically generated by encrypted software, allowing sole usage.
Note: Electronic and digital signatures are not the same as "auto-authentication" or "auto-signature" systems, some of which do not mandate or permit the provider to review an entry before signing. Documentation that has been "signed, but not read" is not acceptable as part of the medical record.
Acceptable signature examples:
Chart "accepted by" with provider's name
"Electronically signed by" with provider's name
"Verified by" with provider's name
"Reviewed by" with provider's name
"Released by" with provider's name
"Signed by" with provider's name
"Signed before import by" with provider's name
"Signed: John Smith, MD" with provider's name
Digitalized signature: handwritten and scanned into the computer
"This is an electronically verified report by John Smith, MD"
"Authenticated by John Smith, MD"
"Authorized by John Smith, MD"
"Digital signature: John Smith, MD"
"Confirmed by" with provider's name
"Closed by" with provider's name
"Finalized by" with provider's name
"Electronically approved by" with provider's name
Unacceptable Signatures
Reports or records dictated and/or transcribed that do not include valid signatures finalizing and approving the documents are unacceptable and will not serve to support claims for reimbursement. At one time, signature stamps were permitted, but they are no longer recognized as valid authentication for Medicare signature purposes.

Unique Signature Situations
Sometimes the lines of acceptability aren't drawn quite as clearly.
Physician Left Practice – If a physician leaves a group practice before signing documentation for services he or she provided, another physician within the group may sign on his or her behalf; however, an explanation is required.
For example: The submitting provider, John Smith, MD, is unable to sign this medical record because he expired on 10/08/13; or
John Smith, MD, relocated to Colorado on 10/08/13 and was unable to sign this medical record.
Incident-to – Incident-to a physician's professional services means the services or supplies are furnished as an integral, although incidental, part of the physician's personal professional services in the course of diagnosis or treatment of an injury or illness. Only the past, family, and social history and review of systems may be documented by ancillary personnel incident-to, and incorporated in to the evaluation and management (E/M) documentation, which must be reviewed and signed by the billing provider.
Electronic Health Records (EHRs) – EHR systems include a process that verifies that the individual signing his or her name has reviewed the contents of the entry, and has determined it contains the intended information.
Co-signatures – Early laws required all physician assistant (PA)-written chart entries to be signed by physicians, but this is no longer the case. PAs may now sign under their own national provider identifier (NPI) for services they provide. Co-signatures may continue to be used, however, to ensure a physician oversees the practice of a PA.
The American Medical Association (AMA) states physicians are ultimately responsible for coordinating and managing patient care and, with appropriate input of PAs, ensuring the quality of healthcare provided to patients. Whereas The Joint Commission recommends each accredited organization determine the necessity for co-signatures.
Be sure to annually review physician/PA team policies for your practice and update them as needed to reflect changes in healthcare regulations.

Sloppy Signatures – Call for a Signature Log: Providers will sometimes include a signature log in the documentation that identifies his or her initials, or an illegible signature, as the author of the documentation. The signature log might be included on the same page where the initials or illegible signature appear, or it might be a separate document. Reviewers will consider all submitted signature logs regardless of creation date.
A signature log should include the physician's printed name, full signature, and initials that appear on the document. The physicians can also list his or her credentials for further proof and validation.
Medicare transmittal 327 states that there are circumstances in which a provider does not need to sign an order for diagnostic testing. When the order is unsigned, the treating physician must include documentation, such as progress note indicating why he or she intended the diagnostic tests to be performed, and must authenticate this by a handwritten signature or e-signature.
Medicare does not require the ordering physician's signature on laboratory service requisitions. Although the physician's signature on a requisition is one way of documenting that he or she ordered the service, it's not the only permissible way of documenting it. For example, the physician may document in the medical record that he or she ordered specific services.
Keep an Eye on the Time
Providers should not add signatures to the medical record beyond the short delay that occurs during the transcription process, which is generally 24-72 hours. Instead, providers may employ the signature authentication process. Per Medicare guidelines, Medicare Program Integrity Manual (Pub 100-08):
Late signatures may not be added to the record, beyond the short delay that occurs during the transcription process. Medicare does not accept retroactive orders. If the provider's signature is missing from the medical record, submit an attestation statement from the author of the medical record. 
If the order is unsigned, you may submit progress notes showing intent to order the tests. The progress notes must specify what tests you ordered. A note stating "ordering lab" is not sufficient. If the orders and the progress notes are unsigned, your facility or practice will be assessed an error, which may involve recoupment of an overpayment. 
Signatures seem so insignificant in the grand scheme of things, but providers must be diligent and implement measures to ensure they are in compliance with signature guidelines. The consequences of non-compliance are grim.
Latest posts by Susan Edwards
(see all)
3 Responses to "Authenticate Services with Proper Physicians' Signatures"