Take a Closer Look at Professional Coding Models
April 1, 2014
Comments Off

on Take a Closer Look at Professional Coding Models
When transitioning to a fee-for-quality system, evaluate coding processes and structure.
By Lauren White, MPH, CPC
As accountable care organizations (ACOs) and other value-based healthcare arrangements become mainstream, provider compensation models are shifting. Providers are being paid based more on quality metrics than by relative value units (RVUs), and organizations are becoming more interested in documentation review. As a result, coders' responsibilities are evolving.
The coding profession is achieving a new level of excellence with specialty certification and ICD-10 proficiency, but strategic planning and goal setting are critical to create a sustainable coding program. Your coding department microsystem should perform in a way that enables you to grow, retain highly skilled coders, and support your organizations strategic goals, all while reducing risk.
Setting a Standard
Many physician-led organizations follow coding models that cater to individual provider and department needs. Organizations often rely on a hybrid coding model, consisting of code abstraction, documentation validation, charge review, and automation. The model may also rely on a combination of paper and electronic processes for both charge capture and documentation.
Such variation in processes makes it a challenge to set productivity standards, to conduct coder audits, and to document processes (all of which are important to expand remote coding programs). It also can lead to inconsistent coding support throughout an institution.
To understand how my peers are approaching these challenges, I contacted colleagues at like institutions using a standardized questionnaire. The questions were specific to the facility's coding models and current process for charge capture. Common themes were hybrid coding models, a focus on ICD-10 preparation, productivity metric development, computer assisted coding (CAC), and remote coding programs.
Coding Models for the Future
Most physician-led practices have always selected their own charge codes, and often do not include a coder's review. But coders are now being asked to review and abstract more services as specialty certifications increase. Some private specialty practices have been using coders to fully abstract charges for years, but the staffing ratio for such a service seems more manageable for a small physician group, compared to a large provider group practice. Other organizations are at the opposite end of the spectrum and have moved away from coder intervention on the provider side.
I think the ideal professional coding model of the future mirrors that of a hospital coding program: Full abstraction paired with advanced technology, CAC, and a robust clinical documentation program with provider involvement. CAC for the professional side is available, and the technology is developing quickly.
Many facilities are already using CAC for inpatient and ancillary services, and are piloting this technology for professional services. This technology will help in the expansion of the full abstraction model and may minimize the need for additional coding resources. With CAC, the coder shifts to auditing the product and supporting other coding.
Coders Become Reviewers
Documentation review is essential for ultimate compliance and reduced risk. Hospital coders review all relevant documentation, and abstract services and diagnoses. Does it makes sense for the professional coder to do the same thing? Maybe you're a professional coder and already code this way.
As an interim process, coders may have to review every note that includes more than just an office visit, and take a second look at submitted charges compared to documentation. This may allow you to explore additional documentation review and adjust staffing along the way. By streamlining the process and aligning skill sets to tasks, the coder is allowed to use his or her skills to decrease organizational risk by validating more services. You might even improve patient access by reducing the providers' time associated with charge capture.
Develop a strategic plan to assist in braving the unknown future. Put a focus on value and quality (the goal should be correct coding), while improving the patient experience and ensuring financial stability with timely and accurate billing.

Lauren White, MPH, CPC, is the manager of professional coding at Dartmouth-Hitchcock in New Hampshire. She has a master's degree in Public Health, has been a CPC® since 2002, and is ICD-10 proficient. White has completed a certificate program from The Dartmouth Institute in Value-based Health Care and is a lean Six Sigma Green Belt in process improvement. She has spent her career in healthcare working in revenue management at large academic medical centers, with multi-specialty physician group practices. White is a member of the Manchester, N.H., local chapter.
Latest posts by John Verhovshek
(see all)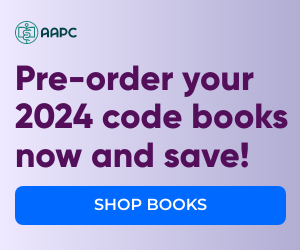 No Responses to "Take a Closer Look at Professional Coding Models"