CPT® Code Valuations Matter for Your Bottom Line
RUC survey says reimbursement is based on pre-service and post-service time components.
By Candice Ruffing, CPC, CPB, CENTC
It wasn't until last year, after 15 years of working the business side of medicine, that I began to understand how the value of a CPT® code was developed. Now that I know, I can see the importance of this. I have found, however, that not only are most coders unaware of this information, but many physicians are unaware, as well.
The Secret Formula
Whether the code is an evaluation and management (E/M) office visit, an outpatient endoscopy, or a complex inpatient surgical procedure, the components of the final CPT® value are often determined through a Relative Value Scale Update Committee (RUC) survey. The formula to calculate code values looks like this:
[(Work RVU x Budget Neutrality Adjustor x Work GPCI) + (Practice Expense RVU x Practice Expense GPCI) + (Malpractice RVU x Malpractice GPCI)] = Geographically Adjusted RVU Total x Conversion Factor = Allowable Amount
As you can see, the formula takes into account many factors, including geographic practice cost indices (GPCI) to account for cost-of-practice differences among locations. From the viewpoint of the individual provider billing CPT® codes, however, perhaps the most significant factor is the physician work value.
Work RVUs Include Pre-, Intra-, and Post-service Components
The time an eligible provider spends prior to, during, and after a procedure (also known as pre-service, intra-service, and post-service times) is used to determine the work relative value unit (RVU). What most physicians do not realize is the RUC has developed "time packages" for the pre- and post-service time segments to maintain parity for similar codes performed by different specialties. For example, the time spent dictating an operative note or the time spent scrubbing hands prior to a sterile procedure is the same for an otolaryngologist as it is for neurosurgeon or cardiologist.
Pre-time packages include three categories:
Pre-service evaluation
Pre-service positioning
Pre-service scrub, dress, and wait times
All of the pre-service categories have a designated maximum time allowed, based on the procedure type, patient condition, and site of service.
Pre-service time packages range from 1a–6. Package 1a is assigned for a procedure performed on a straightforward patient undergoing a straightforward procedure (without sedation or anesthetic care). In contrast, pre-service time package 4 is assigned for a difficult patient undergoing a difficult procedure. See Table 1 for details.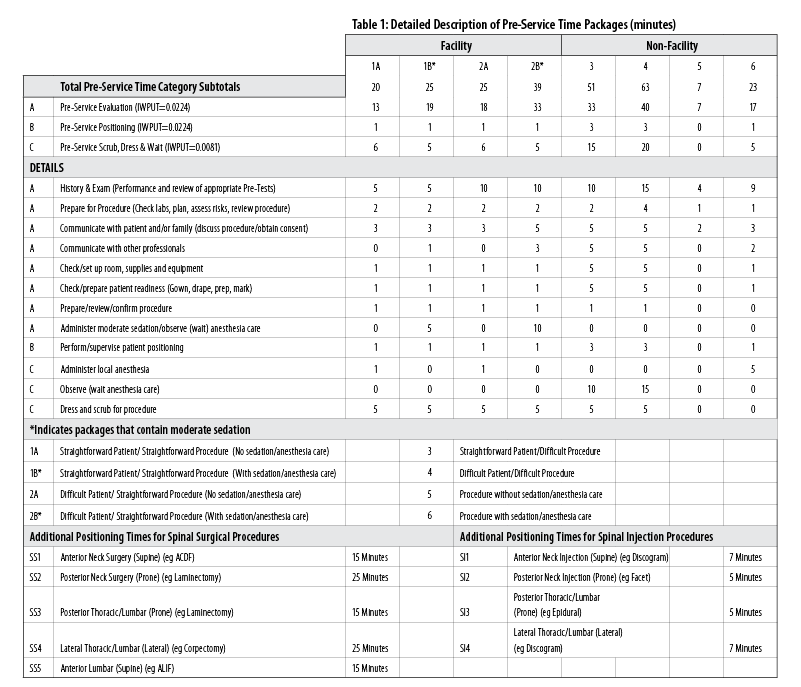 Post-service time packages likewise maintain parity across specialties for similar procedure types. The post-service time packages, designated 7a–9b, vary based on the type of anesthetic required and complexity of the procedure. Post-service package 7a is assigned for a simple procedure requiring local anesthesia. In contrast, post-service time package 9b describes a complex procedure performed under general anesthesia. Each post-service time package includes a maximum time allowance based on time requirements for application of dressing, operative note dictation, repositioning of the patient, communication with the patient and/or patient's family, and post-operative orders/papers. See Table 2 for details.



When a specialty society submits the results of a survey to the RUC for code valuation, the RUC experts select the appropriate time package. The survey results are then compared with the selected time package. The society must submit the lesser time allotted for final code valuation. For example, if the survey results designate a scrub, dress, wait (S/D/W) time of 10 minutes for a complex procedure on a complex patient, which would otherwise fit into a pre-serviced time package of 4 with an S/D/W of 20 minutes, the specialty society is giving up 10 minutes of pre-service time. This represents a loss of the work RVU—and a loss of reimbursement—because the survey results were less than the package allowance.
If, by contrast, the survey results came in at 20 minutes for the S/D/W, the society would have captured the allotted time and would receive full value. Likewise, if the survey results indicate a post-service time lower than the time included in the selected post-time package, the society loses permissible time, leading to a lower valuation and revenue loss.
The pre-service period includes all physician services provided to the patient from the day prior to the operative procedure until the actual procedure is performed. The intra-service period includes all "skin to skin" work. The post-service period includes all physician services provided on the day of the procedure as soon as the procedure is completed. These values are important because they determine the rate at which Medicare and other payers reimburse for procedures.
Know Components Before Completing RUC Surveys
It's imperative for all society members who volunteer to participate in RUC surveys for CPT® valuation to be familiar with the pre-service and post-service time components. For more information on the components involved in the CPT® code valuation process, visit the AMA website.

Candice Ruffing, CPC, CPB, CENTC, is an associate consultant with Acevedo Consulting, Inc., in Delray Beach, Fla. Her work involves conducting coding and compliance audit projects; providing consulting services to clients' management, physicians, and staff; and providing input for the development of each client's annual audit plan. Ruffing has over 15 years combined experience in coding and billing for multi-specialty physicians. She has served as president and secretary of the Stuart, Fla., local chapter and serves on the 2014-15 AAPC Chapter Association board, representing Region 4.
Latest posts by Michelle Dick
(see all)
One Response to "CPT® Code Valuations Matter for Your Bottom Line"