Open the Lines of Communication
June 1, 2014
Comments Off

on Open the Lines of Communication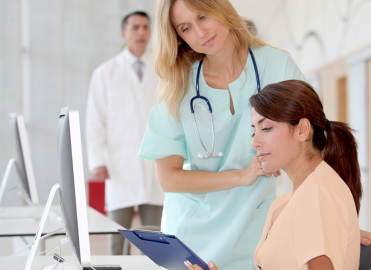 Learn how to talk to providers and establish a working relationship.
By Suzan (Berman) Hauptman, MPM, CPC, CEMC, CEDC
Physician and medical coder communication is vital to that relationship; yet, we often don't cultivate it. Let's talk about how to change that.
Understand the Perspective of a Doctor
Recently, I sat down with Edward L. Birdsong, MD — a hand and upper extremity microvascular surgeon at the Allegheny Health Network, Orthopaedic and Rehabilitation Institute in Pittsburgh, Pa. — to discuss this topic. We didn't talk about bundling, global periods, or add-on codes. Instead, we considered the following questions:
How should coders start a conversation with his or her physician?
How do coders and physicians learn from each other?
What kind of a rapport should physicians and coders have?
"I would welcome a meeting with my coder, at least once a week, to discuss op notes and how to bill for the services I perform," Birdsong began. "Let's see if we are on the same sheet of music," he continued. "We can't make music if the instruments are out of tune. We can't bill for a service if the documentation doesn't match. Let's help each other to document appropriately and bill for the services performed."
As we talked, I learned that physicians do not always know how to properly convey in their notes the services they provide. Many physicians do their own coding, and the codes may accurately reflect the work they did, but the documentation may not match the codes.
"Operative notes are often a list of procedures performed during given operations, along with a narrative explaining what occurred," Birdsong explained. "If I had a way of conveying the information needed to actually code all of the services I perform during surgery, I would certainly incorporate that information." He continued, "If there was a meeting where the coder and the physician go over a few notes, each week, and really listen to what each other is saying, the notes could be more descriptive to better illustrate the work performed."
In my career, I often hear from coders who were told by their managers to do anything they could to get clarification — just don't bother the doctors. I asked Birdsong how he felt about this.
"I don't mind, ever, having a coder ask me a question. I know I'm going to learn from the question, maybe even more than the coder learns from my answer," Birdsong said.
Dialogue Benefits Everyone
Physicians want to learn, Birdsong said. "They may not have a lot of time — nor do the coders. But if they could find time to meet regularly, it would benefit everyone. We know that there might be a slight period of adjustment with these meetings, but that doesn't mean they're not worth the effort," he said.
Birdsong suggested that coders offer courses to the physicians on how to document, and what the codes mean. "If we all understood each other's piece to this pie, we would all be better for it," he said.
What would the benefits be? For one, doctors would document better. Secondly, reimbursement would be more appropriate. If reimbursement was in line with what was actually performed, denials would go down, refunds and re-bills would be limited, the revenue stream would be more constant, and everyone might actually have a little extra time on their hands. We agreed the final point was very important.
Birdsong also mentioned that meetings would open the lines of communication. "I might be saying exactly what the coder needs, but I'm not saying it with the right terminology, or it's not understood. If we both — the physician and the coder — agree to learn from one another, the communication would be free flowing. Understanding things in the same way will get us where we need to be."
"I might be saying exactly what the coder needs, but I'm not saying it with the right terminology, or it's not understood. If we both — the physician and the coder — agree to learn from one another, the communication would be free flowing. Understanding things in the same way will get us where we need to be."
Spell Out Code Requirements
Birdsong confessed that not only he, but also his colleagues, could learn from coders. "The coders could focus on teaching the physicians the appropriate way to illustrate what was done during the operation."
For example, the evaluation and management (E/M) guidelines spell out what must be documented to report E/M services. "If we could have something similar for our more common procedures, it would be a great help," Birdsong suggested. "If the coder could develop a list of the requirements needed for the codes associated with the procedures, I would use that to make certain I cover everything appropriately."
In a previous role, Birdsong had a colleague who, with help from his coding staff, developed a documentation checklist that proved very helpful and easy to follow. This helped illustrate to the physician details that he didn't realize the coder needed, and therefore didn't document — but now he does.
Shadowing Can Help Open Communication Lines
Shadowing is another very helpful and appreciated way for physicians to learn from the coder (and vice versa). Yet, this is a frequently missed opportunity, especially when the communication between the coder and the physician is discouraged.
"When I first got here, an auditor shadowed me, and I learned a lot," Birdsong said.
Shadowing has been greatly educational for me, as well, and has improved my ability to communicate with physicians. I have a better understanding of how their day moves, and when they have time for documentation. I also witnessed patients providing information to the physician that was beneficial, and became part of the physician's decision-making, but didn't make it into the documentation. I demonstrated how the documentation guidelines flowed with the visits, and how "showing your work" in the visit note will help to prove the medical necessity for the services the physician provides.
Coders Help Doctors Gain Optimal Reimbursement
Birdsong noted how busy his days are. Some of the vital things physicians do for patient care can't be billed (talking with family, scrubbing and prepping for surgery, documenting, etc.). But communication with coders ensures he is able to gain optimal reimbursement for those services he can bill, by documenting to reflect exactly what happened during a case, a visit, or a counseling session. "If I make the requirements a habit, everyone wins," Birdsong said.
I asked Birdsong what he wanted most from his coder. Birdsong immediately answered, "Communication!" Emails work, as do questions in the hall, he said. "If my door is opened, I'm in the office and available to anyone."
Suzan (Berman) Hauptman, MPM, CPC, CEMC, CEDC, is manager, physician compliance auditing for Allegheny Health Network, Pittsburgh, Pa. She serves on the OptumInsight Advisory Board and is a Coding Institute Editorial Advisory Board member. Hauptman is a former AAPC National Advisory Board and AAPC Chapter Association board of directors member. She speaks and writes nationally for organizations such as the University of Pittsburgh, The Coding Institute, Advanced Career Solutions, AAPC, MGMA, BC Advantage, and OptumInsight. Hauptman is a member and former president of the Pittsburgh Central, Pa., local chapter.
Latest posts by Guest Contributor
(see all)